With the loss of Stanislao "Stanko" Radikon on September 11th 2016, the wine world lost one of its most dynamic pioneers. The news was announced to the world with a poignant message from his son Saša, on social media: "Tonight I missed a friend and collaborator. But most of all, I missed dad. Ciao Stanko."
The obits have flowed since, but what follows is a more personal reflection. I was very lucky to visit the family less than a month before Stanko's death from cancer. He was clearly weakened by the various treatments, and had lost a lot of weight, but was still talkative, charming and fully engaged. We enjoyed a long and fairly boozy lunch.
Stanko remarked that his overriding aim was always to learn and improve. As we sat at the family's kitchen table, surrounded by a sea of open bottles going back to the pivotal 1995 Ribolla, I asked "So are you satisfied?". He laughed, shrugged his shoulders and muttered something in Slovene (his mother tongue). It needed no translation, but his youngest daughter Ivana obliged anyway: "Sort of".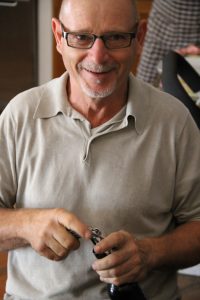 The response was typical of Stanko's humility. This was a man who had overseen 36 vintages with the now cult "Radikon" name on the bottle. He survived within a hairs breadth of the 37th. During those 36 years, the wines changed radically – amusingly but entirely coincidentally befitting of the family name.
It's been said that Stanko was a pioneer in the fields of both natural and orange wine, however he wouldn't have described it like this. Neither term existed in the 1990s when he was searching for a way to get more expression from Friuli's indigenous ribolla gialla grape. Ribolla is a difficult character, with skins so thick that they'd jam the old screw presses, yet fruit so neutral that its conventionally made white wine is one of the dullest experiences imaginable.
Stanko remarked that it was Ribolla Gialla that led him down the long skin contact path, nothing else. The lightbulb moment came in 1995, when he decided to return to his grandfather's methods of making wine, and leave the white Ribolla grapes on their skins for a few days. The results delighted and fascinated him so much that the family's entire white wine production was switched to this venerable method from the 1997 vintage. Stanko didn't care that half his customers would cancel their orders and go elsewhere. His discovery – or rather rediscovery – was simply too important. For the first time, he told me, "this wine tasted of Ribolla grapes."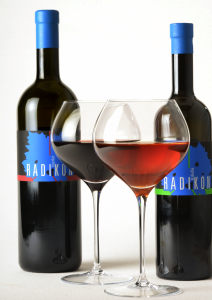 Another major innovation was the one litre and 500ml bottle sizes, developed in collaboration with Eddie Kante (Another great Friulian winemaker based in the Carso region about 50km south of Oslavia). Radikon's top wines are bottled in these formats, the idea being that the sizes are more convenient for 1 or 2 persons dining alone – since a 75cl bottle is often too much for one or two persons, but not enough for 3 or 4 (depending on your levels of thirst!).
Stanko and Eddie also noted that wines aged more slowly and gracefully in magnums. After research, they realised by manufacturing a special slimline cork, the 1 litre and 500ml bottles could be given the same body/shoulder/neck proportions as a magnum, thus helping to stimulate a similar maturation process. Kante later abandoned the unorthodox sizes and corks, however at Radikon their use continues.
After switching the estate's entire white production to long skin contact, Stanko realised that the wines were robust enough to need less sulphur. By 2003, he was confident enough to reduce it to zero – a further innovation, achieved through years of experimentation long before the "natural wine" or "sans soufre" scenes had gathered steam. He always made clear that "it's not religion", and to this day the family will add a minute amount of SO2 to wines if they feel it is necessary.
Radikon's wines hardly need an introduction – today they are considered to be one of the giants of the orange and natural scene, together with neighbour and erstwhile colleague Josko Gravner. Whilst these are minimal intervention wines that follow the characteristics of the vintages, they have achieved a remarkable consistency and character – slightly wild, with deep, autumnal flavours and beguiling complexity, yet always with finesse and always prompting the desire for a second glass.
Saša Radikon, himself now a father, has been heavily involved with production for a number of years, and Stanko's legacy looks to be in a very firm pair of hands for the future. That said, harvest this year must have been really tough. It began just a week after Stanko's death.
As we left the Radikons after lunch that day, Stanko gave me a friendly squeeze on the shoulder and smiled a half-smile. Two weeks later, I realised he had been saying goodbye.