To age or not to age? With wine, the question is hardly simple—the complications are practically countless, and the risk/reward quotient naturally intensifies over time.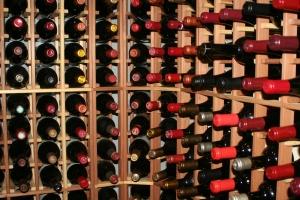 Personal taste, of course, is akey to determining if one should even be holding wines for the long haul at all. Peter Adesman—a savvy Medford, Oregon, collector with 4,000 bottles resting quietly in a cellar first established in the late 1970s—refers jokingly to the risk of cellaring wines over long periods: "Somebody once said that there are no good old wines, just old bottles." Continuting on a more serious note, he adds, "When you decide to lay down a wine in your cellar, you are making the decision to sacrifice fruit for secondary nuances that approximate site and soil."
So for fans of unctuous young wines, shorter-term cellaring is the ticket, aimed at softening tannins and acids for better access to ripe fruit flavors. Most wines across the varietal spectrum with decent balance and structure, with only a few exceptions, should withstand two or three years of this softening process without much risk of the fruit fading or drying out.
But if you are like me, vivid fruit is not the goal of cellaring. I prefer pursuit of brown-tinged reds and orange-hued whites that have little resemblance to the wine's early life characteristics. Whenever I see people guzzle current-vintage, hundred-dollar Cabernets or commit juvenile genocide on newly released Bordeaux and Rhones, I realize that my mission of silky, round and unapologetically funky wine is not shared by a wide swath of collectors.
Maybe if I lived in the UK, I would have more company. A few years ago I joined Clive Coates for a tasting and dinner in Boston and his words about the European/American cultural divide on approaches to maturing wine never left me. His thesis was less about cellaring potential for specific wines, and more about patience levels and disposition to funkiness uncharacteristic of young wines. Coates drew a diagram similar to this reflecting his experience with collectors on both sides of the Atlantic:
The schematic reveals the natural curve of a wine's life moving from bottling date to a point of maturation where the wine will no longer technically benefit from further age. The period following maturation through the end of a wine's life shows off the wine's DNA to the willing and patient. Some view wines entering this stage as "in decline;" others will celebrate the flavors that emerge. Coates believes there is an Old World tendency toward admiring wines through these late stages, contrasted by less patience or preference for secondary characteristics in the New World.
Exploring this cultural divide introduces further variables: varietal and regional durability. There should be little argument that the Cabernet and Merlot grown in Bordeaux and the Nebbiolo that makes up Piedmont's Barolos and Barbarescos are proven champions and best bets in the game of long term cellaring. Beyond those, debate remains and it's fools' poker to generalize broadly about any new or old world wine region. Wines of higher pedigree offer consistent track records, exemplified by DRC in Burgundy, Guigal in Cote Rotie, Grange in Australia and Vega Sicilia in Spain but none are representative of the broader regions' ability to consistently produce juice that can improve through extended bottle age without risk of ending up dead.
To confound matters more, Zinfandel is a good example of a wine that most enthusiasts do not acquire with long term aging in mind, yet it can perform admirably for fans of its secondary flavors. Fruit-laden Zinfandels provide immense immediate enjoyment and it seems irresponsible to gamble with the bright, lush, berry character. Levent Bozkurt and family, founders and proprietors of the The Stonehedge Inn in Tyngsboro, MA, a Wine Spectator Grand Award of Excellence winner, shared with me their preference for old Zinfandels from the 1970s and '80s personal cellar that are holding on just fine. Now there are Ridge, Rosenblum, and Ravenswood Zins from the early '90s squirreled away in my cellar and I have been rewarded with flavors that are partly reminiscent of old Barolo or Bordeaux. I sacrificed the ripe fruit for funky fun.
Champagne is another unlikely suspect that can be surprisingly rewarding with cellaring. Sir Jay Tidmarsh, of Bristol, England who received his knighthood in the 2008 New Year's Honours is a British collector who validates (perhaps epitomizes) Coates's Old World theory. While Tidmarsh is an avid collector of Bordeaux, and in particular Latour (I tasted a bottle of 1907 Latour, that was topped and recorked by the winery, at a tasting in his home and it was still alive and showing stuffing), he asserts that Champagne:
….can be drunk at some age . The oldest I have had is 1853, it had lost all its effervescence but was still exciting to taste – for me it was a cross between old white burgundy and mellow sherry! People seem reluctant to buy old Champagne for fear it will have gone flat. More fool them!

As far as non-vintage is concerned, I buy and keep for at least two years. You will be surprised how much the non-vintage has improved over the period. Of course if you cannot resist the temptation to try it after say a year , you will find that even the 12 months waiting have been rewarded. The important thing to remember is that you will not achieve satisfactory results with cheap champagne!
It is fair to theorize that the the Old/New world distinction may be more of a generational than continental issue. The hyper growth in consumers entering the wine market over the last ten years resulted in new and younger generations latching on to fine wine at a time when prices for ageworthy classics were further out of reach than ever before. Enthusiasts in the 50+ age range were more apt to be exposed to classic old wines as novice collectors and become motivated to replicate those effects with their own collections. Younger wine enthusiasts appear more comfortable with wines showing youthful vibrancy. It's interesting to consider this phenomenon; is it evolutionary taste preferences, different generational patience thresholds, or just dissimilar palate training and experiences?
One thing is certain; laying wines down or buying older wines is a game of experimentation and risk. Adesman reported recently drinking a 2001 Inama Soave and by all rights this wine from the Veneto should have been dead based on regional reputation alone. But the wine was alive and magical. 1985 Lynch-Bages was a wine from a high yield vintage so alluringly smooth and decandent after bottling, I had to struggle to protect some for the cellar. It is still alive and evolving in spite of the critics who advised early consumption in this year of forward and soft wines. While I am still drinking it in 2009 and plan to hold some for ten years hence, after tasting the wine in 1992 Robert Parker shows the risk even professional reviewers face in predicting bottle age potential when he wrote:
This was the finest showing yet for this seductive, immensely appealing vintage of Lynch Bages. I have had fully mature bottles of the 1985 that suggested it should be drunk over the near term. This particular offering, shipped directly from the Chateau for a vertical tasting, was also ready to drink, but built well enough to last for 15 or more years.
Indefinite cellaring will often produce greatness, but things don't always turn out that way. A bottle of 1991 Williams Selyem Allen Vineyard Pinot was dead and cooked after15 years in my own cellar. The wine did not taste corked and there was no leakage; it just thinned out to the point where the missing fruit made the wine unenjoyable. Some 1984 Monticello Corley Reserve Cabernet drank poorly last month but the 1984 Montelena, another Napa Cabernet out of the same spot in my cellar, was promising another 10 years of life. I purchased both on release.
A few of us bought Togni Cabernet from the early '90s, and a recent taster I spoke with reported that the wine was worthless, retaining none of the virtues that made it compelling in its early days. On the happier side of surprise, I pulled a bottle of 1989 Coudoulet de Beaucastel last year to bring to a dinner featuring high-powered Rhones, thinking it was actually the real Beaucastel. Had I known the bottle was there I would have uncorked it years ago and not have put it to the 20-year test. And yet it showed wonderfully and held its own in the secondary nuance department. Who knew?
The issue of cellar conditions also can't be avoided, and for long-term cellaring dark spaces in the mid fifties (Farenheit) with prescribed humidity is smart. Still, wine can hold up in less than perfect conditions so long as there are minimal temperature swings. Brooklynguy, a knowledgable collector and blogger with a penchant for aging wines, and an admittedly young cellar without enough ready-to-go advanced juice, recently wrote about an experience after stashing wines in his parents' hall closet:
For a few years I was in the habit of giving my parents a case of wine for Hanukkah…it sat in their hall closet indefinitely….Sitting there amidst some Trader Joe's plonk were several bottles of sparkling wine that I gave them at least two years ago, perhaps three years ago in one case….The closet is not exactly cellar temperature and we're not talking about vin de garde, here. I'm talking about the 2005 Bisol Prosecco Crede, (current vintage is 2007) the 2006 Bisson Prosecco Colli Trevigiani (current vintage is 2008), and a NV Zucchi Lambrusco Rosato. How could these wines be any good, at this point?
They were great. Not good, great! I opened the Bisson first and it was full of fresh purple grapey fruit, not too sweet but not entirely dry either….I opened the Lambrusco. I remember not loving this wine a few years ago, but this bottle was fantastic. …. I opened the Bisol. It was tragically and most vehemently corked. But think about it – two out of three of these old Italian sparklers, wines that were not properly cared for, nor were they meant to be cellared in the first place, they were fantastic. And the Bisol might have been too, who knows?
The moral of the closet experience and advice to the many like me who dream of adding something to the mastery of vineyard and winemaker through judicious cellaring is to set your targets, bet heavily on old reliables, and experiment like mad with undiscovered candidates for long term improvement.
Note: As a reaction to my latest cellar disappointment, the 1991 Williams Selyem Allen Vineyard Pinot, I have vowed to systematically open and taste wines of ten years of age or more that are sitting in my cellar. And I plan to share and archive my impressions each month in a new section of my own blog. I hope it might contribute to the more successful management of all of our inventories.
— Adam Japko fell in love with wine 25 years ago growing up in New York City and has been collecting and promoting wine as a lifestyle component ever since. Since getting his journalism degree from NYU in 1979, he has made his career as a magazine executive and is currently president of a group of luxury media brands at Network Communications, Inc., where he has been helping his company reshape traditional media models in a fast-changing world of free quality content and social media. He regularly writes about wine at his blog Adam Japko's WineZag.