I've been following the career path of Rick Bakas ever since I met him two years ago. Now the director of social media marketing for St. Supéry Wines, Rick is responsible for creating and executing all digital strategy for the Skalli Family wineries, including St. Supéry in Napa Valley and sister wineries in France. He has a devout and voluminous following on Facebook and Twitter, and no one knows the subject of bacon better than Rick.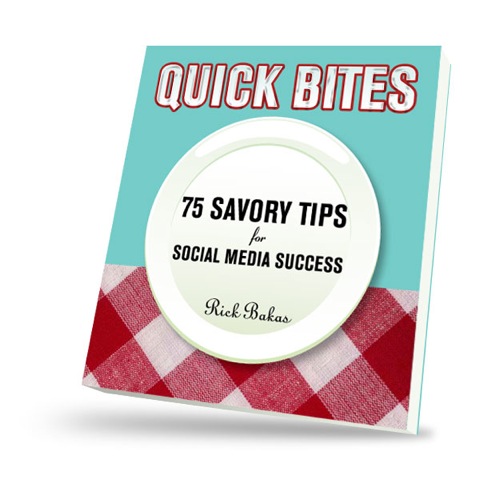 A while back, I caught up with Rick over lunch. I was intrigued when he told me he wanted to publish a book about social media. What better person to speak about the convergence of food, wine and social media than Rick?
That said, I was perplexed about why a digital expert like Rick would use a book to promote social media. I decided to ask Rick about Quick Bites: 75 Savory Tips for Social Media Success, about how social media is impacting the wine industry, and the subject of bacon.
Janet Majors: Quick Bites is a great read, and there's no doubt you know your stuff.  Lots of experts have come before you, here: there's Seth Godin and his Purple Cow, Chris Brogan and his Trust Agents, and there's not a wine drinker alive who doesn't know the name Gary V. Tell me, what makes your book different, and why did you choose to publish a printed book over an e-book?
Rick Bakas:  Funny thing—all the people you just mentioned are individuals who built their personal brands in social media, and all of them have published a book. I often talk about putting the 'social' in social media as a reminder to interact in person, not just online.
To answer your question, though, it's also important to put the 'media' in social media. If you have a brand and a brand message, you should use all the different forms of media to communicate that message, because there's a different audience in each channel. Although printed books' days are numbered, they're still relevant in 2010. There will eventually be an e-book version of Quick Bites formatted for Kindle and iPad.
JM: Many wineries, both large and small, are looking to social media to develop relationships directly with their customers and to help build their consumer direct sales channel. However, many are entering into social media without a clear vision or strategy of what they want to accomplish. Can you discuss why understanding your brand is the essential first step in creating a brand?
RB: A brand is an outward sign of an inward belief. Understanding your brand isn't just limited to the online world—that needs to happen everywhere. Social media is an extension of the real-life interactions a winery has with its consumers, not a replacement.
But because social media can accelerate things, any missteps can be amplified faster. For example, in less than seven days Susan Boyle went from unknown to a worldwide brand. In that same time, Tiger Woods went from a worldwide brand to a shell of his former self. He lost some big sponsors within a week. That's how fast things move and why it's important to have a clear understanding of what your brand is and what it should represent.
JM: If understanding your brand is the foundation for building a successful brand, what other advice can you give wineries as they evaluate how to incorporate and utilize social media in building brand influence?
RB:  Take the buzzword "social media" out and call it what it really is—people talking to each other. This is the dawn of a new day, and if you do it right, it's very powerful. We've all been raised in a world where advertisers broadcast at us via magazine, television, billboard, or radio hoping some small percentage of people react. That's the old way of marketing a product. The new way is to have a one-on-one relationship with consumers. The consumer decides to "opt in" to your brand by following on Twitter, subscribing to your blog, or "liking" your page on Facebook. They want to hear what you have to say, and you need to earn their trust by not bombarding them with promotional messages.
JM: There are so many options in social media.  Can you share what are some of the most effective platforms for wineries to reach out to their customers, and why?
RB: I like a blog, Facebook, and Twitter as the nucleus. For less technical people—or people with limited time—I like posterous.com as a blog platform. It's more streamlined than, say, WordPress. You post blog posts simply by emailing your post, and it takes your email and converts it into a blog post.
I use Oprah as my analogy. Oprah has her TV show, but over time she added her book club and her magazine. When she added the magazine, she reached a new level of brand synergy where the elements all feed off each other.  A blog is like the TV show, and other social portals are like the book club or magazine. They all feed off each other, but the blog is the launch pad. Video is important, too, which is why it's good to have a YouTube or Vimeo channel as well.
JM:  Your book talks about the importance of finding the influencers in your industry and building a relationship with them. What are other effective tools in which wineries can engage with customers?
RB: Email databases are still very important in social media. Many wineries may already have social connections and influencers in their own email lists or databases. Finding and engaging with influencers isn't hard to do.  Due to the limited time wineries have, it might be good to fish off the dock they've already built. The cool thing about wine is so many people enjoy it.
JM: Social media moves at the speed of light, but building an online reputation takes time. In a world that seeks instant gratification but is also experiencing a challenging economy, what metrics can wineries use to justify social media's ROI?
RB: This is the right question to ask, but maybe not the right time to ask it. When people ask me about our ROI at St. Supéry, I use the analogy of planting vines: they don't produce fruit right away, but if you nurture them organically, they'll produce fruit consistently over time.
When I started here, I broke our social media strategy into three parts. The first phase was to establish our brand and build our following through consistent engagement, without necessarily trying to convert this engagement into sales. We were organically nurturing our vines. Six months later we started to move into our second phase, where we started to convert our efforts into sales.
All I can say is it takes some patience, but it's worth it. Anyone who has looked at the latest Gromberg Report or Nielsen data can see our brand has some of the highest increase in sales in the domestic wine market this year. Social media played a big role in that increase.
JM: When it comes to the wine industry, what kind of person do you think is right for a social media marketing position? Who do you think should be the primary voice of the brand and why?
RB: People who are good candidates for a social media position should have a few key qualifications. They should have emotional maturity—contrary to popular belief, they don't need to be a Millennial. They should be good at writing as well as communicating. They're going to be producing quite a bit of content and responding to customer service interactions. In cases like mine, they're not only the digital strategist, but also the face of the winery. Ultimately, the person who handles the social media has the brand in their hands.
JM: You mention that the average person spends two hours per workday on social media sites. It seems the biggest resistance to social media in the wine industry is the time commitment and the lack of personnel. The suggestion to spend the majority of one's time managing some sort of brand, whether it be your personal or company brand, is a good suggestion. In full disclosure, how much time did you spend online building your personal brand and the St. Supéry brand? Knowing what you know now, would you do anything differently?
RB: When companies say they can't afford to hire a social media person, my response is you can't afford not to hire a social media person. Jump in now or later, but we'll all eventually be involved in social media one way or another.
Since early 2008, I have spent from three to five hours a night on social portals involved in anything that had to do with wine, food, or bacon. Once I got my hands on the St. Supéry brand, I spent about three hours a night online managing and growing both brands.
No matter how much time you spend, you have to be consistent. Consistent messaging and repetition will grow your brand. There's a direct correlation between time invested and how big the brand will grow.
I'm not sure I'd do anything different.
JM: OK, I have to ask… your love affair with bacon is well known. What's your favorite bacon recipe and why? Any offers from bacon companies to help build their brands?
RB: Sadly, no. No bacon companies have approached me about doing anything yet. They might want to refer to the chapter in the book about engaging influencers!
It's hard to pick one bacon recipe—they're all so good. Maybe the one that helped get me my job here at the winery is the winner for my favorite. In March of 2009 I was talking to Lisa DeBruin about a bacon recipe she had been working on with her friend, Lesley Russell. It was bacon covered in chocolate and caramel, sprinkled with sea salt. That recipe got me talking to Lesley, who ended up hiring me at St. Supéry.
JM: What's next for Rick Bakas?
RB: We live in an exciting time. There's a huge paradigm shift happening that will change the way we communicate with each other forever. I'm motivated to be a part of it. Stay tuned for new things from St. Supéry later this year.
---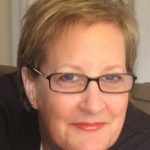 Janet Majors is a Partner of Catalyst Wine Group.  Located in Napa Valley, Catalyst Wine Group is a wine marketing firm that utilizes social media to create an engaging customer experience and community for small wine brands and wine related products.  Janet lives in Napa, CA.