The organizers call it "Cochon 555"—a lovely name, to be sure. But the event could have far more evocative labels, like "Porkstock" or "Pigapalooza" or "Swine Lake." Okay, that last one I stole from a hilariously famous episode of "The Muppet Show" with ballet star Rudolf Nureyev and a chorus line of dancing…well, you know.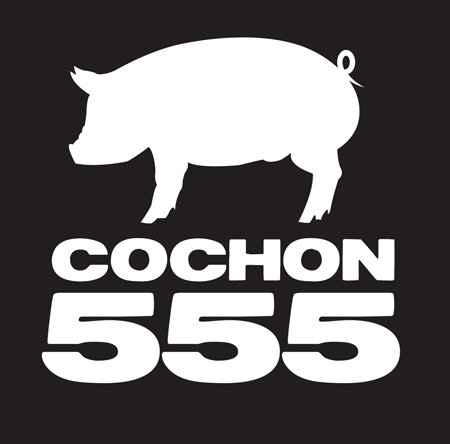 But in any event, Cochon 555 is not an event Miss Piggy would want to attend, unless she wanted to end up on the menu. It is a traveling road show that goes the whole hog. It recruits its actors and its main courses from the 11 stops along the way, starting in Napa in February, traveling the nation, and culminating at the Food and Wine Classic in Aspen in June. I attended the Washington, DC, leg of the tour on May 2.
The brainchild of Atlanta promoter Brady Lowe, Cochon 555 is dedicated to highlighting sustainable agriculture in food and wine. Five local chefs each prepare a whole 125-lb. Heritage pig, each one a different variety, using it from head to tail—and I mean that quite literally. Offered dishes went from pork cheeks—fatty and delicious—all the way back to crunchy deep fried pig tails. For those of you with poor math skills like me, that's 625 lbs of pork per city—6,785 lbs for the tour. And there are some, shall we say, sideshow edible attractions as well.
Why Heritage pork? It simply tastes better. Even a simple pork chop with, say, rosemary, garlic and olive oil becomes something transcendent with a Heritage variety. Simpler is better. It can stand on its own two—well, four—feet. Heritage pork in its different varieties bursts with a rich, earthy succulence that makes you feel guilty for ever laughing at a Porky Pig cartoon. The pigs get more exercise from being outdoors during the winter so they tend to have darker and more marbled meat.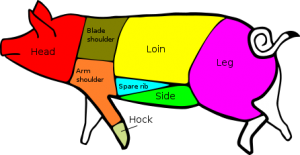 There are also five highlighted winemakers, pouring several of their wines picked to pair with pork tacos, pork belly sliders, bacon dipped in chocolate (surprisingly good) and ice cream—bacon and egg ice cream. (There was also plain bacon ice cream, for those attendees watching their cholesterol.) Although the pigs for this event were local, the organizers were not always able to find local wines suitable for pairing, forcing the organizers to be more, shall we say, ecumenical.
For the chefs, this is both serious business and serious fun. Guests and a panel of judges scrutinize presentation, utilization, and overall best flavor of various dishes, with the winner being crowned the "Prince/Princess of Porc" (shouldn't that be Crown Roast of Porc?).  The winner advances to a final showdown with the other regional winners at the Aspen event.
Here's one lineup of dishes made from one pig by Chef Daniel Singhofen of Eola Restaurant: Pork and Stormy (a drink of bacon-infused rum with house-made ginger beer); pork heart confit with crushed turnips, pecans, brandied cherries, and fennel; ham jam on a buttermilk biscuit with rhubarb condiment; Mexican pork toast with mole and epazote; Cuban pork saddle with black bean and rice cake; pulled pork BBQ wrapped in a salt and vinegar pork rind (so good!); pork consommé; bacon braised radish; pop-and-pork chocolate; caramel bacon popcorn; and a pork and blue ice cream sundae (the ice cream was blue-colored).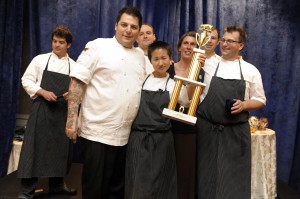 The irresistible pork skin truffles of Bourbon Steak Restaurant won and made Executive Chef David Barley the DC porcine royalty. He said that you cannot be taken as a serious chef unless you are buying and preparing local, sustainable products in your restaurant.
"That's the price of entry right now," Barley said. "If you want to be considered a serious chef you can't be buying your stuff from across the country and FedExing it all over the place when you've got it right in your back yard. Anybody who's not doing that is not even in the discussion about who's making things happen foodwise."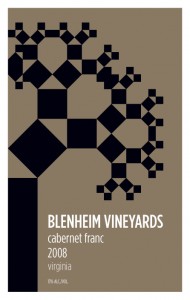 The winemakers at the DC event came from as close as Virginia and as far away as Oregon. The varietals and styles were highly varied, keeping with a wide range of dishes prepared in vastly different ways.
Although some 60 per cent of their production is white wine, Chehalem Winery of Oregon's Willamette Valley showcased some of the stunning Pinot noirs for which Oregon is known.  A 2006 Reserve Pinot Noir showed luscious berry fruit underpinned by solid structure that gave it depth and character, rather like a Pommard, to my palate, at least.
Blenheim Vineyards of Charlottesville, VA—the home of America's third president and great wine aficionado, Thomas Jefferson—poured Cabernet franc, among others, that was notable for softness and a distinct lack of oak, which, with some of the foods, was a good thing.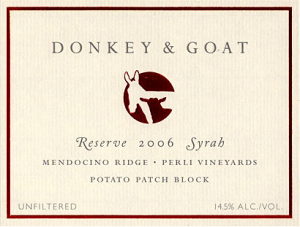 Donkey and Goat Wines (I love that name!) in Berkeley, CA had a stunning 2006 Reserve Syrah that was an exact opposite, a rich woody wine that had a surprising 36 months in oak. That, too, worked well with some of the spicier pork presentations. Winery owner Tracey Brands said attending the show was a "no-brainer" since she is "all about Syrah and swine."
All the wineries there, it seemed, shared the desire for sustainable viticulture as both the philosophical and quaffable accompaniment to the kind of sustainable foods at the show. Brands said that they make natural wine, which is not, as she pointed out, the same thing as organic wine.
"Natural is more about a symbiotic environment," she said. "It's a little different from biodynamics, and it extends to the cellar. So you have organic producers out there who ferment in plastic and add nutrients and add enzymes and inoculate. That's fine. But that's not natural wine."
To my palate, I found the simpler preparations worked remarkably well with Pinot noir. There was something appealing about the gaminess of the Heritage pig that melded with the light spiciness of a good Pinot—though not an extremely fruit-forward one. A great swine-and-wine combo.
But when you get into more elaborate and spicy or herbal presentations, it gets a little tricky. Take the above-mentioned pork toast. The mole and epazote—a rather pungent herb common to Mexican cooking—require something a little firmer with a more tannin and sturdy structure. A light Cabernet sauvignon would have worked, although not something like the Silver Oak that was served. Surprisingly, I found Blenheim's Cabernet Franc worked very well.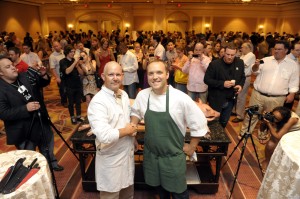 But it took a lot of tasting combinations, like some ombibulous chemist, to find combinations that worked for individual dishes. Ah, the joys of experimentation!
Charcutier Chris Mattera of Belmont Butchery in Richmond, who made a variety of pâtés and terrines to accompany the wines, says there is a growing consumer demand for sustainable products. Events like Cochon 555, he says, are a great showcase.
"People say we're seeing a renaissance of this kind of thing," he said. "But I think what's really happening is that you're seeing a realization that the way we've been doing things from production to consumption, we're not really in a tenable situation. We can't keep doing things the way we're doing. So events like this, where you see that Heritage breeds taste better, they can be raised more sustainably, and you can make cool stuff out of them, kind of ties all those issues together and highlights them. And it's about time."
It is, indeed.
---
Gary Thomas is a 35-year veteran of journalism, spending much of his time having served as a foreign correspondent in places like Islamabad, Kabul, Phnom Penh, and Bangkok. He finds gainful employment as a senior correspondent/news analyst at Voice of America. He was the wine columnist for the Austin American-Statesman in Austin, TX and has also authored pieces for the Wine Spectator. He lives in Arlington, VA, across the river from Washington DC and just up the road from the Pentagon.