Albariño is the primary white grape variety of the Rías Baixas D.O., found in northwest Spain's Galicia. The wines are typically light, crisp and refreshing—the perfect thing for a hot summer afternoon. While summer here in the Pacific Northwest was anything but hot, I still made a point of breaking out the Albariño, perhaps as my way of disputing the cool rainy weather (not entirely unlike Galicia though!).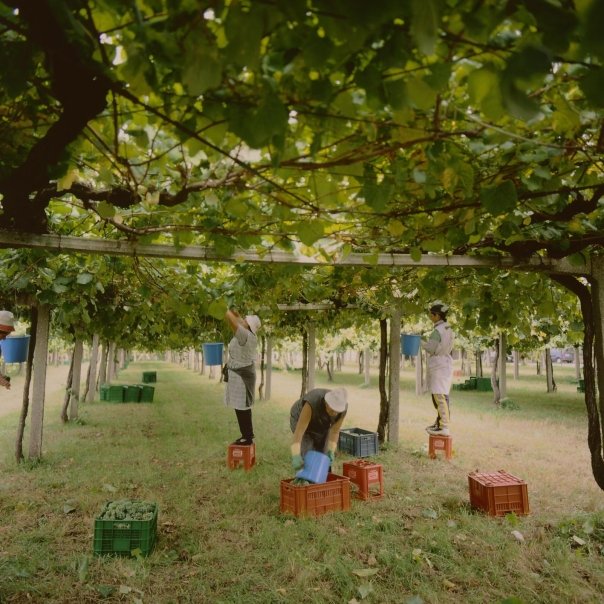 Galicia has a very mild climate regulated in large part by the Atlantic Ocean, and unlike much of Spain is incredibly verdant due to higher rainfall. Because of these cool, damp conditions grapes are often grown on arbors, which allow increased airflow to help prevent rot. The cooler weather contributes to the bright acidity often found in the region's white wines, a major structural component which makes albariño such a good food wine. The crisp acidity is ideal for the seafood that dominates Galician cuisine.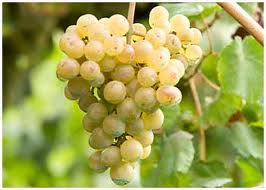 A group of fellow wine professionals from the Portland area got together late this summer to conduct a tasting of different Rías Baixas Albariños. The panel had the overall opinion that the 2009 vintage was very consistent in character, flavor, and style. This is great if you're unfamiliar with these wines, as you'll likely not go wrong with whatever is available to you. On the other hand, it might be a disappointment to some who are looking for variety in their wines. Regardless, the wines were all zesty, refreshing, and food-friendly.
PANEL FAVORITES
#1: 2009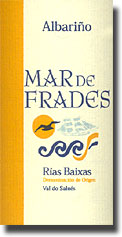 , Bodegas Mar de Frades ($25)
Clear, pale greenish-gold in color. Vibrant aromas including peach, stone fruit, tropical fruit, melon, lime zest, tangerine, freshly cut grass, white flowers and minerality. A dry wine with medium-high acidity, medium body, and a long finish. Flavors effortlessly mimic the aromas and offer loads of citrus, peach pit, and minerality. Higher priced than others at $25, this wine is above the median for the region but offers tons of complexity that is worth the cost.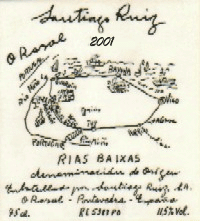 #2: 2009 Santiago Ruiz Albariño blend, Santiago Ruiz, S.A. ($20)
Clear, lemon-yellow in color. Clean, medium intensity aromas including peach, pear, grass, fresh herbs, stone, and candied citrus. A dry wine with mid-level acidity, medium-light body, and a moderate-to-long finish. Flavors of citrus zest, lemon, and apple. Of the panel's favorites this is the only blend: 70% albariño, 15% loureiro, 10% treixadura, and 5% each caiño and godello. This wine is reasonably priced, though more affordable options are definitely out there.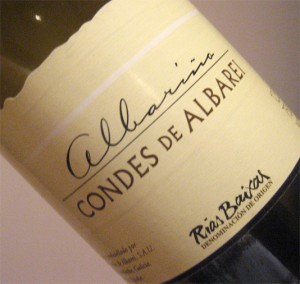 #3: 2009 Condes de Albarei Albariño, Adega Condes de Albarei ($15)
Clear, greenish-gold in color. Clean aromas including herbs, lime, tropical fruits, and melon. A dry wine with higher than average acidity, medium body, and a medium finish. Flavors of lemon and lime, minerality, and bright pineapple. A mid-priced wine, offering decent quality for the cost.
Other wines tasted
2009 Laxas Albariño, Bodegas As Laxas, S.L. ($16)

2009 Salneval Albariño, Adega Condes de Albarei ($10)

2009 Torre la Moreira Albariño, Bodegas Marqués de Vizhoja ($17)

2009 Martín Códax Albariño, Bodegas Martín Códax ($15)

2009 Burgáns Albariño, Bodegas Martín Códax ($15)

2009 Pazo de Señorans Albariño, Pazo de Señorans, S.L. ($25)

2009 Pazo San Mauro Albariño, Pazo San Mauro, S.A. ($19)

2009 Serra da Estrela Albariño, Adegas Valmiñor, S.L. ($16)
All wines provided by Rías Baixas Wines.
Tasting Panel
Pamela Heiligenthal & Marc Hinton: co-founders and editors at Enobytes. Pamela is also a certified Spanish Wine Educator.
Mimi Martin – co-owner, director, and instructor at Wine & Spirit Archive in Portland, OR. Mimi holds her WSET Diploma in Wine and Spirits.
Lisa Strid – Advanced WSET student at Wine & Spirit Archive, author of the blog Noble Sot. Lisa holds her Intermediate WSET certification with distinction.
Ryan Reichert – certified Spanish Wine Educator and managing editor for Palate Press: the online wine magazine.
[author] [author_image timthumb='on']http://palatepress.com/wp-content/uploads/2012/05/ryan-reichert.png[/author_image] [author_info]Having grown up in the midwest, Ryan Reichert followed his passion for wine to the Willamette Valley region of Oregon. Always the explorer seeking to learn more he has travelled around the United States and through France, Spain, and Italy. He holds the Advanced Certificate with Distinction from the Wine & Spirits Education Trust, is a French wine enthusiast, a certified Spanish Wine Educator, and is working towards certification as a sommelier with the Court of Master Sommeliers. Ryan is the creator and author for Northwest Whites, a site dedicated entirely to the white wines of the Pacific Northwest. You can also learn more about Ryan on his personal website. Ryan lives in Portland, OR.[/author_info] [/author]
If you like this story, you might also like: