Elmer Swenson is a legend in cool climate grape growing circles. This is thanks to all his research, mainly in Minnesota, developing hardy varieties that thrive in a cold climate growing season, survive cold winters, but can also make really good wine.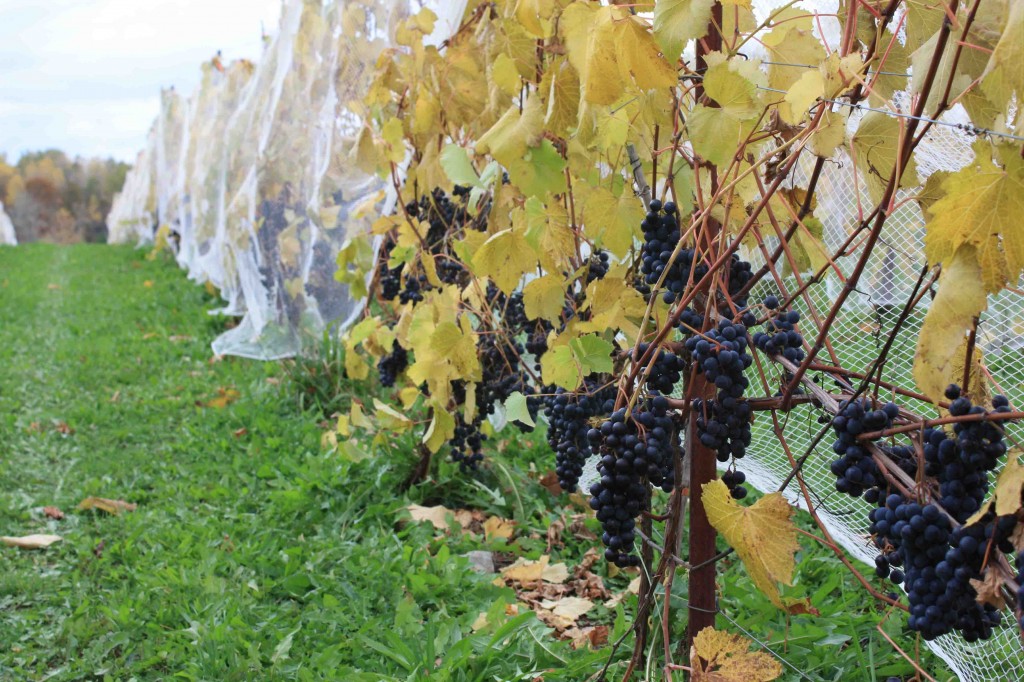 Northeastern American wineries know Swenson varieties well, but Canadian growers, both in Quebec and its eastern neighbour New Brunswick, also have a lot to thank Swenson for.
Some of his best loved "creations" include the reds St. Croix and Sabrevois, and whites St. Pepin, Prairie Star, Louise Swenson (named for his wife), Edelweiss, and two grapes that really need to be named: E.S 8-2-43 and E.S 6-16-20 (not very sexy from a marketing standpoint).
Swenson is not the only star in the state, though, as other dependable grapes have arisen from the University of Minnesota, including Frontenac, Frontenac Gris, and the exciting new Marquette, which some growers, winemakers and wine lovers are championing for its Pinot Noir-like wines.
Many Minnesota varieties can be grown successfully in northern wine zones.
And, as will often happen with grapes, new varieties can sometimes arise on their own. Frontenac Blanc mutated from its Minnesota parents in a vineyard in Quebec, where the pioneering Alain Breault discovered it.  It shows great promise for Riesling-like wines.
Grapes for the North East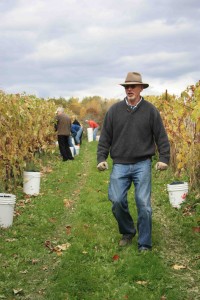 None of these grapes are household names internationally, but they are nonetheless important from the point of view of increasing numbers of growers in Northeastern North America.
Many form the basis of wine industries in Northern US states, but are also becoming essential in Quebec and Atlantic Canada.
One particular wine region that has been gradually converting to Minnesota varieties is the province of New Brunswick.  New Brunswick has a small winegrowing industry, with around a dozen wineries, most of them making wine from other fruit, mostly blueberries.
The few wine grape growers and wine producers have gone through some transitions over the past few years.  Many started with the French-American varieties popular in the easterly neighbouring–and slightly more temperate–province of Nova Scotia, such as Marechal Foch, Lucie Kuhlmann, Leon Millot, Castel, Seyval Blanc, and Vidal Blanc, as well as other cool climate varieties developed in North America that form the basis of the Nova Scotia white wine industry, namely New York Muscat and L'Acadie Blanc.
These grapes work OK in New Brunswick to some extent, and very well in some areas in warmer years, but the reality is that winter temperatures drop far lower in their vineyards than in the grape growing hotspots in Nova Scotia.
Advantage of Minnesota varieties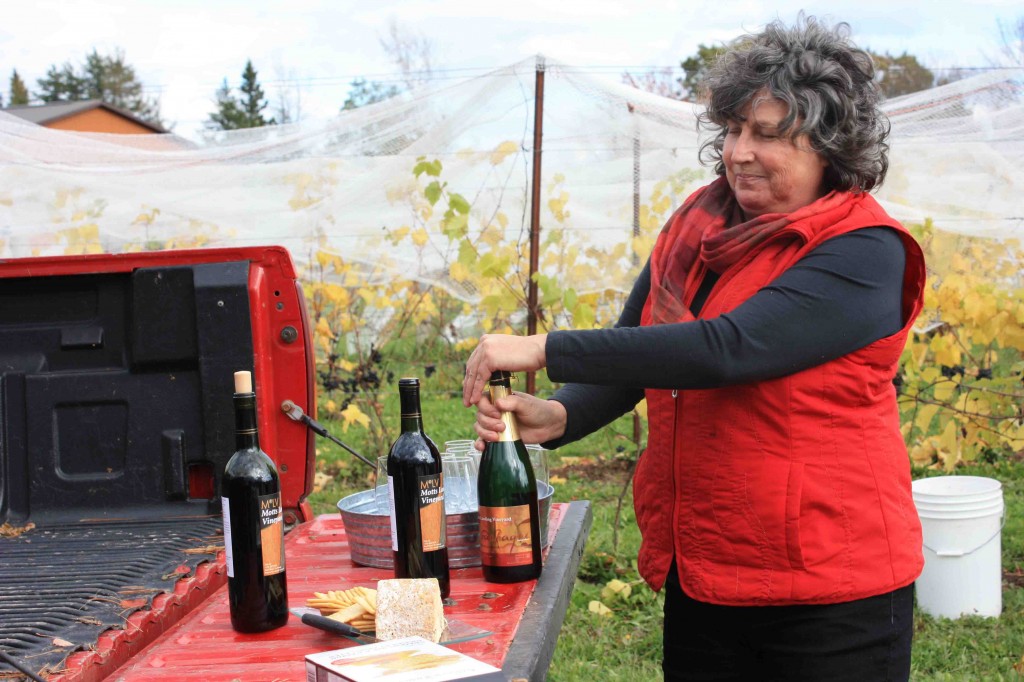 Alan Hudson is the owner and winemaker at Richibucto River Wine Estate, New Brunswick's newest winery, located between Moncton and Mirimichi, along the banks of the Richibucto, in Northeastern New Brunswick, close to the moderating Baie de Chaleur and Northumberland Strait, the warmest ocean water north of the Carolinas. Richibucto is also the province's largest winery in terms of grapes planted, with 20 acres. They achieved great success recently, winning 4 Bronze medals in the Wine Access Canadian Wine Awards.
Hudson started with French-American grapes, but is transitioning mainly to Minnesota varieties.  "One advantage that Minnesota hybrids have over the French hybrids is that they are more winter hardy," he notes. "French hybrids like Foch and Leon Millot make good wine if you can get good winter bud survival and the crop is from mainly primary buds."
He proved this in 2010, an unusually warm, dry year in Atlantic Canada, with medals for his very tasty Foch and Reserve Foch. He is moving to the other grapes, but will keep some of his original plantings.
"From my experience," he adds, "we should always try to grow some Marechal Foch and Leon Millot, as they have potential to make a good wine. They can also be used for blending with the Minnesota varieties."
But, from a grower's standpoint, he prefers Minnesota, and not just because of their superior winter hardiness. "They are more upright growers on the trellis and easier to maintain when growing," he says. "Minnesota whites will almost always make good wine," adds Hudson, "but Minnesota reds are harder to make a good wine by themselves without blending. Many but not all of the Minnesotas take longer to ripen and mature."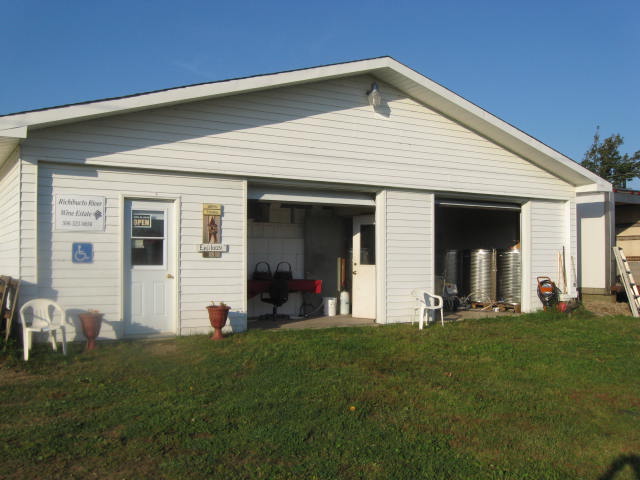 According to the definitive text "Northern Winework," by Tom Plocher and Bob Parke, Foch, Millot, Castel and Seyval fall into the "Tender" category, meaning they will suffer if the temperature drops below -26°°Celsius, unless they are protected by snow, soil or straw. In contrast, Marquette, St. Croix, Frontenac, Louise Swenson and other Minnesota varieties can handle -35° Celsius.   This said, the vines still benefit from snow cover, as the roots of even these hardy varieties can be damaged at -35°C if there is no cover.
One also needs to consider the ripening characteristics of these grapes. Frontenac, for example, is hardy, but it is a late ripener, so high acid can be a problem at harvest. Foch and Millot ripen earlier, but there is strong risk of winter damage.  This is why people are excited about Marquette as a varietal red wine in Quebec and New Brunswick: a) it is hardy to -35° C., b) it is an early ripener, and c) it makes good wine!
Hudson, like other New Brunswick growers, is also hopping on the Marquette wine wagon. "I will be making a wine this season with Marquette, and I'll see how it turns out with the poor growing season." (2011 in Atlantic Canada was unfortunately not quite as nice as 2010…)
For whites, Louise Swenson, St. Pepin, Prairie Star and E.S. 8-2-43 look promising. They are hardy, and they are midseason ripeners. So far in New Brunswick they have resulted in fresh whites with good fruit and acidity.
Hudson has planted E.S. 2-3-17, E.S. 5-17, E.S. 8-2-43, and Prairie Star, in addition to his reds, and has made several white blends.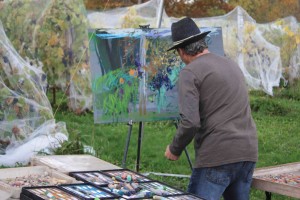 Another NB winery and vineyard with Minnesota grape success is Motts Landing in Lower Cambridge Narrows, in south central New Brunswick, about 150 km (90 miles) from the Maine border,  where winemaker Sonia Carpenter and grower David Craw have been experimenting with many grape varieties over the past decade.
As they describe thoroughly on their website, they have more recently settled on a smaller, more manageable family of grapes, and Carpenter has been fashioning eminently drinkable wines from them, often as blends.
Motts doesn't generally list the grapes on the label of their blended wines,  probably because they could change every year based on how things go. When asked if the blends in her 2010 releases are secret, Carpenter replies with a laugh: "No secret, I just don't waste my time trying to tell people what grapes they are.  The average person, as you know, would struggle to name five vinifera grapes, let alone hybrid grapes, so I just give the wines names."
Her "Summer Solstice" is 50% Louise Swenson, 25% Prairie Star and 25% L'Acadie Blanc. She also makes a tasty, crisp "House White" that is 90% Louise Swenson and 10% Vandal-Cliche (a variety developed in Quebec).
"I do all of the blending by my palate," she adds, "and any one else that happens through my kitchen that I think has anything going for theirs."
Craw and Carpenter, like Alan Hudson, have vineyards that are a blend of the Minnesota grapes and some of the French-American ones that dominate NS vineyards. Besides the white wines, they have had good success with Sabrevois and Marechal Foch, as well as Frontenac, in some cases barrel aged.
"I think in NB we tend to use Minnesota varieties because they are made available to us through Quebec," explains Carpenter. "Nova Scotia has never been really forthcoming; we have never been approached by any vine nurseries.  David and I tried some New York Muscat from cuttings that we got from Hans Christian Jost [one of the founding figures of Nova Scotia wine] at Malagash, but that was during David's quest for organic growing."
The Muscat just didn't thrive in Lower Cambridge Narrows. "The vines survived winters but I think they budded too early and that killed the primary buds," recalls Carpenter. "Another thing with the slow start to NB vine growing has been that all the growers grow from cuttings as opposed to bare-rooted plants. Again, it all comes down to the supply chain."
Two other New Brunswick wineries, the fruit wineries Verger Belliveau Orchards in Memramcook, not far from the New Brunswick – Nova Scotia border in the southeastern tip of the province, and Magnetic Hill, just outside of Moncton, the hub of south eastern New Brunswick, with a nice mix of French Acadian and English culture, have started grape planting programs that are heavily based on Minnesota.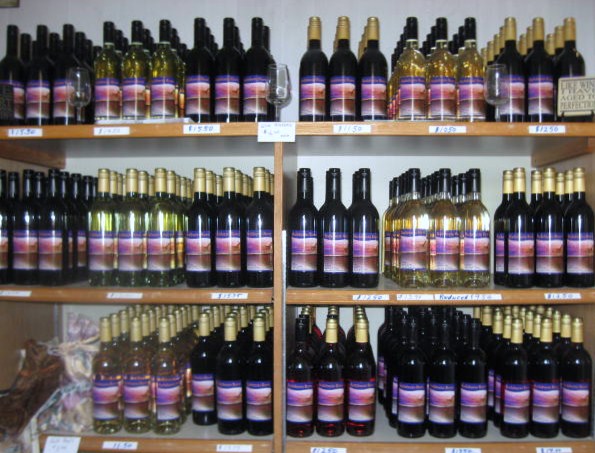 Magnetic Hill has planted some Marquette and has plans to add Petit Pearl (a new, cold-hardy variety reminiscent of Pinot Noir), Frontenac Blanc and Gris, and experiment with one unknown vine that developed on their farm.   Belliveau has Marquette and other Minnesota varieties in the ground.
It is hoped that the success of these pioneers will lead to more growers and wineries in New Brunswick.
Things have really turned a corner recently for New Brunswick's grape growing industry, and a lot of the credit goes posthumously to Elmer Swenson (d. 2004) and the other grape researchers of Minnesota. Swenson and his cohorts have proven that it can be cool to be cool.
---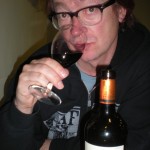 Craig Pinhey is a wine, beer and spirits writer based in New Brunswick, Canada.  You can read more of his stuff at frogspad.ca, visit him on Facebook or follow him on twitter as frogspadca.