A thick tome, 132 years old, has survived to tell the story of Piedmont's grape-growing past. That is, if you can decipher the flowery penmanship and wade through the anachronistic turns of phrase. There, in a section on grape varieties in the book called "Wine Production and Oenology in the Province of Cuneo, 1879," lies both the question and, perhaps, the answer to one of the region's great mysteries.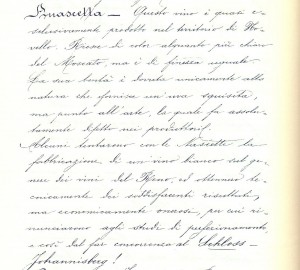 What happened to Nascetta?
Piedmont is Nebbiolo country, first and foremost, though of course many other varieties grow and thrive. Nascetta is a white wine grape that few modern wine lovers have ever encountered. This is not unique in Italy; vineyards in this country produce almost incalculable numbers of varieties, and most never produce a special varietal wine.
But this is where Nascetta parts ways with its hundreds of viticultural cousins. Winemakers recognized the unique appeal of Nascetta early in its history. Writing in that 1879 book, Lorenzo Fantini describes Nascetta as having a "goodness uniquely owing to the nature provided by an exquisite grape, tending toward art…"
Art! Fantini described Nascetta as being refined, comparable to grapes of the highest known quality. Surely, Nascetta was positioned to stand together with Nebbiolo as the strongest white and red grapes in Piedmont.
In that same passage, however, Fantini offers what likely became Nascetta's obituary:
"…tending toward art, which makes it absolutely defective for producers. They obtain results that are technically satisfying but economically burdensome."
When producers realized that Nascetta didn't work as a bulk wine, they opted for something else. This stately white grape became Il Dimenticato, The Forgotten One, existing only on the pages of ancient Italian texts.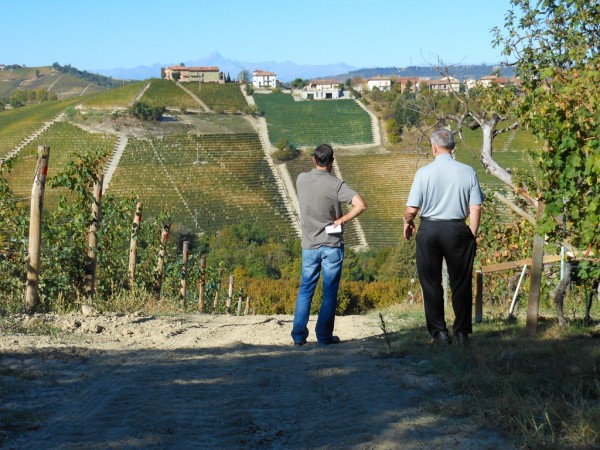 The variety was kept alive in small quantities until finally a group of winemakers were curious enough to see what all the excitement was about so many years ago. Led by winemaker Valter Fissore of Elvio Cogno, interest in the grape began to ripple quietly across the region. Nascetta's most vocal modern champion is probably Enrico Rivetto, winemaker at Rivetto in Serralunga d'Alba. On a recent visit, I learned that Rivetto is now producing 300 cases of Nascetta annually, and is dedicating new sections of vineyard to the grape.
"Rivetto is among the few producers who produce and study Nascetta," Enrico said. "We believe in the potential of this vine, forgotten for years and now rediscovered." Rivetto is encouraging his colleagues in Piedmont to plant Nascetta and produce a varietal wine from it; for now, only about half a dozen producers are doing so. "Thanks to the peculiarities of the terrain, it's destined to become the great white wine of Langa," Enrico added.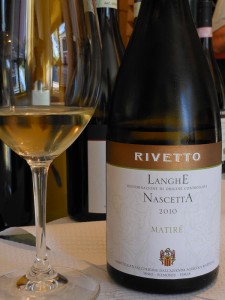 It's an ambitious declaration, given Nascetta's relative youth. The 2010 Rivetto Nascetta marks the first time Italian authorities permitted wineries to label the wine as Nascetta; previously the wine carried the nebulous title of "Langhe Bianco." The legal recognition has changed the game. "We're proud of the grape and we wanted customers to see its name on the bottle, to understand and become familiar with what this wine is," said Rita Barbero, who led us on a tour of Rivetto's vineyards.
In Rivetto's tasting room I had my first opportunity to experience modern Nascetta. It was one bottle, of course, just one glimpse, but I was left wanting many more. The aromatics were explosive and layered, reminiscent of Muscat in the floral character, but tilting toward Sauvignon Blanc with its fruit. In the mouth, this Nascetta wove its colorful personality around a stony core. The 13.5% alcohol by volume stitched into the wine seamlessly. High quality, but also high character; how often do you taste a wine that is utterly unique and yet not simply idiosyncratic?
The proselytizing of Enrico Rivetto and the other Nascetta converts is already making an impact. Two of the finest Italian wine journalists have recognized the quality of Rivetto's Nascetta, most recently Franco Ziliani, as well as Jeremy Parzen, who delves further into the details of Nascetta's fascinating history in this post.
Ironically, Rivetto produces a wine called "Il Dimenticato," but it's not their Nascetta bottling. Enrico thought it would be a clever name for a late-harvest red wine, but don't be fooled. The true story of Il Dimenticato goes back more than a hundred years, and it seems that eventually, wine lovers will laugh at the notion of Nascetta as a forgotten grape. It will make up for the lost time, and soon.
---

Evan Dawson is the author of Summer in a Glass, a book about Finger Lakes winemakers. Evan is also the  Finger Lakes Editor for the New York Cork Report. His paid job includes offering his best Ron Burgundy impersonation as a morning news anchor and political reporter for WHAM-TV in Rochester, NY.