If you were to visit a long-established wine region such as Bordeaux or Burgundy, and then visit a younger, emerging wine region in North America, one of the many differences that might strike you is a discrepancy in the number of grape varieties being grown. While many established wine regions have staked their reputations on wine made from two or three grape varieties (which are often established in appellation laws), winemakers in emerging wine regions have more freedom to experiment when deciding which varieties to plant.
Like any emerging wine region, British Columbia's Okanagan Valley is in search of its identity. There are no appellation-style rules restricting which grapes can be grown in the Canadian province, and visitors may be overwhelmed by the abundance: there are more than 60 different varieties planted in BC.
Is this a symptom of the industry's youth? Will the selection eventually narrow, and will the Okanagan ever define its "signature" grapes? Some have made a case for aromatic whites (especially pinot gris), while others prefer to highlight red Bordeaux-style grapes like merlot and cabernet, and still others lean toward syrah. Then there are supporters of riesling, chardonnay, sauvignon blanc, and pinot noir. So I asked a few members of the local wine industry what they thought: None of them liked the idea of choosing signature grapes.
"Signature grapes are an old way of marketing and thinking," said Sandra Oldfield, winemaker and CEO at Tinhorn Creek Vineyards in Oliver. Although she used to believe the Okanagan should define signature grapes, she now believes that variety is the way to go: "Our uniqueness comes from the fact that we are finding micro sites that suit a wide range of grapes. That kind of non-monoculture feeling to our valley will be something to promote in the future rather than feel hindered by."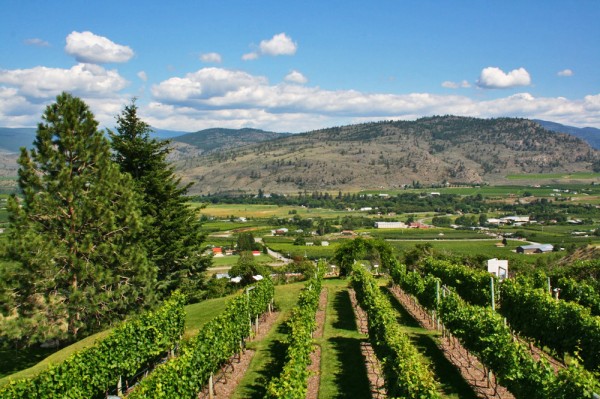 While those unfamiliar with it may see the Okanagan as a unified region, it is in fact a long, diverse valley of about 100 miles (160 kilometers). In terms of wine production, it is perhaps better thought of as five distinct sub-regions­—Kelowna, Naramata, Okanagan Falls, Golden Mile, and Black Sage/Osoyoos—each with a significantly different climate and soil. The difference in temperature between the north and south of the valley can be as much as 39 ºF (or 4 degrees Celcius) in summer. But while these sub-regions are by now well-recognized, they have yet to be defined as offical sub-appellations.
Because of this diversity of climate and soil, it would be "inappropriate to select a couple varietals for the whole valley," said Cynthia Enns, owner and vineyard manager at Laughing Stock Vineyards in Naramata. "The whole region is maturing and it takes decades to see what grows well where. It will be an ongoing exploration for us." Christie Mavety, of Blue Mountain Vineyards and Cellars in Okanagan Falls, suggests dividing the Okanagan into three when considering which grapes do best: riesling in the north, pinot noir and chardonnay in the middle, and syrah in the south.
Merlot and pinot gris, however, are grown throughout the valley. "Merlot always does well due to how early it ripens," said Sandra Oldfield. Tim Watts, of Kettle Valley Winery in Naramata, echoed this sentiment, yet admitted that merlot is not selling well these days. Such dips in sales may be another reason that focusing on two or three grapes could become problematic.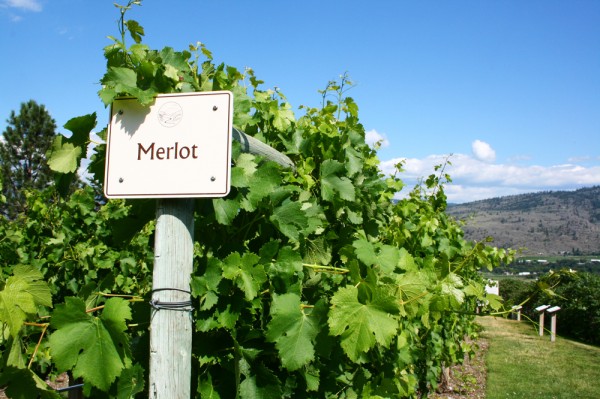 Tim Watts also feels that diversity is the way to go for BC. While focusing on a particular grape may work for a country like New Zealand that exports much of their wine, he does not feel it would work for BC, where most of the local wine is sold within the province. "Our market is BC," said Watts. "People really know the wine, so it's a lot easier here to deal with a lot more varieties. […] If we had too much production to use within BC, it would be a different matter."
The true identity of the Okanagan, then, may simply be one of diversity. It is, after all, Canadian.
[author] [author_image timthumb='on']http://palatepress.com/wp-content/uploads/2012/03/lesleytrites.jpg[/author_image] [author_info]Lesley Trites is a writer and editor living in Montreal. She holds the Advanced certificate from the WSET and blogs about wine at Girl on Wine.[/author_info] [/author]