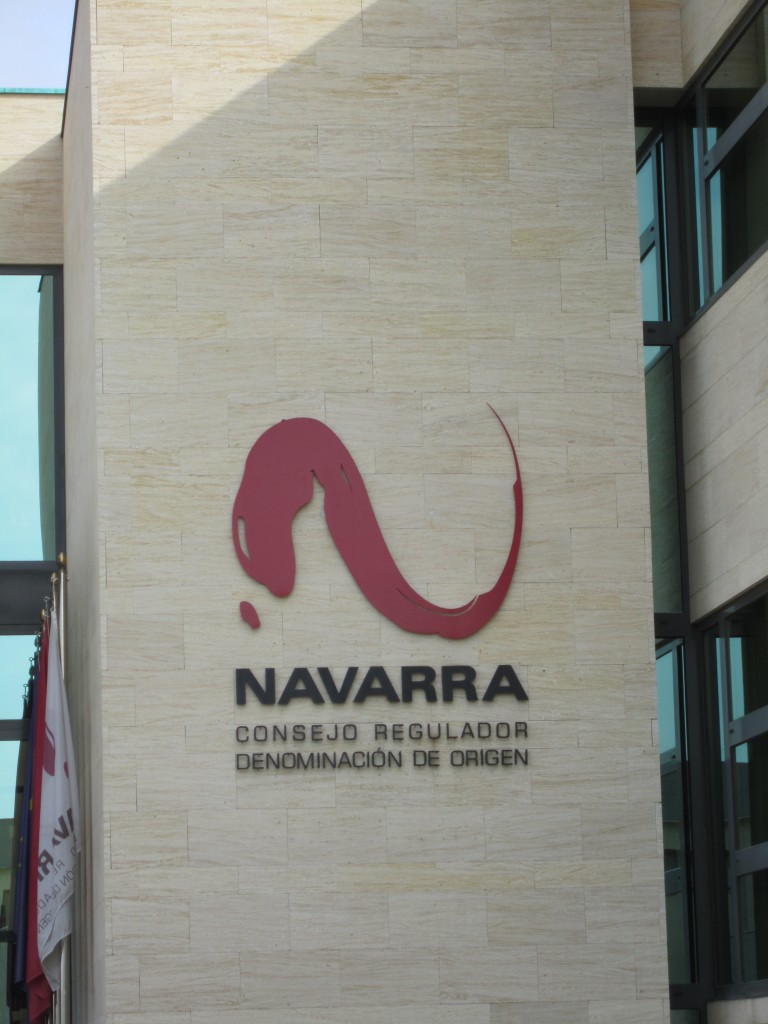 When I visited Navarra a few years ago, I went home raving about the rosado (rosé) wines made from garnacha (grenache). This time, I found a whole new sphere of great red and white wines, made from both indigenous and international grape varieties. I started in the north, in Pamplona, where you can still sit at Hemingway's favorite bar on the plaza, and sip his preferred summer drink, tinto del verano: simple red wine with soda and ice. Around the corner, there is a clock that counts down to another of Hemingway's favorite activities, the notorious running of the bulls during the annual festival of San Fermín in July. But back to the wine—as he would have reminded me.
Navarra's wine output is small, with only 1.5% of Spain's vineyards. In the region's five wine districts—all pretty arid—grape-growing and winemaking date back to the Roman era. In modern times, just as international grape varieties were being introduced in the 1980s, there was also a movement to recover the traditional diversity of Navarra, spearheaded by the Evena oenology station. Winemakers were encouraged to plant more of the indigenous white grapes viura and moscatel de grano menudo, and to re-balance their red grape varieties. Garnacha went from an over-planted 85% in the 1980s to 24% today; tempranillo is now 35%; and there are more plantings of the indigenous graciano and mazuelo (carignan), as well. Navarra's wine grapes are 92% red and 8% white.
While I was there this summer, I was told that, due to fierce competition from other Spanish wine regions (as well as European and New World wines) there has been a push for quality since 2007, and I found plenty of evidence to back this up. Briefly, here is what is going on at a sampling of wineries in Navarra.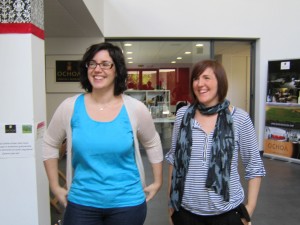 The Ochoa family has been making wine since the Middle Ages. At the current Bodegas Ochoa winery, two young sisters, Adriana and Beatriz Ochoa, now make and market the wine, and I liked pretty much everything I sampled. Their 2010 Viura & Chardonnay also contains 7% Moscatel for its aromatics; it has tropical fruit, freshness, a bit of minerality, apricot flavors, and nice acidity in the finish. Their red 2004 Reserva, made with Tempranillo, Merlot, and Cabernet Sauvignon has herbs like rosemary in the nose, mild acidity with flavors of dates and sweet cherry on the palate, and a lightly tannic finish.
At Bodega Innurieta, they are experimenting with syrah and growing indigenous varieties. But one of their most notable wines was the 2006 Altos de Innurieta, a reserve wine with candy and violet aromas, dark plummy fruit, and a moderate tannin finish made complex by the addition of a bit of Russian and Hungarian oak as well as French; it's made from Cabernet Sauvignon and Merlot.
At the Nuestra Senora de la Romero cooperative, established in 1951, the annual production is 125,000 cases of red and white wines. They export to Germany, France, the UK, China, and even a bit to California. I enjoyed even their basic white, the 2010 Malon de Echaide Blanco, made with 100% Viura: light, fruity and crisp. Unfortunately, I learned, the co-op's membership is now declining because the younger generation has been abandoning the vineyards, saying that farming is too hard.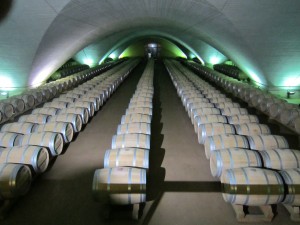 Another gigantic producer is Principe di Viana, with all the technical equipment to create very modern wines—producing one million cases of the Principe de Viana and Albret lines. They use integrated pest management in the vineyards, and strive for sustainability. For me, a standout wine here was the Tempranillo-based 2007 Albret Reserva: good fruit and spice in both aroma and flavor, with dark cherry predominating.
How can you not enjoy a place called Unx? And Bodega San Martin de Unx's flagship Garnacha wine, Alma de Unx, is aged only in local, Navarra oak. The wine had abundant fruit, plenty of acidity, and herbal notes throughout; tannins in the finish begged for a steak from an asador (local restaurant specializing in grilled meat).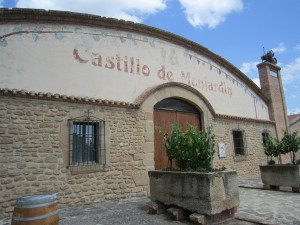 At Bodega Castillo de Monjardin, in an ancient town on the Camino de Santiago (the pilgrim's route) they are also committed to sustainable practices. Their 2010 Tintico was a very easy-to-drink Tempranillo wine, just bottled: plenty of hearty fruit but finishing nicely, less-than-sweet.
The historic Señorio de Otazu property looked deceptively like it did in the 1800s—until I went around to the back of the original winery where it's all 21st century, from the concrete grape reception area to the serene, architectural barrel ageing cellar. As one of Spain's 11 wineries with the lauded Vino de Pago denomination, their wine is Grand Cru quality. The 2004 Vitral (only 900 bottles made) which never touches stainless steel, is all foot-trodden grapes; the wine is incredibly sweet, juicy and youthful: 100% Merlot.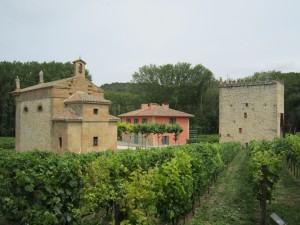 And then I was at my final destination, a winery with impeccable antecedents and striking architecture, blending traditional and post-modern elements. Chivite, founded in 1647 by one of the oldest wine-producing families in Spain, received its Vino de Pago denomination in 2008. The 2005 Chivite Colección 125 Reserva from 2005 had dark berries and cherry, a touch of spice, floral aromas, balanced fruit and fully integrated oak.
At the end of the tasting, there was a wonderful late harvest white wine, Chivite Colección 125 Vendemia Tardia 2007. It had apricot and honeysuckle on the palate and in the aromas, with some grapefruit and a bit of orange, too. The finish was dry, with nice acidity and a continuation of grapefruit notes.
As a dessert wine lover, I was thrilled to find that not just here, but nearly every winery follows traditional Navarra practices and produces a dessert wine from moscatel (muscat à petits grains); the wines were well-made and nicely balanced. These dessert wines are now gaining in popularity in Japan and Asia—and soon in the US too, I hope.
---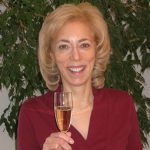 Becky Sue Epstein is Palate Press's International Editor. An experienced writer, editor, broadcaster, and consultant in the fields of wine, spirits, food, and travel, her work appears in many national publications including Art & Antiques, Luxury Golf & Travel, Food + Wine, and Wine Spectator. She began her career as a restaurant reviewer for the Los Angeles Times while working in film and television.