This is the second in a three-part series on the terroirs of Central Otago. After Gibbston and Wanaka, last week, here is a look at the largest winegrowing areas: The Cromwell Basin and Bannockburn, which combine to account for 70% of all Central Otago vineyards.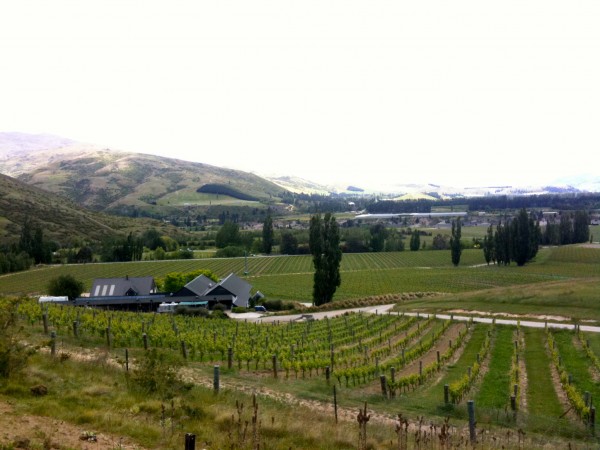 The Cromwell Basin is east from Gibbston, and includes wineries around Cromwell itself, as well as around Lake Dunstan, including Lowburn, which is just north of Cromwell along the west side of Lake Dunstan, Pisa, at the base of the Pisa mountain range, and Parkburn.  Another town in the appellation, Northburn, is just across the lake.
The Cromwell Basin is lower elevation than the Gibbston Valley, so is significantly warmer and drier, thus pinot noir ripens earlier. The terroir is a mix of flat and hilly terraces and moraines, with gently sloping alluvial fans.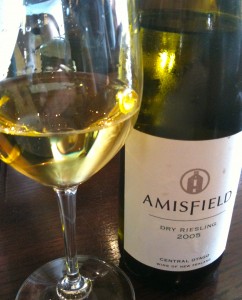 Pinot noir from The Cromwell Basin has great body, dark cherry flavours and firm structure, both from acidity and tannins.
Amisfield is a well-known winery with a popular bistro featuring lovely views. Besides pinot noir they are known for pinot gris, riesling, and even sauvignon blanc, which is not very common in Otago. Although the winery is in Gibbston, beside Lake Hayes,  their vineyards are in Pisa, part of The Cromwell Basin.
Peregrine is another winery located in Gibbston that makes their award-winning Pinot Noirs largely from fruit from Cromwell, and their seriously good Chardonnay is 100% from The Cromwell Basin.. This is also true of Chard Farms, whose intense Viper Vineyard and Tiger Vineyard Pinot Noirs come from Vipers Vineyard in Parkburn and the Tiger Vineyard in Lowburn .
Rockburn, a winery located right in the town of Cromwell, makes their Pinot from a mix of Gibbston and Parkburn fruit.  They have done very well with recent vintages, including Best of Show at the 2011 International Wine & Spirits Competition. They also grow gewürztraminer, riesling, pinot gris, chardonnay and sauvignon blanc in the Cromwell Basin.
Bannockburn
Bannockburn lies on the southern banks of the Kawarau River, just south of Cromwell. Pinot and Chardonnay ripen early on sandy, silty loam soils in this very warm, dry area. It is generally lower altitude than Gibbston, but is still up there at 220-370 metres.  Perhaps the best-known and internationally respected winery here is Felton Road,  famous for stellar Bannockburn Pinot Noir and Chardonnay, but also their legendary small parcel/single vineyard wines from The Elms, Calvert and Cornish Point.
[author] [author_image timthumb='on']http://palatepress.com/wp-content/uploads/2011/11/craigwinecritic-e1326905926992.jpg[/author_image] [author_info]Craig Pinhey is a wine, beer and spirits writer based in New Brunswick, Canada.  You can read more of his stuff at frogspad.ca, visit him at www.facebook.com/Craig.Pinhey.FrogsPad or follow him on twitter as frogspadca.[/author_info] [/author]