I'll be honest: when I first start hearing about Montecucco in the wine-blogosphere — they've been attempting to increase its international noteriety for a few years — my first thought is that I don't need another Tuscan Sangiovese in my life. After all, I already have all the Chianti zones, Brunello, Vino Nobile and Morellino, not to mention the broader Toscana IGT. After spending some quality time with the wines of Montecucco, however, I feel differently.
For obvious reasons, the first thing I ask Consorzio director Giovan Battista Basile is what makes his region stand out against the others. "It can have a very similar profile to some wines from Brunello," he responds. "Especially the Riserva and DOCG [both of which must be aged in oak]. Otherwise, it is more approachable, easier to drink than the powerful Brunello di Montalcino. And the quality to price ratio is excellent."
It might seem odd to bring up one of their chief competitors right off the bat. But the idea that Montecucco wines are similar to Brunello at a better price actually makes a lot of sense. The zone is located just south of Montalcino, between the famed hill town and Scansano, another Sangiovese hotspot known for riper, softer wines. This southern location within Tuscany brings warmer weather than, say, the Chianti Classico area, so the resultant fruit is bigger and bolder here, similar to what Brunello lovers know and love.
Montecucco's climate is particularly conducive to grape cultivation. It's close enough to the coast to benefit from cooling breezes, but far enough inland that Sangiovese still ripens well. Monte Amiata, the dormant volcano that helps moderate Montalcino's climate, plays a similar role here, while also providing volcanic soils for some of the Montecucco grapes to grow in (and causing a distinct minerality in the finished wine).
One of the region's many appealing aspects is the importance of sustainability. 70% of Montecucco Sangiovese, for example, is certified organic. (There's even been some discussion of taking the entire region in that direction.) And biodiversity has become a particular point of pride.
"If you come and visit," says Battista Basile, "you will see not only vineyards, but all different kinds of agriculture… The classic Montecucco winery is a family farm that doesn't grow only grapes, but also olive or chestnut trees. They have cows; they produce meat and milk. It is a well-balanced landscape with many kinds of cultivation."
"Especially near the coast of Italy," he continues, "our region is one of the most preserved naturally, featuring much wilderness and thus a nice equilibrium between agriculture and wild nature."
Similar to other parts of the country, there are a variety of government-regulated levels of wine here, which vary in terms of alcohol levels, aging regimens, etc. (Though known for its red, the region also produces white, rosato and vin santo.) In particular, it is worth understanding the differences between the various types of Montecucco red wine made primarily with Sangiovese, because the labeling can be perplexing for those who aren't well versed. There are 4 primary categories, all of which have relatively similar names and thus can be easily confused. Let's review:
Montecucco Rosso DOC: The least strict category, requires 60% Sangiovese, though top producers typically use more. Mostly aged in steel. Min 12% ABV.
Montecucco Rosso Riserva DOC: Like Rosso, but requires oak aging (18 mos, plus 6 in bottle) and min 12.5% ABV.
Montecucco Sangiovese DOCG: Requires a minimum 90% Sangiovese, at least 12 mos in oak, and 17 mos total aging. Min 13% ABV.
Montecucco Sangiovese Riserva DOCG: Like above, but requires 24 mos in oak, plus 6 in bottle. Min 13.5% ABV.
The base Montecucco Rosso can, when focused on Sangiovese, offer a particularly pure expression of the grape. Take the Salustri Montecucco Marleo 2015, for example — on sale for the consumer-friendly price of $11.99, BTW — made from 90% Sangiovese and 10% Ciliegiolo. After a nose of earth and violet, the palate shows a (slightly) more brooding fruit profile than one might expect from Sangiovese, though still primarily cherries and plums (with more earth in the background). It's a beautiful example of how this "entry-level" wine can shine.
Of several sampled Montecucco Sangiovese DOCG bottles — at varying stages of evolution — Le Calle di Catocci Montecucco Sangiovese Riserva Poggio d'Oro 2013 (100% Sangiovese, ~$25-30, media sample) is probably my favorite, with its maturity and impeccable balance. In addition to those signature cherries, savory notes include leather, eucalyptus and chocolate, while the structure suggests it'll continue to evolve and improve in the bottle. This beauty could easily stand up to Brunello at 3x the price.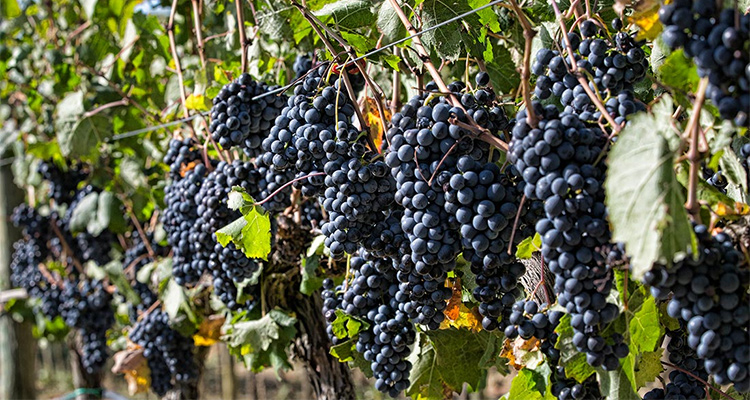 Le Maciarine Montecucco Sangiovese 2015 (100% Sangio, ~$20, media sample) offers a darker fruit profile — think black cherry — with a smoky note accentuating the natural earthiness, yet is also delicious. As with the previous, oak influence is present, but in a supporting role (as it should be).
Speaking of oak, it does seem more common for Montecucco producers to use tonneaux, or larger barrels, that bring some of the oak benefits without overpowering flavors of vanilla, etc., which, in turn, also allows the Sangiovese character to dominate. Though Peteglia Montecucco Sangiovese 2016 (100% Sangio, ~$20, media sample) is the most oak-forward of the wines I try, it's also the youngest, and thus likely needs some time for both the tannin and oak to better integrate. It certainly has enough fruit flavor and hints of mineral — this one is grown on volcanic soil — to be something special when they do.
In the end, I shouldn't be surprised to discover I'm a Montecucco convert. The draw of Italian wine is, as always, the fact that something unique and different is always lurking, even in areas that seem well-trod. Sure, this is yet another Tuscan Sangiovese, but it might just offer the best value among many famous options that have already made their mark on the international market.
Images and samples provided by Montecucco Wine Consortium