One of the distinctive aspects of the London International Wine Fair, among major wine events in the world, is that it takes place in a country that is a great importer of wines, rather than a major producer like France or Italy, where Vinexpo and Vinitaly take place. For producers from all over the world, it is an opportunity to enter an open market, one where 1.77 billion bottles are imported every year (and only 4 million bottles produced).
That certainly explains why you'll find big national stands from lesser-known wine-producing countries like Russia, Georgia, Romania, Turkey, Lebanon, Uruguay, Slovenia, Croatia and more, alongside the big players like France, Italy, Spain, Australia and the United States. (In the case of the US, it's interesting to see that Virginia and New York are also present, and not just California and Oregon.)
Getting the opportunity to taste wines from those various countries is certainly an opportunity to discover a lot of new things like indigenous varieties you've probably never heard of before or unexpected wine styles (like solid bubblies from Georgian and Russian vineyards near the Black Sea). It is also a chance to see many countries still hoping to position themselves in the wine world through the use of international varieties—though it gets hard to see how that's a viable way if everyone is doing it. And you also get to sense very quickly the relative maturity of each country, with regards to presenting their wines to the world and wooing the export markets.
A tour of a national stand is certainly not enough to gain any kind of exhaustive knowledge of those wine-producing countries, but it certainly gives some interesting impressions and lead to some unexpected discoveries. Here are some, country by country.
 Turkey
With a tremendously long history of winemaking going back several thousand years—the very beginnings of wine, actually—this country certainly has a lot to offer, and it does so in a pretty organized way, as much in terms of marketing as of product differentation. It counts on large producers—Kavaklidere, for instance, produces about 10 million bottles per year from various regions in the country.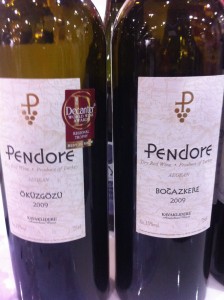 They also seem to be betting a lot on their indigenous varieties like narince, Emir or even Sultanye (sultana) for whites, or Öküzgözü, Kalecik Karasi and Bogazkere for reds. With good reason. Narince provides crisp, dry whites that can be rounded out nicely by the more aromatic Emir and Sultanye. The reds have very distinctive profiles as well. Kalecik Karasi is a light-colored, fresh and aromatic variety that can, for simplicity's sake, be compared to pinot noir, though its fruitiness may be closer to gamay. Öküzgözü is round, fruity and pleasant, generally made as a good, user-friendly quaffer. Bogazkere is the serious kid of the bunch, with massive tannins (the name apparently translates as "scratches your throat"). With good tannin management (or blending with Ökuzgözü), it can produce some deep, serious wines that I would personally like to age for several years.
 Russia
To put it simply, the Russian delegation did not seem, overall, to have its shtick together much, as far as exports are concerned. Most producers are clearly new at the game and it showed: bottles entirely printed in Cyrillic alphabet, people with a very limited command of English to present the wines (and limited technical knowledge as well), red wines served dead cold on ice, etc. It wasn't easy to figure out what was going on, and the quality was very uneven. I did taste some fun stuff, like a spicy, friendly substantial blend of krasnostop zolotovskiy and cabernet sauvignon from Vedernikov winery, near the Don, in Southern Russia, some delicious and inexpensive traditional method bubbly or a bunch of good whites and reds from Château Matagne, a producer that is a story in and of itself. Matagne—whose company name is actually Kuban-Vino—is a direct heir of the Soviet era: with 7,000 hectares under vine, it is a huge industrial operation that makes just about every kind of wine you can think of—including lots of semi-dry stuff that the Russian market apparently likes a lot. The stuff was a bit hit or miss, but there were some nice, fresh whites and a very interesting red from saperavi grapes made with carbonic maceration that showed bright red fruit aromas. Fun.
Georgia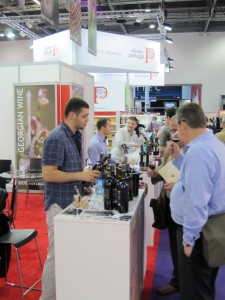 Between the hypertraditional producers of amphora wines that were displayed by large delegations at the RAW Fair and Real Wine Fair and the more modern producers at LIWF, there is a whole universe of wine to discover in Georgia. Whites from rkatstiteli, mainly made in every style from crisp and fresh to aromatic and round to the whole different ballgame of qvevri/amphora wines. Saperavi reds were often impressive, balanced, with a good spiciness and freshness. Some, like those by Kakhuri, showed a good capacity for aging—a 2005 was extremely pleasant and well-integrated by the few years in bottle, all that at very reasonable prices. There was also a very solid producer of bubbly, Bagrationi, whose simple and pleasant charmat method wines are in direct competition with prosecco, as the producer recognized, and whose traditional method bruts were very fine, with a very interesting rosé from tavkveri grapes and a Reserve Brut made from chinuri, tsitska and mtsvane grapes that spent three years in bottle and showed a great balance betweend citrusy freshness and pastry sweetness. More, please!
Lebanon
With a long history of winemaking and a world-class icon like Château Musar, Lebanon has a lot going for it. There are major, internationally-established producers like Ksara and Kefraya, who export to many countries. The approach is professional, the marketing well thought-out, and a lot of wines are very pleasant. As I tasted through about 40 wines with british wine writer Tim Atkin, however, we found ourselves wondering a bit where the exciting stuff was. Fresh, crisp whites, sure. Nice rosés, why not—though several went to a sort of bubblegum profile that is certainly less commendable. And as for the reds, many of them retain a sort of dried raisin, baked fruit character that seems pretty old school. I actually like a touch of that, personally, and it can be an interesting feature, but in many cases it seemed like a lack of freshness, rather than a true personality trait. At the higher end, the wines can be elegant and very much ageworthy, with Musar being in a class of its own.
Romania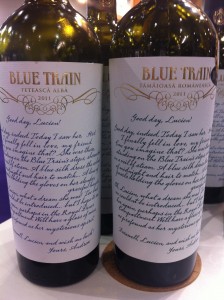 There are some indigenous varieties to be found in the Romanian wines on display at the London International Wine Fair, but this country seems to be focusing a lot more on an international, modern style that is at once well-made but not necessarily very distinctive. Some recent vineyards actually focus exclusively on international varieties—well-made, perfectly drinkable, but not terribly distinctive, in what I sampled. Price point seems to be their possible edge, but is that sufficient to make your mark on export markets? I personally have my doubts. Georgia and Turkey also have low price-points, in many cases, but at those points, they also offer something truly unique. Which is better than just being cheap, right?
[author] [author_image timthumb='on']http://palatepress.com/wp-content/uploads/2009/12/remyPPress.jpg[/author_image] [author_info]Rémy Charest is a Quebec City based journalist, writer, and translator. He has been writing about wine and food for over 12 years in various magazines and newspapers. He writes two wine blogs (The Wine Case, in English, and À chacun sa bouteille, in French) and, as if he didn't have enough things to do, he also started a food blog in English, The Food Case, and one in French, À chacun sa fourchette.[/author_info] [/author]