After touring the far reaches of the world of wine, over the first two days of the London International Wine Fair, it was time to turn to the local a bit. By which I mean, being in England and all, taking a look at English wine.
I was very interested to have a better idea of where the industry is, today, since my first contact with English wine actually goes back to 1996, when I travelled to London for a book project, and bought a bottle of 1995 Chardonnay produced in Kent and bottled especially for Harrods. 1995, in England as almost everywhere in Europe, had been a glorious summer, and it showed in this ripe, sunny, elegant and well-made wine—at least, that's how I remember it.
I remember buying a couple more bottles of English wine over the following year, whenever I travelled back to England, and they were all very decent and well-made. Yet a common response, at the time, when you asked an Englishman about the wine produced in his own country would have been : "Oh yes, we make it, but we don't drink it."
Things have changed. There are now some 400 registered wineries in England, and English sparkling wines have been winning international medals, even beating champagnes for gold. Acreage has doubled in ten years and most producers tend to sell out of their stock rapidly.
English wine remains a drop in the bucket of wine consumed in the United Kingdom: total production is around 4 million bottles, while imports to England are somewhere around 1.77 billion bottles. And some of those English bottles also get exported—essentially bubblies, which can be truly stellar. Tasting through a selection of sparkling wines by Ridgeview, the country's main producer of sparklers, I was constantly impressed by the quality and finesse of the cuvées, including a fantastic, crisp rosé and the perfectly balanced Knightsbridge cuvée, a 50-50 blend of pinot noir and chardonnay that really brought out the best of both grapes.
At a briefing on the future of English wine, on Thursday morning, five panelists described where the industry is at and where it should be going. It was a portrait that people in just about every young wine region would recognize: rising quality and demand, yet limited consumer knowledge and limited capacity for promotion and communication, the importance of cellar-door sales and oenotourism, as well as challenges in setting steady sales channels and finding profitability.
Julia Stafford of the Wine Pantry, a shop dedicated entirely to English wines located in London's Borough Market, pointed out that even as her shop attracts people from the industry—and even importers from other countries who are curious about the country's production—getting customers to try the local product "is not an easy sale." The use of lesser-known grapes like kerner or bacchus seems to be a bit of an obstacle, as well as a certain lack of local pride. "We beat champagnes in international competitions. We don't need to be apologetic about it."
New York goes to London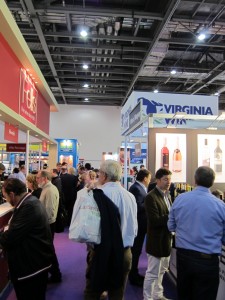 Speaking of emerging wine regions reaching to outside markets, New York wines were present at the LIWF, with a stand right next to that of Virginia Wines (and California, too).
A little less than twenty New York wineries are represented in the United Kingdom, mainly through one importer called Wine Equals Friends, which has a total of 14—eight from the Finger Lakes and six from Long Island. Winemaker Kareem Massoud, from Paumanok Vineyards, whose wine have been present in the UK for a year, now, was among the handful of New Yorkers present at the Fair. Overall, he seemed happy with his week, stating he'd seen a steady stream of people from England and beyond. "I met with people who are interesting in importing our wines to France, Belgium and even Russia. It's the networking that counts: everybody is here."
Medals and Awards still have mojo
Over the last few years, there certainly has been a tendency, in the world of wine-writing, to question the validity of wine competitions, because scores on the same wine may vary considerably from one jury to another (or even when the same jury tastes the same wine twice). Whatever the case may be, major contests still seem to generate considerable interest.
At the London International Wine Fair, both the International Wine Competition (IWC) and the Decanter World Wine Awards (DWWA) had stands where you could taste a great number of medal-winning wines. On Tuesday, in particular, the stands were jam-packed, and they remained very busy, just about every time I went by over the next couple of days. Now, remember: visitors to the wine fair are all professionals, including a great number of importers and retailers, mostly from the United Kingdom, but also from above. How much weight they are giving to those medals when the time comes to purchase a wine is hard to tell, but clearly a fair number of them do seem to appreciate the sort of pre-selection provided by such contests.
[author] [author_image timthumb='on']http://palatepress.com/wp-content/uploads/2009/12/remyPPress.jpg[/author_image] [author_info]Rémy Charest is a Quebec City based journalist, writer, and translator. He has been writing about wine and food for over 12 years in various magazines and newspapers. He writes two wine blogs (The Wine Case, in English, and À chacun sa bouteille, in French) and, as if he didn't have enough things to do, he also started a food blog in English, The Food Case, and one in French, À chacun sa fourchette.[/author_info] [/author]