Whisky doesn't have to smell and taste smoky to be Scotch.
In fact, some very fine blends and single malts have little or no traces of the smoldering peat that for centuries has imparted its distinct smokiness during the malting process.
All the same, I believe all Scotch master distillers have peat smoke slowly circulating in their blood streams, a residual ancestry that lingers just under the skin, perhaps a tribal memory of laboring in the peat bogs while mists hang over the glens and burns and frigid winds rake in off the Atlantic.  While winemakers love to talk about their product reflecting a "sense of place," they are often the only ones who sense that connection.  But if there is a spirit that reeks of "place," it is a smoky, minerally, pungent Scotch.
A dozen years ago, Inver House decided to introduce a new line of peated or peaty Scotches to complement its milder YO and vintage Scotches sold under the anCnoc brand.  AnCnoc is made at its Knockdhu distillery in Speyside, the whisky-rich region draped across the Spey River valley as it tumbles out of Scotland's central Highlands and flows north to the sea.
It was a challenge that master distiller Gordon Bruce gladly shouldered when he joined anCnoc a couple of years later.   I talked with Bruce at the distillery and at dinner during a recent trip to Scotland.   "It was a response to a demand," says Bruce, a lean, quietly jovial man who adds a touch of wryness to his barley orientation.  "Today, the peaty line is about a quarter of our total production, and it's growing."  Three of Bruce's peaty Scotches are now sold in the U.S. or will be soon, Rutter, Flaughter and Cutter, and the other three, Rascan, Tushkar and Peatlands, most likely will eventually get here.  Each of the names, except Peatlands, honors a traditional hand tool used to manually cut peat from its bogs.
The question of peat, and whether to use less of it, has lingered over Scotch production like a plume of smoke in recent years, especially with the usually milder Speyside malts.  But even on Islay, that smoke hole of an island floating off Scotland's west coast, there are now some milder Scotches being produced to go along with its more-famous smoldering peat monsters.  Even the names of some of Islay's famous distilleries – Laphroaig, Ardbeg, Caol Ila – sound like a tribe of trolls lurking under a bridge.
There are two considerations that are constantly arising concerning peat, one of them marketing and the other production.  First, as Scotch sales have risen and fallen in the past few years – they have fallen in recent years but may be looking up again – is what peat treatment do customers want?  Granted, much of the Scotch trade talk is still focused on issues such as age statements or non-age statements on the labels, the provenance and flavors of casks in which Scotch is finished, and blends versus single malts and single barrels.  But in the back of every producer's mind is the question of whether the preferences of drinkers are trending toward more or less peat.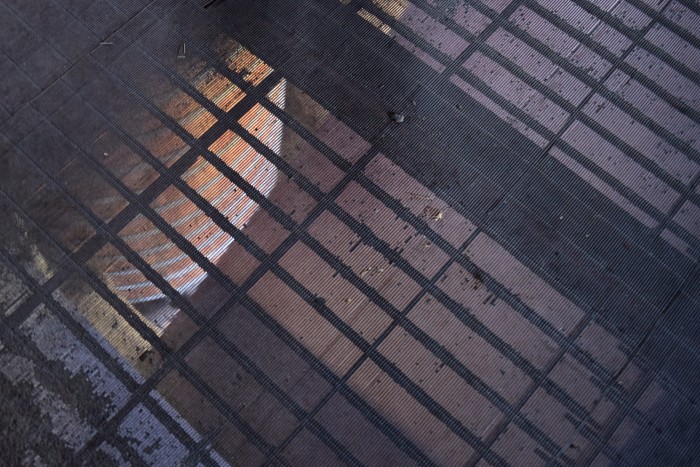 This is especially relevant among American Millennials.  As I recently sat in a bar in Edinburgh drinking with other Americans in the spirits trade, some argued Millennials are so besotted by Bourbons and Ryes that a non-peated Scotch is the best bait to lure them away.  But others contended just as vociferously that Millennials want "experiences," and that they will eventually jump on the experience of drinking mind-numbing, super-peaty Scotches.
The second consideration is a production one.  Although an estimated 20 per cent of Scotland is covered in peat – a spongy mass just under the surface in bogs which has for centuries been cut, dried and used as fuel– it is less efficient than gas for the purpose of drying out germinating barley.  And it's environmentally dirty.  That said, the amount of smoke coming out of the pagoda-shaped chimneys of distilleries – and don't get a Scotchman started on the subject of architect Charles Doig – is not likely to melt another glacier.  And although its takes millennia for peat to form, few environmentalists worry about its depletion anytime soon.  They are more concerned with bog restoration.
Few Scotch distilleries today actually malt their own barley, a process traditionally done in large rooms at the distilleries whose floors are metal grids where wet barley grain is spread and allowed to germinate before growth is stopped as a slow-burning, smoky peat fire is lit below.  On Islay, only Bowmore, Laphroaig and Kilchoman still do their own malting.  Most is now delivered to the distillery from a "maltster" or commercial malting firm, and its phenol-related smokiness is determined in advance by the distiller.
"We specify a minimum phenol level in the malt of no less than 35 parts per million, generally received here at 40-50 phenol parts per million," Bruce explains.  "The phenol level varies greatly from load to load, very much down to how much peat smoke the maltster can get into the kiln when the moisture level of the green malt is high.  The ability for phenol to absorb or adhere decreases as the malt dries."  The distillers have an easy method of correcting: If the phenol count of finished whiskey is too high, it can be cut with un-peated whisky.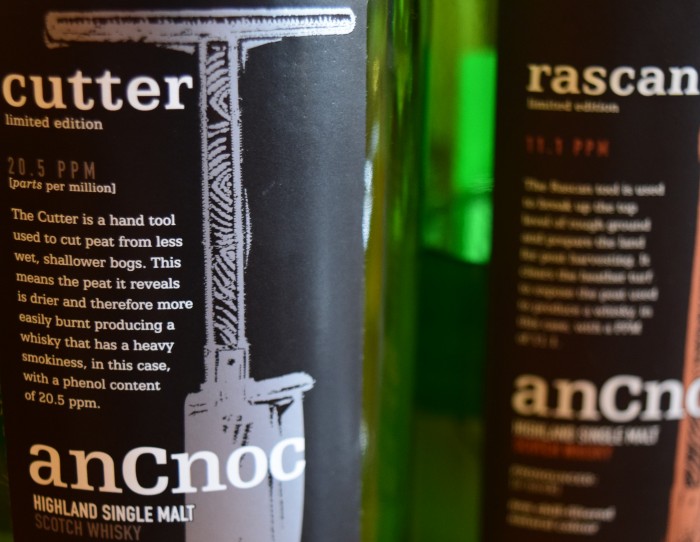 Bruce strongly advocates listing the ppm's of phenol on bottle labels to alert consumers as to how peaty a whisky is, just as they do with levels of alcohol.  Those with less than 10 ppm of phenols are generally considered lightly peated, and  Bruce's range at anCnoc goes from 9 for Peatlands to 20.5 for Cutter, all of which are on the labels.  Well-known super-peated malts can go as high as 40-43 ppm for Laphroaig and 55 ppm for Ardbeg.
But, as Bruce points out, not all peats are created equal. "There are seven different phenolic compounds in peat," Bruce says, "so the taste will vary according to the region, just like terroirs in wine.  Peat from the Highlands is generally milder than peat dug on Islay."
It should be added that the influence of soil alone on the flavors in grapes has been vastly discounted in recent years as studies have revealed minerals in the soils cannot be picked up directly through the roots of a grape vine. By contrast, the aromas of the peat bogs are deposited directly on malted barley.
When it comes to making a distinctive Scotch, blowing smoke is generally a good thing.