One of the most beguiling things about Italy's finest red wine varieties is their balance between weight and complexity on the one hand, and finesse and lightness on the other. Milan Kundera spends the entire length of his classic 1984 novel "The Unbearable Lightness of Being" iterating over a similar dichotomy – what is more important in life, lightness or heaviness?
Luckily this column only runs to 800 words, so I'll spare you any deeper philosophical turbidities – but stay with me. There is a similar kind of game played by great Barolos, Brunellos, Chianti Classicos and Etna Rossos. These are rarely, nor should they be huge blockbuster wines. The magic is all in that delicate balance. The same ought to be said of Schioppettino, a variety that has survived near extinction to become one of Friuli's finest and most characterful reds.
For the background, check out Elisabetta Tosi's history of how Schioppettino was brought back from the dead. I'm going to stay in the present, with a rundown of some of the best wines.
The small commune of Prepotto, in Friuli Colli Orientali, is Schioppettino's spiritual and probable genetic home, but producers in the wider Colli Orientali and Isonzo sub-regions are also making convincing examples.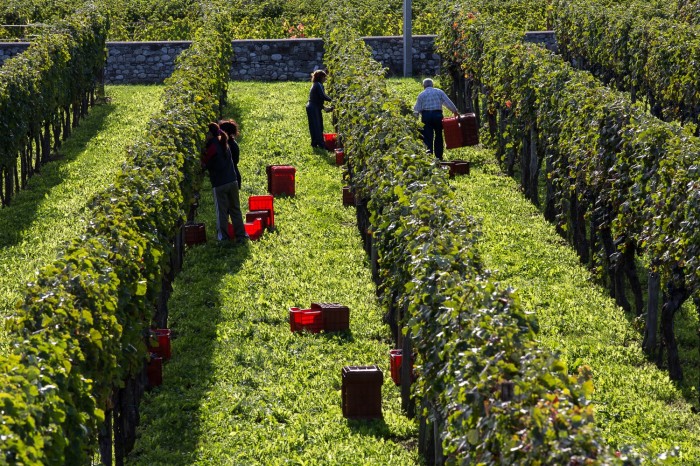 For me, the best Schioppettinos have tension, grip and a certain herbaceousness that is quite specific to the variety. Green peppercorn is a calling card, sometimes with balsamic or citrus peel hints. Maturity is important, and although current releases (mostly 2010s and 2011) can show very well, it's not the whole story. Even a couple more years' aging can be vital for better integration and complexity – and a softening of the tannins, which can be quite abrupt in youth.
The ability to age and improve with it is one sign of a truly fine wine – so whilst you can take Tosi's advice and drink the younger wines with a barbecue, the more prestigious and venerable vintages demand a little more ceremony. Polenta and Tagliata (a grilled, sliced steak), or fresh pasta with wild boar ragu have been memorable pairings for me.
Here are some recommended wines, some lighter, some weightier, depending on your preference. I shy away from points, but some of these wines are so good, they deserve a star – or even occasionally two.
** Ronchi di Cialla – Schioppettino 2008
This is the estate where it all started in 1970. Not only did Paolo Rapuzzi succeed in establishing a DOC for Schioppettino di Prepotto, he somewhat amazingly also petitioned for a separate "cru" designation just for Schioppettino di Cialla, which was granted in the 1990s. Cialla is the valley where the Rapuzzi family have their vineyards.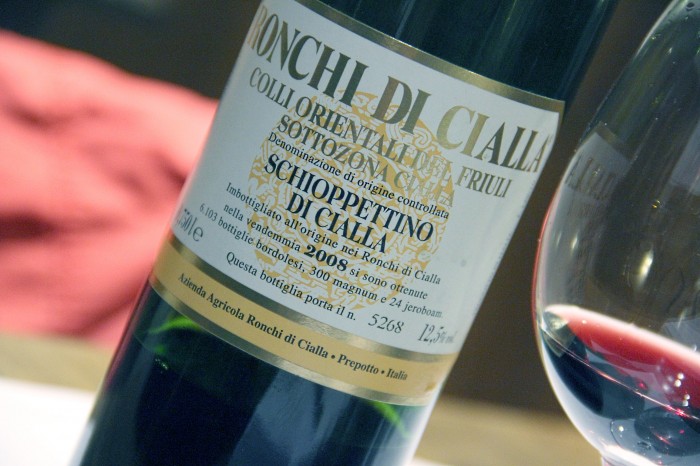 There is certainly something unique about this wine, with its delicate floral nose – the same kind of perfection that a bowl of fresh strawberries attains with two turns of the pepper grinder. Everything is restrained and refined, with balsamico-tinged cranberry and redcurrant, and a long, creamy finish. (Around $40, widely available)
Ronchi di Cialla's wines are extremely long lived. The 1994 and 2004 Schioppettinos are both drinking superbly, if you can find them. The estate will even top up and re-cork old vintages.
* Antico Broilo – Schioppettino Riserva 2010
Grippy and spicy, with a hint of orange peel and clove on the nose. Fresh and juicy palate, sappy finish. An excellent demonstration of the balance between lightness and weight. ($39.99 from http://www.rochambeauwines.com/ NYC)
La Viarte – Schioppettino 2009
Roasted plum and orange zest. Well integrated toasty oak and a very elegant fruit core. Feels very lithe, but is starting to round out in a positive way with age.
(Available in CA and OR, $25 – $33)
Grillo – Schioppettino 2011
Quite easy going – drinking very well, despite the young age. Plums, smoke and pepper on the nose. Very smooth structure. A lot of pleasure, but maybe not for the long-haul.
(The 2009 appears to be available only in California, for a bargain price of around $20)
Petrussa – Schioppettino 2011
Toasty on the nose, with spicy, brambly fruit and a lick of balsamico. Fairly lightweight, medium bodied. Drinking now.
(Available from The Wine connection, CA – $33)
Finally, here are a few slightly different takes on Schioppettino, either as part of a blend, or made in a different style.
** Le Due Terre – Sacrisassi 2011
A phenomenal effort from a tiny estate focused on minimal intervention and high quality, with the Schioppettino fleshed out with some Refosco (also native to the area). Very fine, elegant texture. Gamey, with dried herbs on the nose, then breathtakingly lively on the palate. Peppery, long and complex. Already drinking very well, but you could cellar this for a decade.
(Widely available, $40.99 – $58)
Dorigo – Schioppettino 2013
From Colli Orientali (not Prepotto), this lightweight wine has great charm in the manner of a Beaujolais Cru. Peppery nose, pin-sharp red berry fruit.
(Available in MA and NJ, $20 – $30)
Bastianich – Calabrone 2011
A blend of Refosco, Schioppettino, Pignolo and Merlot, made in a semi-sweet Amarone style. Very complex and rich flavours of plums, cherries, woodsmoke and apricots, with a citrussy freshness which stops it becoming too heavy. For lovers of more weight and sweetness than any of the above.
(Widely available across the US, from $55)