"Chardonnay is like chicken." Years ago, while working for a small Oregon winery, a winemaker threw me off guard with this unexpected comment about his favorite wine. 
It seemed strange to me, at the time, that someone who could chose from nearly any grape variety in the book chose Chardonnay as his favorite. So one day I asked him about it. I did not expect his reply.
"You can take a piece of chicken and you can grill it, fry it, barbecue it, drown it in sauce, roast it, whatever you want – there are endless ways to manipulate the pure flavor of chicken. And there are fans of each method.  It's kind of like Chardonnay. You can grow it in warmer climates or cool ones, ferment and age it in stainless steel or wood, add wood chips, allow it to go through malo, turn it into sparkling, blend it with other grapes, you name it — there are a number of ways to change the pure flavor of this grape. And there are fans of each method."
So my obvious follow-up was, "How to you prefer to cook your chicken"?
"Simple," he answered, "It starts with the best quality piece of meat I can find. Then I sprinkle it with a bit of salt and pepper, just to season it, and then grill it, allowing the natural flavors of the chicken to come through.  And that's also how I prefer my Chardonnay," he continued. "I find the best fruit I can get my hands on, and age it in a small amount of neutral oak, just to season it.  I want to taste Chardonnay, and reflect the location it was grown, nothing else."
Different ways to love chardonnay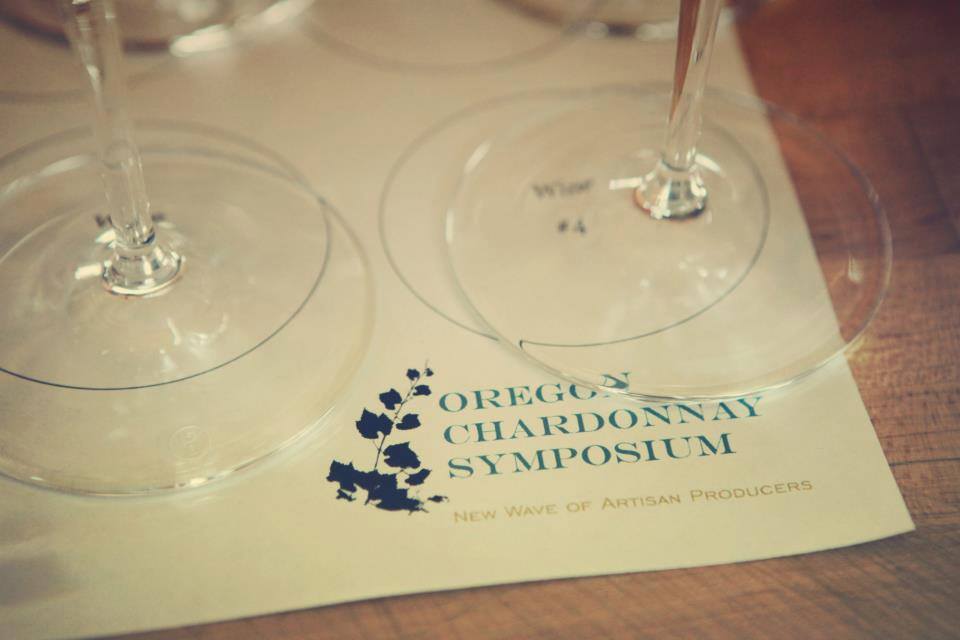 I had never heard anybody make that sort of comparison before.  And I didn't think I'd ever find anyone more strangely passionate about Chardonnay until I met Paul Durant and Erica Landon, founders of the Oregon Chardonnay Symposium – a one day event that aims to build awareness and interest in Oregon Chardonnay.
Having a chance to talk with both Durant and Landon recently, I was curious why it was so important for them to build an event revolving around a grape variety that represents less than 5% of total plantings in the state.
Growing up surrounded by vineyards, Durant, co-owner of Red Ridge Farms and Durant Vineyards, always had an affinity for Chardonnay as a grape.  This eventually turned into a passion for the wine, but he didn't see a lot of people discussing it in a positive light.  Landon, who has spent her career as one of the most respected sommeliers in the state and is now co-owner of Walter Scott Wines, believes the variety has incredible potential in Oregon, a state whose signature white wine has always been Pinot Gris.
The two of them believe in the strong future of Chardonnay in Oregon and wanted to share their passion with others – so they created a platform to promote it.
The event started small and in its inaugural year, 2012, they focused on the history of Chardonnay, detailing how it came to America, and then to Oregon, and the impact that the Dijon clones had on the Oregon industry.
"We had a strong panel back then with lots of eagerness and energy," Durant explains, "so we continued it the following year, but with a different focus".
"Looking to 2013, we focused on small artisan producers, people doing more innovative things."  Palate Press' own Blake Gray had a chance to sit on the panel of that event and shared his thoughts on artisanal Chardonnay in this piece in which he found the wines to be rare, weird and exciting.
Durant and Landon realized that they have a larger vision for the event and want to see it grow even more.  For 2014, they aim to spotlight the international influences that have come to the state and discuss the direction that Chardonnay is headed. However, they realized that in order to grow awareness, they needed to focus on the consumers who are buying and drinking the wines, instead of just promoting it to each other as an industry. They also wanted to offer the most comprehensive showing of Oregon Chardonnay they could muster.
"The first two events were limited to the panel wines, so they were selected to represent the topics that we were focusing on.  This year is much different.  We had so much interest from the industry in participating that we wanted to create an event that encompassed as many of our producers as possible.  We gathered a panel of wine professionals and held a blind tasting of over 60 wines to select the participants this year."
Landon believes that the blind tasting, held this past December, was the "single most comprehensive tasting of Oregon Chardonnay that has been held".
I had the chance to be a part of that panel.  Over the course of the day we evaluated the 60 wines and narrowed them down to the thirty or so that will be featured in the upcoming March 8 event.  These wines represent the best of Oregon Chardonnay and wines that are reflective of the state.  It wasn't an easy task whittling down the lot.  There were moments where debate struck over certain wines and whether they deserved to be considered.  "This is typical," Landon explained, "I have found that it is rare for judges to all agree on any given wine."
A consistent style?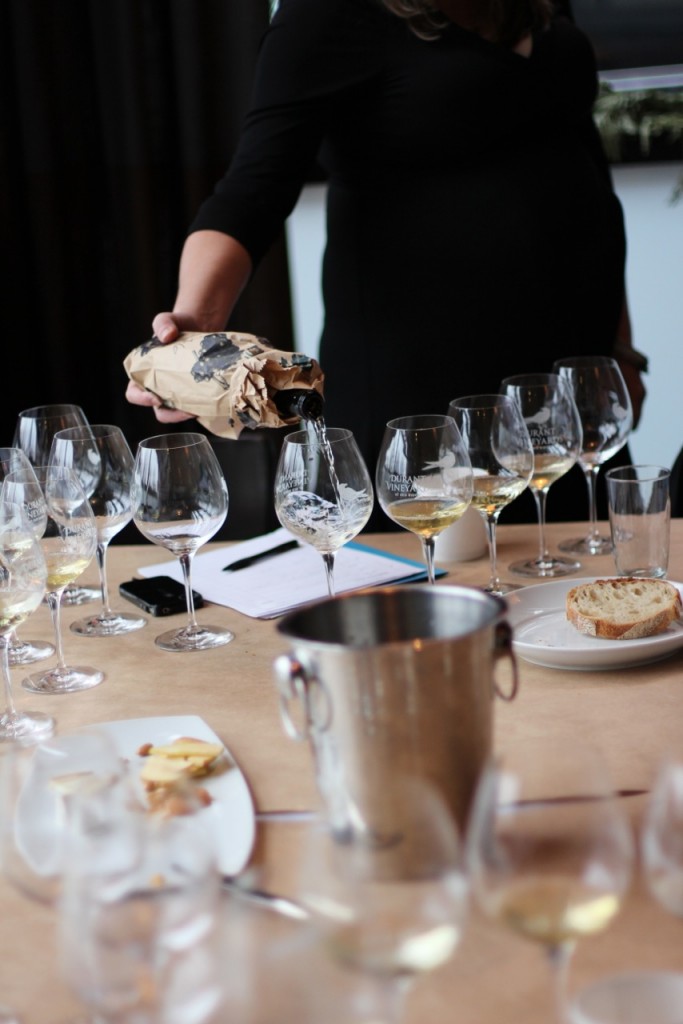 While there were several standout wines, I was surprised and intrigued at the level of consistency between the wines we tasted.
I asked Landon and Durant if they believe there is such thing as an "Oregon style" of Chardonnay.  Landon explained, "we're continuing to learn what that means, but much like Oregon Pinot Noir, we sit between the lean, ethereal Burgundian style and the richer, layered California style.  We balance both acidity and depth of flavor in a way that Oregon has become known for with our wines."
Durant believes it may be premature to define an exact style, but describes them as "vibrant, with great acidity, making them very lively, crisp and clean." Most importantly, "They are incredible food wines. That's the key!  We find that the brighter and more acidic the wines, the better they will pair with food."
Considering the fact that Chardonnay represents less than 5% of the grapes grown in Oregon, why do these two spend so much time and energy and focus trying to convince the world that they should pay attention to Oregon Chardonnay?
Both organizers are hoping that this event provides the opportunity to really define the quality and character of the wines.  With such an extensive tasting of Oregon Chardonnay, it will help to tell the story of what is developing here.
When talking with these two enthusiastic varietal ambassadors, I couldn't help but compare the Chardonnay symposium to something like IPNC (the International Pinot Noir Celebration), and wondering if they hope to achieve something on that grand of a scale someday.
Durant hopes they can continue to grow the event into something big. "I would love to someday see an event that draws people from all around the US to Oregon as a destination to experience great Chardonnay and wrap their minds around what's happening here."
Landon hopes that symposium will become a mini, one-day version (of IPNC) for Chardonnay. People gathering to celebrate a wine that they are passionate about.  What could be better?
Durant explains, "I think Chardonnay has as much potential and cachet and complexity and richness that Pinot Noir does in this state. Coming at it from a grower's perspective, I really enjoy growing it as a grape. I think it's fascinating. It's distinctive. It's diverse. I love it as a grape and I love it as a wine. Plus, they're just so damn delicious!"
The Oregon Chardonnay Symposium will take place on March 8th at Stoller Family Estate.  This two-part event will involve a tasting panel featuring some of the state's pioneers and top producers along with international representation.  There will also be a grand tasting featuring the most extensive gathering of Oregon Chardonnay to date.
One thing is for sure; this will be a fascinating gathering of some of the most passionate folks in the industry, to begin the process of defining what Oregon Chardonnay is.