En route to the first Chardonnay Symposium, the city of Santa Maria appeared in all its incarnations. Hosted at Bien Nacido Vineyards' historic Adobe, the morning began, like most in this winemaking region, wrapped in tangible veils of fog.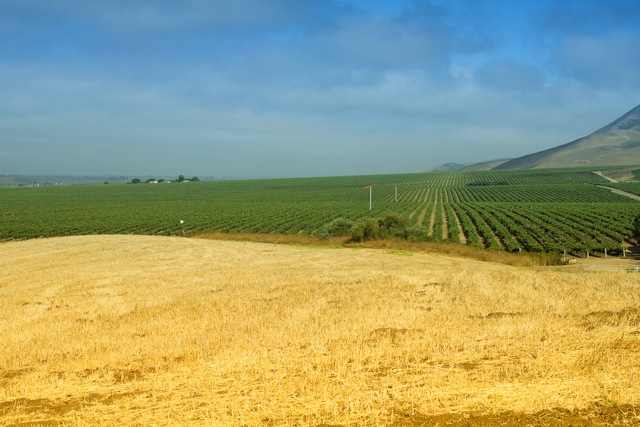 As the topography changes from flat to hilly, the undulating mountains of the Bien Nacido Vineyards rise. Mossy green through the foggy layers of sky, they wear rows of vines carved out and planted in hillside blocks. A skinny, spotted longhorn steer gazes on from a corral across the street.
The Adobe, built in 1857 by Don Juan Pacifico Ontiveros, sits in the middle of the vineyards—a piece of Central California's history, flanked by the interlocking, fruit-bearing arms of its modern reality. On this day, tables line the courtyard, each topped with five polished wine glasses, filled with identical pours of pale-straw-colored Chardonnay, made by the winemakers seated on the symposium's panel.
In the vein of recent symposia focusing on specific grape varieties, including grenache and petite sirah, the Chardonnay Symposium morning session gathered a diverse group of five winemakers; the keenly intense vineyard manager who works with each of them; and a renowned grower/vineyard manager. The winemakers represented some of the top wineries in the Central Coast: Au Bon Climat, Ojai Vineyards, Sanford Winery, Byron Winery and Pisoni Vineyards & Winery.
Here to discuss the past, present, and future of Chardonnay—long the most popular white-wine grape in the United States—the panel got off to a quick start by tackling the elephant in the room: Chardonnay's image problem. The consensus: We did wrong, but we're moving on. Every panel member used the same two words regarding Chardonnay's future: "drinkable" and "balanced."
Winemaker Jim Clendenen, the incendiary, larger-than-life "Mind Behind" Au Bon Climat winery since 1982, wasn't afraid to take the California wine industry to task.
"We gave away the farm there for a little while," Clendenen said, referring to the era of the ubiquitous "cocktail wine" California Chardonnay. "As winemakers, we did that by making wine that was too heavy and alcoholic. We've got to win back the consumer who walked away from Chardonnay."
Several factors are non-negotiable in Clendenen's winemaking style. The wines must be in the range of 13 percent alcohol. All the Chardonnays are barrel-fermented. A minimum of new French oak is used (and he uses only French oak). Clendenen says he looks for stone and citrus fruits—"the opposite of tropical"—in his wines, and the 2008 Au Bon Climat Santa Barbara Historic Vineyards Collection Bien Nacido Vineyard Chardonnay showed just that: a beautiful nose full of minerality, with white nectarine and a laser like focus on the palate; it had almost a saline quality.
Chris Hammell, Bien Nacido vineyard manager, explained the trend he's seen in the past five to ten years toward earlier picking of chardonnay grapes in the Central Coast. Hammell described a standard preferred sugar-level that's moved from 24.5-25 degrees Brix to 23.9-24. In layman's terms, that translates into picking fruit two to four weeks earlier now than in the past, which brings noticeably lower alcohol levels to the finished wines.
Adam Tolmach has been crafting wines at Ojai Vineyards for 27 years. He sources fruit from the coolest-climate sites in California. Tolmach called the age of oaky, heavy, sweet Chardonnay "the old days." While he acknowledged a market will always exist for that type of wine, Tolmach predicted the growing trend toward producing Chardonnay with higher acidity and greater food friendliness to be a "harbinger of what's going to happen with everything else (in wine)—bigger isn't necessarily better."
The fruit for Tolmach's wine, the 2008 Ojai Vineyards Bien Nacido Vineyards Chardonnay, was picked between 22 and 23 degrees Brix. The wine displayed a marked complexity, with a mineral quality to the nose and zesty, layered lemon-drop flavors on the palate.
Sanford Winery's Steve Powell talked about how he found Chardonnay "boring" when he made it in Napa, and didn't discover the subtleties of the grape until he began making cool-climate Central Coast Chardonnay. He agreed, as did all the winemakers on the panel, that when working with Chardonnay, barrel fermentation provides textural benefits that stainless steel doesn't. (This isn't a unanimous verdict across the region, however; Wes Hagen, vineyard manager and winemaker for Clos Pepe Vineyards in the Sta. Rita Hills appellation, ferments his Chardonnay—which he designs to peak at 10 years old—strictly in stainless.)
Jonathan Nagy of Byron Winery had a similar cool-climate conversion to Chardonnay; after working in warmer regions, he grew to love the grape only after making wine in the Central Coast. Nagy said he picks for flavor, and doesn't pay much attention to the numbers. The only winemaker on the symposium panel who makes a stainless steel fermented Chardonnay, Nagy uses the aromatic Musqué clone for that particular wine.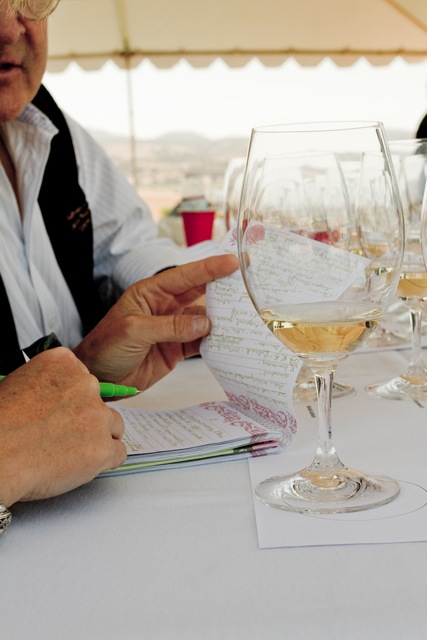 Jeff Pisoni, winemaker at Pisoni Vineyards and son of legendary grower/winemaker Gary Pisoni, grew up amid his family's vineyards, which provide the fruit for the Pisoni-label wines, as well as a number of highly renowned wines made by other wineries. With his Lucia Chardonnay, Pisoni strives for low yields in the vineyard, in order to concentrate and intensify the flavors. His 2008 wine, which he aged in 35- to 45 percent new oak, was the smokiest Chardonnay on the panel, with rich lemon-curd flavors, and a creamy mouthfeel he attributed to batonnage, or stirring of the lees (yeast sediment) in barrel.
Rounding out the discussion was the input of Jeff Frey, who first managed the Bien Nacido Vineyards when they were planted in 1973, and continues to manage vineyards all over the Central Coast. His clients have included Au Bon Climat, Qupé, and Sea Smoke. Frey has watched the tide turn from low-alcohol, food-friendly Chardonnay to buttery, 16-percent-alcohol oak bombs—and now, he says, back again.
"When I began growing and working with Chardonnay, large wineries would write contracts that included their preferred Brix at harvest," Frey explained. "21-22.5 Brix was the norm for years; you'd be penalized if you picked at 24 Brix. In later years, I've had clients that requested 28 Brix. But I see more wineries making more wines that are drinkable now."
The large tasting of more than 40 (mostly Central California) Chardonnays that followed the symposium demonstrated, while some wine producers in the region continue to make the heavily oaked, high-alcohol style certain people will always love, those wines were greatly outnumbered by the leaner, restrained, elegant Chardonnays. Members of the "ABC" (Anything But Chardonnay) club, take note: It's time to give these wines another try.
Photos courtesy of Jeremy Ball, Photography by Jeremy & Bottle Branding
Central Coast Chardonnays to look for:

Flying Goat Cellars 2008 Blanc de Blancs Santa Maria Valley sparkling wine This méthode champenoise sparkler from winemaker Norm Yost has a sprightly nose of brioche and green apple, with a fine bead and lilting flavors of lime peel and yeasty bread.

Alta Maria Vineyards 2008 Santa Maria Valley Chardonnay Whole-cluster pressed, native-yeast fermented, with apple pie and cinnamon on the nose, shifting to lime and orange blossom on the balanced palate.

La Fenêtre 2008 Los Alamos Vineyard Chardonnay, Santa Barbara County Very clean, with flavors of green-pea shoots and nectarine. One of three 2008 vineyard-designated Central Coast Chardonnays from Joshua Klapper.

Presqu'ile 2008 Santa Maria Valley Chardonnay The first vintage released from young winemaking team Dieter Cronje and Matt Murphy, this neutral-French-oak-fermented Chardonnay has a round, floral nose and excellent balance.

Au Bon Climat 2009 Santa Barbara County Chardonnay Just bottled and set for a September release, this wine has the distinctive honeydew-melon nose and pleasantly chalky mouthfeel present in all the 2009 Chardonnays I tasted, pointing to an excellent vintage.
You might also like:
---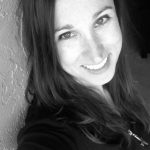 Emily Towe lives in San Diego and writes the Garagistes-in-Training blog, where she discusses her family's garage-winemaking project and (double) double-blind food-and-wine pairing dinners. This harvest, Emily and her husband, Jody, plan to try their hand at making Riesling. Follow her on Twitter at @emilyldt.