In 2002, the year  PS I Love You executive director Jo Diaz began keeping records, there were some 60 growers and producers of Petite Sirah (PS) in California. Now, owing in part to her tireless efforts, Ms. Diaz may proudly count in excess of 126 growers and a staggering 723 producers in the state. And on July 27th at  PS pioneer  Concannon Vineyard in Lodi, California, was held what has become Petite Sirah's State of the Union celebration.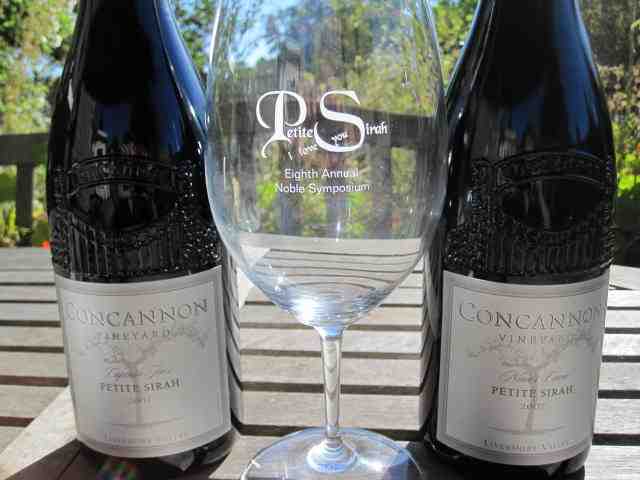 Nearly 50 wines were poured from more than 40 wineries. But before the tasting, and far more important, were the presentations given earlier in the day. It is the roster of speakers and their topics that provides telling insight into how the growing Petite Sirah community understands itself. In years past the agenda was dominated by viticultural matters, and, indeed, this year talks were given by winemakers Larry Mettler of  Mettler Family Vineyards, Bob Swain of the  Mendocino Wine Company, and Paul Foppiano of Foppiano Vineyards. Subjects ranged from green cropping, recommended acreage yields from diverse climates, canopy management and irrigation, to the challenges of ripening in cooler, wetter regions—all of critical importance for a grape that is both prolific and temperamental. And enology, another stalwart topic at previous Petite Sirah symposia, was entertainingly discussed by  Stags' Leap winemaker Christophe Paubert. His winery's considered approach to taming the grape's daunting tannins, for example, involves blending juice from warm and cool sites, and the judicious use, still uncommon among most PS producers, of American oak. His mantra is 'identity through diversity.'
But by far and away it was the presentations by Tyler Colman, aka  Dr. Vino, Dan Berger of Vintage Experiences, and Clark Smith of Grape Crafter that pointed toward Petite Sirah's future, certainly with respect to extra-viticultural matters such as developing greater marketing sophistication, the education of a new generation of palates, and of getting a handle on just how the grape's expression varies with terroir. These new themes indicate just how far Petite Sirah has come since its slow recovery from free-fall, bottoming out in 1995. Now more confident in the grape's potential, its wider public recognition, and the dawning recognition of social media, growers and producers appear to want to hear more about where they go from here.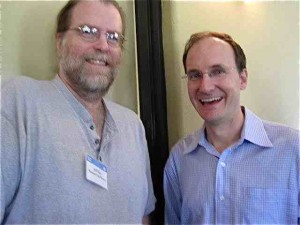 Mr. Colman, this year's keynote speaker, discussed the marketing angle. Though it is not clear how many of the assembled knew who he was, his message was clear: Develop new commercial strategies; take a page from successful advertisement campaigns. In a talk titled Can Petite Sirah Become the Next Pinot Noir?, he advocated the use of humor and novelty. With the film Sideways still casting a shadow, Mr. Colman noted the Old Spice spokesman had gone viral, for example. The idea is to take advantage somehow of the grape's marginal status, to turn public insouciance into a strength. After all, video cameras are cheap, the Internet, cheaper. Creativity, however, is the rarer thing.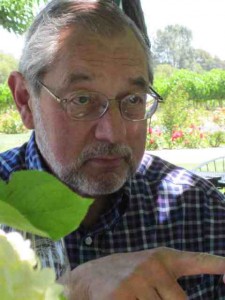 Dan Berger provided very incisive commentary, as one might expect. Anti-authoritarian to the core, his was a call for skilled judges. To the degree that Petite Sirah remains misunderstood, its many variations generally unrecognized even by the wine cognoscenti, Mr. Berger asks—no, demands that the critical establishment retrain their palates to properly taste the new generation of the grape's expression.
Clark Smith's riff titled Understanding the Terroir of Your Petite Sirah underscored his praiseworthy, if imprecise, project of teasing out the specific qualities terroir variation, in the grandest sense, may bring to the grape. The self-styled Charles Kuralt of American appellations, he promises to do for PS what he has done for Santa Cruz Mountains Pinot Noir. Interestingly, his vision is at odds with Christophe Paubert of Stags' Leap. For Mr. Paubert, his is the pursuit of a kind of blended PS cuvée from diverse sites. Mr. Smith finds lasting virtue in site-specific expressions. The question then becomes whether a winery's Petite Sirah style ought to reflect what their given terroir reveals or whether they should pursue a flavor profile that, while varietally correct, is the winemaker's alone.
As a personal matter, I am squarely in Mr. Smith's camp. For when the formal tasting began, I was yet again amazed at the range of PS expressions. From the brassy CrushPad upstart Jazz Cellars's Eaglepoint Ranch and the subdued, almost whispering Blessings from Aver Family Vineyards; to Spangler's Terraces and a most unusual barrel sample from newcomer Nottingham Cellars; from Parducci's True Grit to Mounts's Petacera, the diversity is compelling. Mr. Berger's point is well taken. Today's Petite Sirah demands fresh palates.
---

Ken Payton lives in Santa Cruz and writes the blog Reign of Terroir.