The United States is a growing wine market, and several wine events this year highlight the relationships between these countries. Also, full disclosure, I'm a Francophile, a lover of Italy, and I write for international wine publications that include the U.S. and China.
A few years ago I had dinner with the manager of a prominent Bordeaux chateau who was making one of his periodic sweeps through major wine cities in the U.S. Toward the end of a lovely meal which was accompanied by several great vintages of his wines, he announced that the chateau's U.S. publicity person would be officiating at these U.S. tours from now on, because he (the Bordeaux manager) would be focusing his energies on China. Could there be a more blatant slap in the face?
By contrast, the Italian wine industry has been continually attentive to the U.S. Yes, when I am in Italy I do see them paying attention to Chinese buyers and journalists. But not at our expense. (And the Chinese writers I meet seem eager to learn more about the U.S. and its wine-drinking culture.) Maybe the Italians are better than the French at multi-tasking? Or maybe Italians are just friendlier?
While France was formerly the country we imported wine from, that balanced changed a few years ago. The U.S. has been the top export market for Italian wines for some years. Is that cause or effect?
Listening to the speakers at this year's Italian Wine Week (VINO 2015) in New York, I heard many cultural causes for this phenomenon. Apparently, one third of the wines sold in the U.S. are from Italy. One speaker mentioned decades of growing popularity here for all things Italian, including food, style, and travel to Italy. It seems we are drawn to Italy, its landscape and its values, its passion and romance. Whatever it is, it's working.
Then there's the issue of cost. Certainly there are inexpensive Italian wines – and VINO 2015 was promoting some of those in its southern regions of Puglia, Sicily, Campania and Calabria. But both in New York and in Italy when I speak with winemakers, sellers and regional representatives, they are relaxed and open, and this has to be part of the appeal. They actually live the quality of life we admire when we think of Italy.
In France, to refresh your memory, the 1855 five-tier Classified Growth system is still the basis of the hierarchy of Bordeaux wines today; non-classified Bordeaux wines have historically been treated as, well… not the top, shall we say? But back to the dinner with the French chateau manager, that slap in the face. And here I would like to mention that personally, I am charmed by the region of Bordeaux; from the first time I visited, I was enchanted by the dozens of fairytale chateaux, the excellent food and the beautiful red, white and sweet wines. So you can see what a disappointment this episode was to my vision of Bordeaux.
On that day, I was simply astounded. In the case of this particular Classified Growth chateau, I had been following its recent determined, meteoric – and well-deserved – transformation. During the course of a very few years it had gone from resting-on-its-laurels in the third Classified Growth tier to a producer of first-quality wines, which also happened to be excellently suited to American palates. I really enjoy these wines: they are lively, layered and complex with a ton of ripe fruit and structure.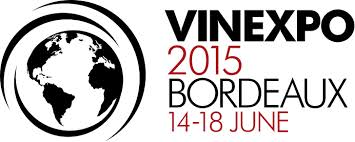 The wines had been well received by the U.S. press as well as by American wine lovers – and their wallets. Prices had also grown stratospherically. But that was not enough for the chateau. It turned to China (not unlike many of its fellow Bordeaux chateaux) where Western wine was a high-prestige item, commanding steep prices. There was apparently no limit to potential revenues for Bordeaux wines in China. Until, of course, there was a limit imposed: the current Chinese government cracked down on allowing the exchange of expensive gifts of wine. Is it too late to undo the damage here in the U.S.? Maybe I'll find out if I attend the biennial French wine trade show, Vinexpo in June.
Recently I was asked if I wanted to interview the head of Vinexpo, who himself was on a tour through the U.S., to increase our interest this exhibition. When I learned that this year, Vinexpo will be "honoring" the United States, I got curious. Had the tide turned? Could the U.S. be the next flavor-of-the-year, now that China's growth has slowed? Or is the French wine trade just hedging its bets?
Though Vinexpo is held in Bordeaux, it's really a wine conference for all French wines – which has spread even wider over the years. And this year, Vinexpo is expanding to officially include (more) spirits, with special liquor sections and bars throughout the exhibition.
In a phone interview, Vinexpo CEO Guillaume Deglise told me that "This year the focus is on the United States because the U.S. is the leading market for wine consumption in the world…It has been a developing market for 30 years." And he called us "a really dynamic market" citing 11.6% growth over the last five years. Sounds like a good reason to not stop paying attention to us, right?
Yet, in the U.S., sales of Classified Growth Bordeaux wines have been suffering for the past five years at least. And it's more than just the recession because these wines are marketed to the famously-unaffected "one percent." However, it seems that most of Bordeaux's former audience has lost interest in this arcane (yet wonderful) segment of wine. There have been too many other countries and other drinks – such as artisanal spirits, craft beers and ciders – vying for a fickle American awareness. And we are known for having the attention span of a gnat as well as the random changeability of a weathervane. (Maybe it's the faddish nature of our cultural icons? I don't know, and I really don't have time to figure it out…)
Anyhow, back to Vinexpo. It is a great place to taste French wines, in pavilion after pavilion. There are seminars, too, and this year they will include programs that explain to European wine exporters the convoluted three-tier alcohol distribution system in the United States. In addition, Vinexpo CEO Deglise told me that U.S. wine producers will be highlighted in a central area, and there will be an emphasis on U.S.-French co-ventures such as the remarkable Opus One winery in Napa.
It sounds like a fun year to go to Vinexpo. There will be an American restaurant in the middle of the fair. Imagine, American food celebrated in France? Last time I went, someone threatened blackmail by posting a photo of me drinking a Coke there in the 90-degree heat. Maybe the French are going to take a trick from Italians' book, and try to relax a little.