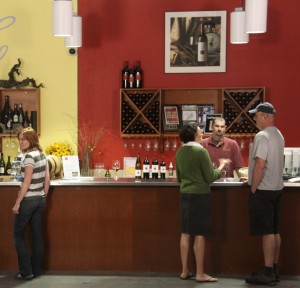 There is a new kind of wine region becoming part of the landscape and a "must not miss" element on a wine tourist's itinerary. Unlike traditional wine country, the landscape of this up-and-coming region is not littered with grape vines; instead its fields are full of skyscrapers. This is urban wine country. In urban hubs across the U.S. like Portland, New York, San Francisco, and Chicago city dwelling winemakers are proving that you do not have to live near a vineyard to produce quality wine.
A long history
The San Francisco Bay area is and has long been a leader in this trend. In part, its proximity to wine growing regions like Napa Valley make it a natural setting for an urban winery since the fruit does not have far to travel to get to its final destination. In addition, the area has a history of urban winemaking playing muse to the newer producers of the region.
Over 100 years ago, the San Francisco area was the heart of urban wine production in the country. In fact, it is estimated that at the turn of the 20th Century, at the time of the great quake, there were more than 40 wineries in the South of Market area where today the urban winery has been reborn with an even wider reach. That reach has spread to all parts of the Bay area, in particular, the East Bay.
Alameda's Rock Wall Company is the brainchild of winemaking icon, Kent Rosenblum, founder of Rosenblum Cellars and his creative and business savvy winemaking daughter Shauna Rosenblum. They opened their doors in August, 2008 with an initial production of around 1,500 cases. Since then, they have grown fast. In 2012, they bottled 10,000 cases of wine and look forward to more growth in the very near future.
The grapes don't care
For the Rosenblums, the question was more why not make wine in an urban center rather than why. "It turns out the grapes don't care where they are made into wine, as long as they were grown somewhere awesome and transported with care in the cold early-morning hours," says Shauna, whose trailblazing parents started Rosenblum Cellars in their Alameda basement back in 1978. Even then there were plenty of wine drinkers in the Bay area who wanted access to delicious, top-quality wines. "Eventually, our location turned out to be a positive attribute and now, at Rock Wall, we see people from all over coming to see us in Alameda," says Shauna continuing of their island winery, "we have a different kind of 'million-dollar view'… it's not a vineyard, it's the beautiful skyline of San Francisco."
The Rosenblum brand was built around Zinfandel, and Rock Wall also has a strong focus on the grape. However, they have expanded their depth, product diversity, and reach by working with varieties like teroldego, tannat, malbec, mourvedre, petit verdot, sangiovese, montepulciano, cabernet sauvignon, and even norton.
[learn_more caption="2010 Rock Wall Wine Co. Cabernet Franc"]
Napa Valley, CA ($40)
Black cherry, black berry, currant and cedar notes with hints of vanilla bean, green pepper and herbs de Provence.[/learn_more]
An influential model
Kent Rosenblum's influence on younger producers in the Bay area is hard to ignore. Husband and wife winemaking team Michael and Anne Dashe of Dashe Cellars were two such people. They started their winery in 1996. Anne, who obtained her degree in winemaking from the University of Bordeaux, and Michael who, received his Masters in Enology from UC Davis, brought a great deal of knowledge and experience to their new venture. At the time, Michael was still working as assistant winemaker for Ridge Vineyards but in 1998, he left Ridge to focus his attention on their quickly growing company.
"I asked Kent Rosenblum if he knew of a place I could make wine because we were getting so big. He had a building next door to his winery that was coming up for lease," says Michael who sublet the space from Rosenblum and shared equipment with him as well. "We made wine in that building for eight years before moving to our Oakland building in 2004," says Michael.
For Anne and Michael, opening an urban winery was a no-brainer. They wanted to work where they lived. "We love the urban winery experience, since it keeps us close to our customers, wine stores, and restaurants and we love living in the city," says Michael.
[learn_more caption="2010 Dashe Cellars Todd Brothers Ranch Old Vines Zinfandel"]
Alexander Valley, CA ($32)
Black cherry and black pepper with floral and herbal notes and a lingering expression of chocolate and nutmeg in the finish.[/learn_more]
Dashe shares a tasting room and production facility with JC Cellars, who had their first harvest in 1997 and opened their Oakland location in 2004 alongside Dashe. Alexandra Cohn co-founded the business with her winemaking husband Jeff Cohn. He was also influenced by Rosenblum, having worked as his assistant winemaker for 10 years. The Cohn's first harvest was a mere 75 cases, but by the opening of their urban location, their production had grown to 3,500 cases. This year, the growth continues with a 6,000 case production.
For many urban winemakers, there are a few downsides to making wine so far away from the fruit, including lots of driving during harvest and early morning picking. However, they share the common experience of seeing people walk into their winery and being sold on the experience. "They love it — the look of amazement when they walk in and see all the tanks and barrels is wonderful," said Michael Dashe.
[learn_more caption="2010 JC Cellars "Fallen Angel""]
 Russian River Valley, CA ($45)
50% Grenache / 50% Syrah. Aromas of berry jam, black plum, mulberry with notes of violet and rose petal well zesty acids and rich complexity.[/learn_more]
[author] [author_image timthumb='on']http://palatepress.com/wp-content/uploads/2013/03/Screen-Shot-2013-03-06-at-8.52.58-PM.png[/author_image] [author_info]Jennifer Cossey is a wine writer, educator, consultant, sommelier and yoga teacher. She lives and works in Oregon's beautiful Willamette Valley.[/author_info] [/author]