As a state rightfully associated with sunshine and warm, Texas's ability to effectively ripen grapes to their full potential is often misunderstood. Soils stingy in porosity and friability, hail and drought during the vegetative cycle — and of course an excess of heat and sunlight — have contributed to difficulties in maturing wine grapes that can fashion relatively high quality wines.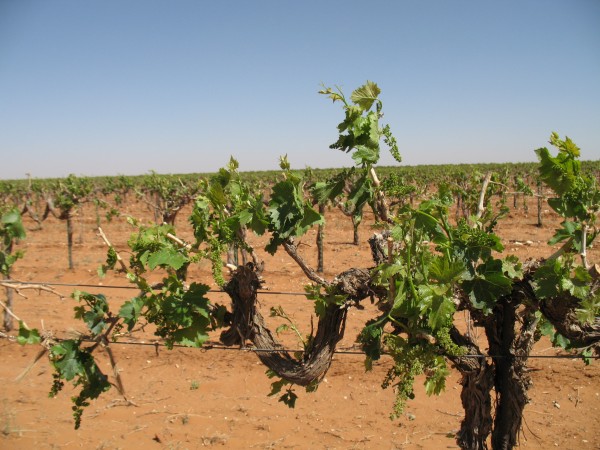 Without the foresight of fully examining its soil and climate parameters, in a rush to latch onto the booming interest in wines from California in the 1980s, along with the natural inclination to associate oneself with classic French wine grapes, Texas growers mistakenly planted a surfeit of cabernet sauvignon, merlot, chardonnay, and sauvignon blanc — more often than not with disappointing results. Time and fashions passed, and for several years new red grapes have shown themselves better-suited to Texas's vagaries — and taste. Tannat, souzao, syrah, mourvèdre, montepulciano, dolcetto, aglianico have all met with pleasant results. However none have fared better than Spain's most planted red grape, tempranillo.
In 1974, Texas A&M University planted tempranillo's Valdepenas clone on three rootstocks  for 20 years' evaluation, without any wine 'officially' being made. According to Texas's premier vineyard consultant Bobby 'Grape' Cox, one of the problems Texas has with tempranillo is its elevated pH causes it to almost always require acidification during vinification, an adjustment also common to Spain. "We were trying to be empirically-based and didn't acidify any of those at A&M, so arbitrarily we eliminated this variety for 'poor winemaking quality' as opposed to doing so for our technique."
Suited to the high plains
It was Dan Gatlin of Inwood Estate who first planted tempranillo commercially with noted Texas High Plains (THP) grower Neil Newsom, who now has ten acres of his own in production and ten more coming. "From the beginning it really took off," asserted Cox.
Tempranillo's skin seems to react well to the 3500ft. level light in the THP providing more photons to strike the epidermis of the grape giving it better color and aroma. It's drought-tolerant and it has enough winter hardiness to survive this area's dry night frosts, so it buds later than cabernet sauvignon, merlot, or carignan while giving fruitful buds. "I think the wineries enjoy working with it because it yields well and tastes good," said Cox. "It can be overcropped, but grower Cliff Bingham has acre and sliding contracts to contend with quality vs. quantity issues, much like you'd see in a Napa Valley contract."
Fellow grower Vijay Reddy has the state's largest planting in 25 acres now into its 11th leaf and selling to five wineries. In the THP's Terry County there are now more than 25 separate tempranillo lots. Why so many in so short a time? "Field hands have taken cuttings home and started fields themselves — that's one reason we know that it works. The different soil types have given us a greater diversity of results, it's fun to watch," said Cox.
Along with Reddy, viticulturalist Victor Muñoz has planted Tempranillo at an extremely calcareous site where he lives. The results, according to Cox, give the grape an intensely spicy character that finds its way into a variety of blends. Another Reddy employee, Henry Klassen, has also planted this grape at his home, some of which finds its way into his own label Tempranillo and some of which he sells off to wineries like Brushy Creek. Cox thinks tempranillo's unique site-sensitivity allows for widely varying characteristics, and that this will eventually be the one 'site-specific' grape which finally puts Texas on the US wine map.
Les Constable, owner/winemaker of Brushy Creek Vineyards, thinks that although he uses grapes made both from the Valdepenas and Toro clones, that "climate and, to a lesser extent, the soils have more to do with wine quality than does a particular clone."
It's too cold too often in northern Texas to grow the best varieties of cotton, which is  already being eaten into by cheaper and better quality competitors in Arizona, Egypt, and elsewhere —  and they have too little water here to support cotton.  Both cotton and grapes are woody, perennial plants with high-carbohydrate counts so growers in the THP have been easily making make the shift between to grapes.
The Texas wine trade has been happy to finally have a consistently good Texas red that isn't horrifyingly expensive. With Spanish food & wine receiving plenty of media exposure, US consumers are beginning to understand that this Spanish variety can make good wine in the US. Many of the best will come blended with a splash of Cabernet Sauvignon, Merlot, Mourvedre, and/or Carignan. Texas is the US's second-largest producer of Tempranillo after California, but the Lone Star State's production is more affordable. Most Tempranillos from California are $40 or more while most of Texas's are $12-30.
Says Master Sommelier Guy Stout, "it's the bright shining star of Texas red wine. I like it so much I planted a half-acre of it alongside Syrah at my Hill Country vineyard."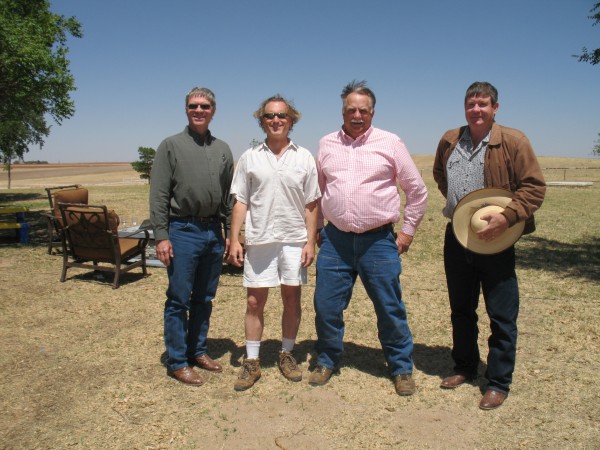 [learn_more caption="Tasting Notes"] 2010 Alamosa Wine Cellars 'El Guapo' Texas Hill Country (20% Graciano, 5% Garnacha)
Plum, vanilla aromas. Low-ish acidity, medium body, soft tannins, pleasant red and black berry flavors. Slightly warming, medium length finish.
2010 Brushy Creek Vineyards Texas
Faint leather aroma. Light-medium body, crisp, dried fruit notes on the warm palate, medium tannins, firm finish. Drinking well now.
2010 Brushy Creek Vineyards 'Klassen Vineyard' Texas
Subtle and bright blackberry aroma. Medium body, crisp, drying tannic finish. Needs 1-2 years to open.
2010 Calais Winery 'La Cuvée du Manoir/Newsom Vineyards' Texas High Plains
Subtle earthy aroma. Medium body, balanced medium acidity and tannins, surprisingly restrained and long finish. Drinking well now.
2010 Cap★Rock Winery Texas High Plains
Olive, dried cherry aromas. Light-medium body, clean, fine dusting of tannins, short finish.
2010 Cap★Rock Winery Sweet Texas High Plains
Sweet berry aroma. Medium sweet with balancing acidity and tannins. Short finish.
2010 Fall Creek Vineyards 'Salt Lick Vineyard' Texas Hill Country
American oak nose and palate entry. Medium body/tannins, fleshy, drinkable now but should develop well.
2010 Ground Up 'Kuhlken Vineyard' Texas Hill Country
Subtle spice and earth aromas. Medium body/acidity with good concentration and low-medium tannins. Good first effort. Drinking well now.
2010 Haak Vineyards & Winery 'Reddy Vineyards' Texas High Plains
Easy-going, light-medium body and balanced, drinkable now. [/learn_more]
[learn_more caption="Tasting Notes, continued"]2008 Inwood Estate 'Cornelious' Texas High Plains
Spicy oak, cocoa aromas. Medium body, playful fruit and acidity, an unusual and hauntingly long finish.
2011 Llano Estacado Winery Cellar Reserve Texas High Plains
Vaguely smelling of cola. Simultaneously juicy and tannic which carries onto the finish. Some tobacco, blackberry. Needs at least 2 years to open.
2010 Llano Estacado Winery Cellar Reserve 'Newsom Vineyard' Texas High Plains
Cocoa, cola aromas. Medium body, medium-high tannins, crisp, tobacco, moderately long and tannic finish. Needs 1-2 years to open.
 2009 Llano Estacado Winery Cellar Reserve 'Newsom Vineyard' Texas High Plains
Faint dried cherry and leather aromas. Olive, tobacco, dried cherry on a medium body. Tannic on the palate and finish.
2010 McPherson 'La Herencia' Texas (w/30% Mourvedre, Grenache, Syrah)
Leather, dried black fruit aromas. Light-medium body, low tannins, balanced. Easy-drinker.
2011 Pedernales Cellars Texas Dry Rose
Medium pink/tawny, light earthy aroma. Light body, dry, short finish.
2010 Pedernales Cellars Texas Reserve
Oaky nose. Light body, soft tannins, hint of black licorice, easy-drinking.
2011 Pontotoc Vineyard Texas
Faint earth and pecan aromas. Understated tobacco, cherry flavor, medium body/tannins/acidity, savory medium-length finish. Great first effort. Drinkable now but will develop well over the next few years. [/learn_more]
[author] [author_image timthumb='on']http://palatepress.com/wp-content/uploads/2013/03/dfheadshot.jpeg[/author_image] [author_info]Since 1986 David has performed many roles in the wine industry beginning as a buyer in American and British retail shops. He's taught wine classes at the University of Chicago, guest lectured at Oxford and Cambridge Universities, and training sommeliers at California's Professional Culinary Institute. David is a Certified Wine Educator, has passed the advanced exams of the Court of Master Sommeliers, in 2004 became one of the first Certified Sherry Educators and in 2011 passed the Wine Location Specialist exam. He's worked in management, training, and consultancy to restaurant, bars, and retail shops in London, Chicago, Vienna, and now in his home of Austin Texas. He's a columnist and contributing editor to the magazine Sommelier Journal while contributing to Decanter, Wine Business Monthly, and other publications.[/author_info] [/author]