I was at the counter of a delicious restaurant and deli called Ugo Gastronomia in Alba, this summer, picking out some antipasti and salads for a family picnic, on the way back to France and the end of our vacation. As I was waiting for the wonderfully nice lady to finish wrapping up our prosciutto di Parma, our salami in olive oil with actual slices of white truffle, a delicious rice salad, some amazing stuffed peppers, and other wonderful stuff, I wandered towards some shelves where bottles of local wine stood. Nebbiolos, Barberas and Dolcettos by some good producers I knew, and some I didn't, and also, to my great pleasure, some Freisa.
Freisa is genetically related to nebbiolo, according to DNA profiling, and like it, it shows good acidity and tannins and a relatively light color. Traditionally, it was often made in a slightly fizzy style, with some residual sugar to offset a certain bitterness. Nowadays, producers have developed a still, dry style that may even be age worthy and is, in any case, much more in line with the taste of the times. In this more serious direction, there is even a freisa nebbiolata style where the Freisa is fermented over leftover nebbiolo skins, like the Ripassos of Veneto, where lesser wines are fermented over amarone pomace (skins and seeds) to give them more richness and complexity.
Despite these new winemaking approaches, Freisa doesn't generate the same general enthusiasm from wine connoisseurs as Nebbiolo. As the Oxford Companion to Wine will tell you:
Freisa's decisively purple color and aromas of raspberries and violets tend to find favor much more readily than its flavors, which, with their combination of the bitter and the sweet, seem to arouse widely divergent reactions: from Hugh Johnson's 'immensely appetizing' to Robert Parker's 'totally repugnant wine.'
Although, Parker notwithstanding, I'd heard good things about Freisa from many Piemonte aficionados, I'd never had the chance to taste it before. From what I had generally heard—fruity, easy drinking—I figured it would make for a great picnic wine. So a bottle went into the bag with the salads and such.
As we found a small park on the river in Tende, along the winding mountain roads just south of the French-Italian border, and sat down to eat, I realized that the corkscrew I thought I put in my toiletry kit wasn't there. And so went the hope of having Freisa with a piemontese lunch in such a pleasant context.
So the 2009 Freisa d'Asti from—take a deep breath—Azienda Agricola Stella Giuseppe di Stella Massimo eventually went into the suitcases and made its way back to Quebec, where I drank it in late August with even greater pleasure—like a little stolen moment from a great trip.
The wine was generous and fun, with loads of bright, ripe strawberries, a good deal of freshness, and some other light and pleasant aromatic touches, notably some new leather. Maybe it was raspberries, after all, and the similar sound of "freisa" and "fraise" the French word for strawberry, got the better of me, but in any case, some lovely red berries, good substance, a smooth mouthfeel, and good drinkability. Lovely color, too: more purple than Nebbiolo, but clear and relatively light like its more aristocratic family member.
Now it just leaves me wanting for more—and on this side of the ocean, you do have to dig for it a bit. I know there is a little bit from Cascina Gilli available in my neck of the woods, somewhere, so I guess I better start making some calls.
---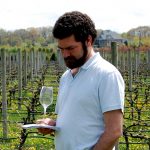 Rémy Charest is a Quebec City based journalist, writer, and translator. He has been writing about wine and food for over 12 years in various magazines and newspapers. He writes two wine blogs (The Wine Case, in English, and À chacun sa bouteille, in French) and, as if he didn't have enough things to do, he recently started a food blog called The Food Case.