Over dinner recently, a friend confessed, "I love Sauternes, but I always feel it's a waste when I open one."
Why? The simple answer is that he views Sauternes as a dessert wine, and by the time he reaches that point in the meal, he's lost focus. The wine is an afterthought.
This is the kind of thinking that might drive Aline Baly crazy. In fact, it undermines the very strategy that Baly and her colleagues in Sauternes have been employing to spark new energy into the appellation.
A new approach
"It is true that today, more people are familiar with the traditional pairings," Baly told me. The peripatetic Baly is the face of her family's Barsac estate, Château Coutet. She has become a kind of world ambassador of Sauternes, with French upbringing combined with American education. Some of the savviest minds in Sauternes, Baly included, have been targeting that demographic known as millenials. The idea is that younger drinkers start out with a preference for sweeter wines. Eventually they turn to dry wines, and some come back around to finer sweet wines (TBA, Sauternes, off-dry Rieslings, etc). Some don't.
By targeting millenials, the marketing minds in Sauternes are hoping to establish an instant connection with fine wine that happens to be sweet. Doing so prevents sweet wine from picking up a stigma; if you experience Sauternes early on, you don't have to be told that fine wine can be sweet.
But for this plan to work, consumers have to want to drink the stuff. And if Sauternes gets stuck at the end of every meal, it has almost no chance.
That's why Baly and some of her colleagues are not willing to allow Sauternes to stay boxed into a category that says it's only appropriate with foie gras or as dessert. "I have found that the best way to convince people of the versatility of Sauternes is to show them," Baly explained. "My uncle and I love partaking in wine dinners or hosting master classes to share the experience."
If Baly has to educate the world of wine consumers one person at a time, she's shown a willingness to do it. But this perspicacious vigneron is animated by a sense of optimism, and she believes the message is taking root. "My mantra is, 'There are lots of traditions, but there are no rules with Sauternes.'"
Turkey and oyster soup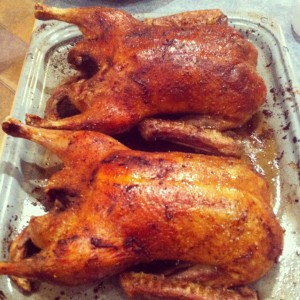 Château Coutet offers regular food pairing ideas. The recent lineup was riveting. Sauternes paired with butter-glazed turkey with chestnut and leek stuffing. An older Sauternes — say, a '97 or '98 — with a sweet potato pommel dauphine. A younger Sauternes with twice-baked blue cheese soufflé and quince compote.
When I told Baly that I recently enjoyed a meal that began with a rich oyster soup and a 2001 Sauternes, she uncorked a fresh list of possible food companions. I couldn't stop her. "When pairing Sauternes with savory foods, I love exploring texture, both complimenting and contrasting pairings," she explained. "I highly recommend shellfish — specifically lobster, due to the texture of the meat and its sweetness. I've lived in Asia so I also enjoy savory and spicy dishes with fried components. And some spices that pair well are coriander, ginger, and pepper…"
We had moved a world away from the stereotypical Sauternes-as-dessert stagnation. How refreshing.
Another significant point is that Sauternes does not have deleterious effects on the rest of the meal if it's served early on. Yes, it's rich on the palate, but a transitional course can clear the way for just about any food and wine to follow. We backed up our 2001 Sauternes with a couple of reds, including a rather burly left-bank Bordeaux.
There is no way around the price of Sauternes, which can be prohibitive. Even mid-range Sauternes can be $30 or more for a half bottle, but it's a worthy splurge. Sauternes is the rare Bordeaux that is simultaneously great with age and accessible and delicious in its youth. When to open a bottle of Sauternes is not about whether it's ready, but rather where your preference lies. Do you want rich, honeyed, primary fruit character, or the stimulating secondary and tertiary character that comes with time?
"I witness the smiles that these wines put on people's faces every single day – it doesn't matter which country that I am in," Baly said. It's a bit of marketing spin, but it happens to be true. On New Year's Eve, a friend pulled a bottle of 2003 Coutet, not a particularly classic vintage, but a layered and beautiful wine. It had the sensation of fresh-baked gingerbread cake studded with chopped hazelnuts.
As the clock signaled farewell to 2012, it was a wonderful wine to have in the glass. But it wasn't dessert. The night was just getting started, and we were back drinking dry wines minutes later.
---

Evan Dawson is the author of Summer in a Glass, a book about Finger Lakes winemakers. Evan is also the  Finger Lakes Editor for the New York Cork Report. His paid job includes offering his best Ron Burgundy impersonation as a morning news anchor and political reporter for WHAM-TV in Rochester, NY.