As someone that has been self-employed or working for small restaurants for most of my life I've gone without healthcare at times. Plans for singles or families can be exorbitant, simply out of reach for some. Recently I realized how lucky I am to have turned my passion for wine into a business that can afford me health insurance when others who have followed their dreams aren't so lucky. In my case wine (and I'm not talking about the benefits of resveratrol) directly relates to my ability to stay healthy. This found me thinking of a memorable place I'd visited that uses wine to fund not just one but many people's healthcare, the wine hospitals of Wurzburg, Germany.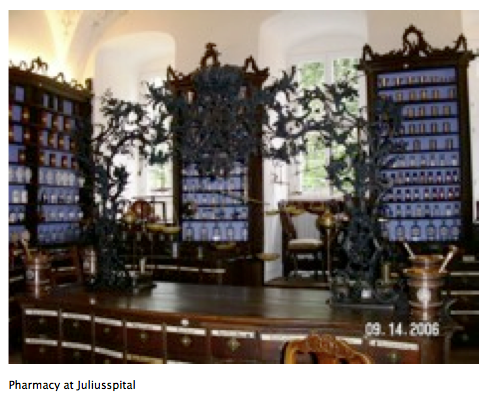 I first heard about the concept of wine hospitals while participating in a four day study tour that was organized in 2006 by the Deutsch Wine Institute in Mainz, Germany. Our small group of wine enthusiasts, led by German wine specialist Kerry Brady traveled, toured and tasted in some of the most impressive and historic UNESCO world heritage sites throughout Germany. After three head spinning days of glorious visits in Rheingau, Rheinhessen and the Platz our adventure was to end in Wurzburg. This city, chock full of picture postcard views, is also home to two of the oldest charitable foundations dedicated to helping those in need of medical care.
After a morning visit to the cellars beneath the Baroque Palace, former residence of the Prince Bishops, our itinerary included a tour and tasting at Weingut Juliusspital and Burgerspital , ancient foundations using funds cultivated from the sale of wine to help those in need . My visit to each was fascinating and a bit eye opening to say the least.
At Juliusspital our tour started with a rare visit to the Rococo pharmacy to view what is one of the oldest and grandest pharmacies in Germany. Next we visited Juliasspitals weinstube where our group feasted on giant potato pancakes smothered in a rich, creamy, wild mushroom sauce. Perfectly sautéed a crisp golden brown and paired with a delicious Silvaner, this in no way resembled any meal I've been served in the hospital back home. Locals actually go to this hospital to dine, often while visiting Juliaspital's wine shop located just around the corner.
Founded 436 years ago by Julius Echter von Mespelbrunn the Prince Bishop of Wurzburg the hospice was set up to help fund the care of children, elders and poor in need of palliative and critical care. Currently the vineyard of the hospice is comprised of 18 different varieties grown on 168 ha, with an average of 85,000 cases of wine produced per vintage. Today part of the main buildings have been equipped with a modern medical facility dedicated to preserving not only its initial mission but home to some of the most beautiful architecture in Wurzburg. A visit to gaze in wonder at the intricately carved barrels while tasting in the wondrous cellars beneath the hospital is highly recommended. Tastings can be arranged in advance and conducted in English for groups of 20 or more people.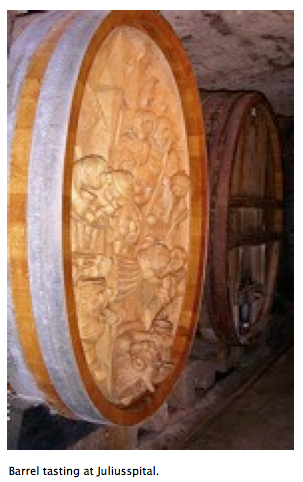 Next we visited Burgerspital , an estate started with the endowment of Johannes and Mergadis von Steren of Würzburg in 1316. Dedicated to the care of the elderly, it also helped the sick and hungry.
Burgerspital's first planting in 1334 was with the intent to supply the endowments expenses. Soon, BuBurgerspital was financing its charitable enterprises from the wine proceeds and estate stewardship. In the old days residents of the old people's home were provided with a daily ration of 1.22 liters of wine. Historical records state that misbehavior caused your ration to be watered down with repeat offenders being cut off. I'm betting there weren't many repeat offenders! I don't believe the 750 seniors living in Burgerspital's 8 facilities are treated to such a daily luxury but they are being well cared for by a skilled staff funded by the sale of the wonderful wines grown on 110 ha, 80 of which are within city limits.
Our tasting at Burgerspital Weinstube was incredible! Starting with a 2004 Muller-Thurgau we were also treated to a soup made from a broth of Riesling, roast duckling served with apple sauerkraut, a Silvaner Spatlese, a buttery fruit tart and a luscious Riesling Auslese, truly a meal fit for a king.
Both foundations impressed me with their dedication to preserving tradition, culture and the unique way to help care of those in need.
On further trips to the EU I have researched other facilities in France and had the opportunity to visit the Hospice du Strasbourg as well as the Hospice de Beaune, both also dedicated to helping those in need using funding related to the sale of wine. I hope to continue to find other estates to explore that use this different spin on traditional funding. Who knows, maybe someday this concept will be adapted in unexpected places.