This is a lovely wine for the pool-side, fresh, bright, and refreshing. The color is a pale straw, and the nose shows pineapple, backed by pink grapefruit. The Sauvignon Blanc takes the lead on the palate, with grass and grapefruit. Pineapple, tart and sweet, come through on the mid-palate, followed by grapefruit, a blend of white and Ruby Red. Drink with a turkey sandwich and chips on the pool deck. Recommended. 87 points.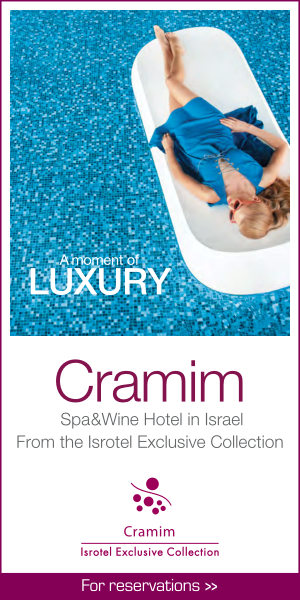 WHO: Tulip Winery
WHAT: Gewurtzraminer (70%), Sauvignon Blanc (30%)
DESIGNATION: Kosher
WHERE: Israel, Judean Hills and Upper Galilee
WHEN: 2013
HOW MUCH: $25
A statement from Cramim Spa and Wine Hotel, our Kosher Wine Week Sponsor

Cramim Spa and Wine Hotel

is situated in the heart of the Judean wine region, a 15 minute drive from Jerusalem. The hotel is surrounded by a beautifully scenic, pastoral setting and offers a quality experience of combined leisure, recreation, fine wines and impeccable tastes. Hotel guests will enjoy an exquisite chef restaurant, boutique wine bar, a contemporary spa complex with unique vino-therapy treatments, as well as pampering rooms and suites that boast a modern interior design.