Tulip's flagship meets expectations as the best of its line. The nose shows black currant and black cherry. The first impression on the palate is the smooth, silky mouth feel. Black cherry leads, followed by blackberry, with hints of vanilla and spices. Good complexity and well-integrated tannins all shows a well-made wine. Drink with filet. Highly Recommended. 91 points.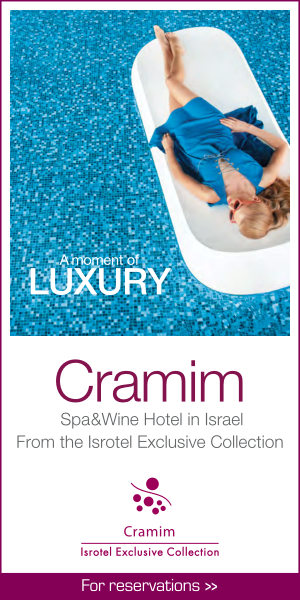 WHO: Tulip Winery
WHAT: Cabernet Sauvignon, Merlot, Cabernet Franc, Petit Verdot
DESIGNATION: Kosher
WHERE: Israel, Judean Hills and Upper Galilee
WHEN: 2013
HOW MUCH: $60
A statement from Cramim Spa and Wine Hotel, our Kosher Wine Week Sponsor

Cramim Spa and Wine Hotel

is situated in the heart of the Judean wine region, a 15 minute drive from Jerusalem. The hotel is surrounded by a beautifully scenic, pastoral setting and offers a quality experience of combined leisure, recreation, fine wines and impeccable tastes. Hotel guests will enjoy an exquisite chef restaurant, boutique wine bar, a contemporary spa complex with unique vino-therapy treatments, as well as pampering rooms and suites that boast a modern interior design.