If the planet Earth had an amusement park, this year it would be EXPO MILANO 2015. And it's about food – one of our favorite subjects – and feeding the planet.
Every five years there's a universal expo somewhere in the world, and this year it's in the economic capital of Italy, Milan, running from May to the end of October 2015.
The very first of this type of exhibition was the famous Crystal Palace exhibition of 1851. Another notable edition of this fair took place in France in 1889 when the Tour Eiffel was built as a symbol of the exposition.  Expos have also been held in other countries and in the US, including Hungary, Belgium, Italy, California, Canada, Japan, Spain, Portugal and Australia.
Each one has the same objective: showing off "the wonders of today" – the most amazing achievements of people around the world. The Expo is not a commercial exhibition, but a platform that focuses on giving people the opportunity to have an international dialogue on global topics. It is the place to view the best-and-brightest creative products for today's world.
At the Expo, you'll find more than 140 countries committed to exploring the main topic of this exhibition: "Feeding the Planet, Energy for Life" Each participating country presents the general theme in its own way, so some are showing off their traditional cooking while others present their agricultural products or farming methods.
If you need compelling reasons to visit EXPO2015, here they are:
Almost every pavilion has something really eye-catching for its external structure: gardens, colors, building materials (the Japanese pavilion has been built with wood, a typical renewable resource). The Russian exhibition is impressive for its mirrors, the Vietnamese one for its shape inspired by the lotus flower, the Ecuadoran pavilion for its vivid colors, the French one for its vegetable garden, the British one for its shape — it seems to be in a beehive!
In my opinion, this is the real strength of EXPO2015 — along with the wine and food. It's everywhere: you download the official app, open it with bluetooth on your tablet or smartphone, and you will find events happening around you all the time. Some countries have their own apps, too. Every pavilion has many technological solutions inside, some of them quite innovative. Like the Oculus Rift in the Egyptian display, with its special visor for virtual reality. Some are entertaining and educational (like Germany's) some others surprising, like those of Chile or UK. And there are also many interactive games.
Wine and Food. Imagine having the chance to taste traditional Korean foods, to drink Russian alcoholic beverages, to have a meal in Hungary, Indonesia, Kuwait, Brazil, Serbia, or… wherever you want. At EXPO2015 you can do it (but be careful, many of these foods are not cheap). Almost every country has its own restaurant, or offers the opportunity to have a taste of its native cuisine.
In addition you can explore individual topics: there are eight clusters, each of them focused on a product, such as cocoa and chocolate, coffee, rice, fruits and legumes, spices, cereals and tubers…
Do you like to delve deeper into environments instead? Go to the Bio-Mediterranean cluster, or to the "Islands, Sea and Food" area or even to the Arid Zones.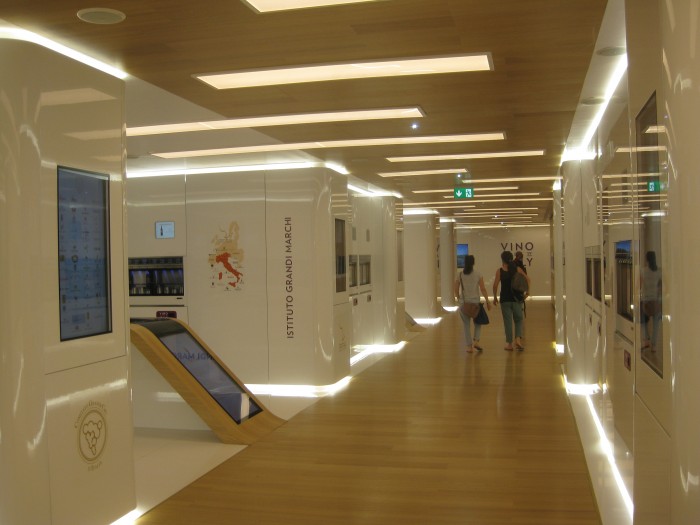 For wine, don't miss a visit to the pavilion "Vino – A Taste of Italy."  While its ground floor (The Tradition of Italian Wine) honestly doesn't look that exciting the first floor is much more interesting. There, with a 10 Euro ticket you can taste any three wines selected from 1,300 different labels, from all the Italian regions and denominations.
As in a regular amusement park, throughout your visit you will come across stuffed animals, traditional dancers, singers and musicians, parades, and more. Furthermore, many concerts and shows are scheduled during the course of EXPO2015. And every day the Life Tree offers a magnificent "Son et Lumiére" [Sound and Light] after sunset.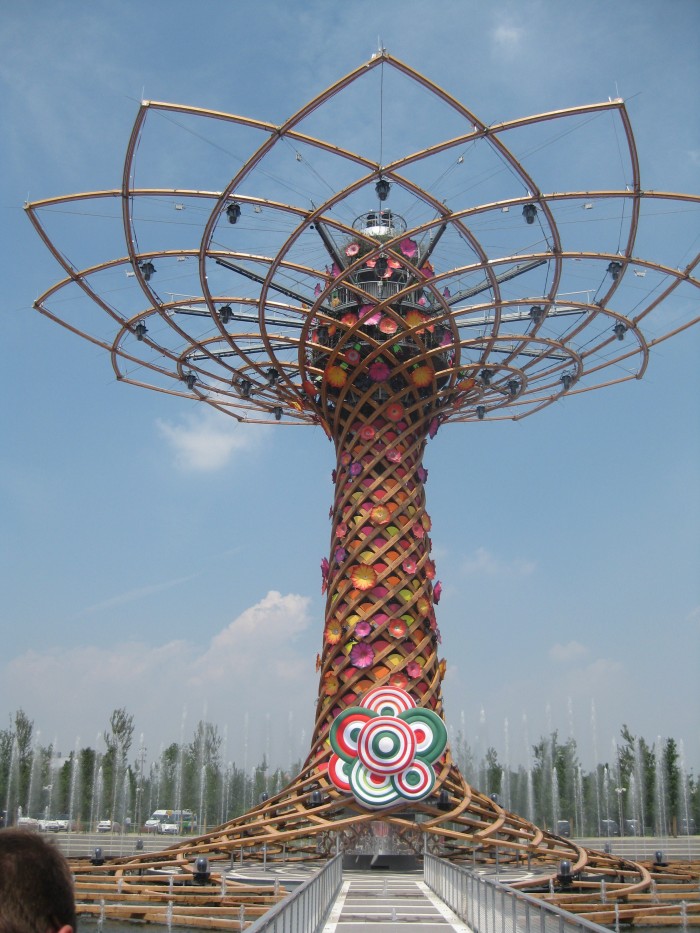 So, ready to go to EXPO2015? Then, let me give you some advice.
Keep in mind that the place is huge: you cannot see everything. Download the EXPO2015 official app to have the daily events handy if you like. But above all study the official web site, in order to work out your itinerary. If you have a whole day for the visit, great, you can also see the final show. But if you haven't, you have to know that some pavilions are always crowded (like Japan and the United Arab Emirates), and you could have to wait for more than an hour before entering. So, if you have just a few hours to explore EXPO2015, go to these few at the beginning of the day, when there are fewer visitors. After that, visit the less crowded pavilions. This way you'll see a lot of things without wasting time in line.
Wear a cotton outfit, comfortable shoes and a hat: you'll have to walk a lot, sometimes under a merciless sun!
Take a plastic water bottle: there are some small drinking fountains throughout the fair, so you can refill your bottle.
Enjoy EXPO2015!
[gss ids="27716,27715,27714,27713,27712,27710,27709,27708,27707,27706,27705″ options="auto-height=600:400″ carousel="fx=carousel"]