Even for people who love the wines of Bordeaux, a map of the region could substitute the words "Terra Incognita" in place of "Entre-Deux-Mers" and few would notice the change.  Indeed, the only time most Americans visiting Bordeaux spend in Entre-Deux-Mers is the 20 minutes on N-89 as we race back and forth between the city of Bordeaux and St-Émilion.
Part of our neglect is because, in decades past, EDM had the reputation – often deserved – of producing thin, bland, dry white wines.  That's no longer the case – what sane importer would try to sell such wines on today's American market with all the competitive alternatives?  And something else – Entre-Deux-Mers isn't just about white wines and never was.
I have visited the region several times, most recently in June after Vinexpo when I took a couple of days to visit EDM producers.  My first stop was with winegrower Estelle Roumage, whose wines perfectly illustrate the diversity of Entre-Deux-Mers today.
Roumage is a cosmopolitan, outgoing young woman, the fifth generation Roumage to be winemaker at Château Lestrille, a 43-hectare (106 acres) property in St. Germain du Puch.  Like many younger Bordeaux winemakers, Roumage first ventured abroad for outside experience, in her case with a contract winery in Marlborough, before returning in 2001 to take over the family estate.
Although Château Lestrille is physically located in Entre-Deux-Mers, not all of Roumage's wines are white and not all bear the label "Entre-Deux-Mers."  Like many French wines, the Entre-Deux-Mers AOP is tied not only to a region but also to specific grape varieties – sauvignon blanc and gris, semillion and muscadelle – as well as a style, which is dry white.  But from the same vineyards from which Roumage makes her Entre-Deux-Mers AOP, she also produces a regional Bordeaux blanc, a Bordeaux rosé, a Bordeaux clairet, a Bordeaux red.  Some wines can also be classified in the higher "Bordeaux Supérieur" category.
That's because in addition to being an AOP, Entre-Deux-Mers is a geographic region which permits growing typical red and white Bordeaux grapes to make various shades of wines as part of the Bordeaux regional appellation.
For Roumage and Lestrille, the export market is large – about 50 percent of total production – and the United States is of special importance, which means that prices for her EDM and regional Bordeaux reds and whites must be competitive and the quality high.  Until recently, she had not exported her rosé, which is 100% Merlot, to the United States.  But this year one of her East Coast importers talked her into doing a special bottling called "Amelia."  "They didn't tell me how to make it," she says.  "It was fun, and they totally trusted me."
A few villages away, Véronique Barthe also took over her family's winemaking job at Château la Freynelle in Daignac, but her situation was somewhat different.  She was not only the first woman winemaker at la Freynelle in the seven generations her family has owned the property, "I was the first woman born into the family since 1789," she says.  "Before me, it was all boys!"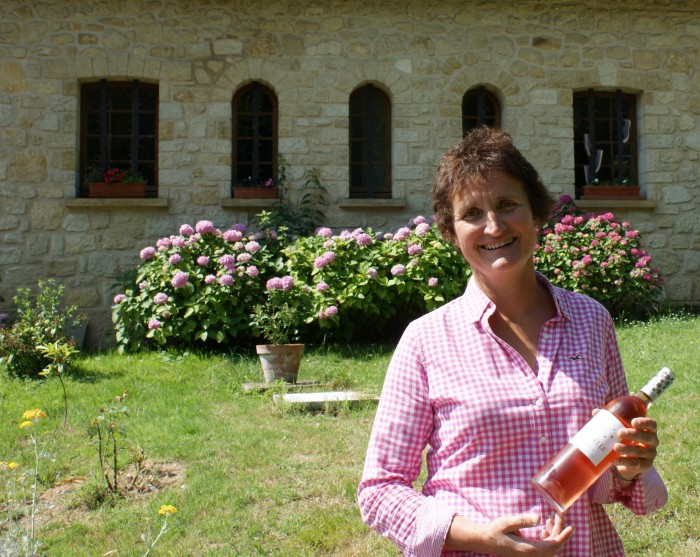 With that background, it is not surprising that that Barthe is a dynamic, hard-charging woman, one who rides a motorcycle between her home and the winery.  She also is open to change, a trait that seems common among EDM producers.  Barthe still experiments with different yeasts in an attempt to improve her white wines, she is also agreeable to producing wines with either cork or screw caps depending on market preferences, and two-thirds of her almost a half-million bottles produced annually are exported, with many finding their way to the American market.  Barthe also is interested in experimental grape varieties being tested by the French National Institute for Agricultural Research (INRA) to better combat disease and global warming.
Like many producers here, she wishes Americans would fall in love with clairet, a category that is lighter than red wine and darker rose.  Accordingly, clairet is one of the most-versatile table wines available.  Barthe uses a négoçiant to represent her in the international marketplace, and she is proud of her American network.  "My wines are distributed by RNDC, Winebow and Young's Market" among others, Barthe says.
According to Stéphane Dupuch, who is both a winegrower (his primary estate is Château Sainte Marie in Targon) and president of the Entre-Deux-Mers Syndicat Viticole, there are about 2,000 grape growers in the AOP.  Of these, about 70 per cent are independent producers, and 30 per cent sell to cooperatives.  Altogether, they produce abtout 175,000 hectoliters of white wine annually.
Another aspect of Entre-Deux-Mers that can be confusing – though not as confusing as French road signs and the language's pluperfect tense – is that geographic Entre-Deux-Mers is larger the Entre-Deux-Mers AOP and incorporates additional Bordeaux appellations.  Let's go back to our map.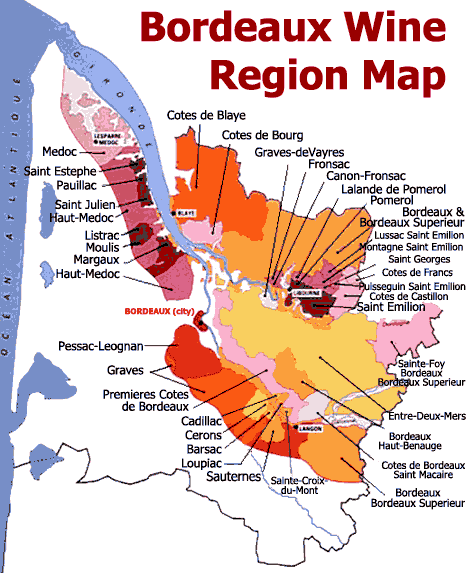 Located on Bordeaux' Lower East Side, EDM is the least-famous of Bordeaux's geographic regions, having no official or unofficial crus as to the Right and Left Banks.  Its name translate to "between the seas," which some hasten to explain should mean "between the rivers," with the Garonne on its southeast side and the Dordogne on its north.  Except when you consider that a considerable segment of the lower sections of each river, as well as the totality of the Gironde, the river they form, are tidal basins and hence part of the sea.  Then you realize the ancients were not just being poetic.
Within geographic Entre-Deux-Mers, by far the largest land segment is Entre-Deux-Mers itself.  Other appellations within geographic Entre-Deux-Mers are Graves de Vayres, Sainte-Foy-Bordeaux, Bordeaux Haut-Benauge, Entre-Deux-Mers Haut-Benauge, Cadillac, Cadillac Côtes de Bordeaux, Côtes de Bordeaux- Saint-Macaire, Premières Côtes de Bordeaux, Loupiac and Sainte-Croix-du-Mont.
As both a winegrower and very popular consultant to other winegrowers, Denis Dubourdieu makes wine in several of these EDM appellations, as well as across the river in Barsac and Sauternes, but his home base is at Château Reynon in Cadillac – Côtes de Bordeaux, one of five properties his family owns.
One morning early (for Bordeaux), I sit opposite Dubourdieu at a large table in Reynon to chat with him and taste wines.  The experience reminds me of being in one of those graduate seminars of university days past, which is not surprising as Professor Dubourdieu has taught enology at the University of Bordeaux since 1987.
One of the topics I am most interested in is skin contact for white wines, a practice that scares most traditionalists, not without reason, but a practice Dubourdieu has popularized among many EDM producers as well as elsewhere.  "The juice of the skin has to be done very carefully," he says.  "The skin is both the best and worst part of the grape."  Acidity is the key, Dubourdieu explains, going into an in-depth chemical explanation, but, when successful, it adds greatly to a white wine's complexity and mouth feel. Dubourdieu will also employ malolactic fermentation if needed.  He also believes in use of limited oxygenation when a wine doesn't have time in the barrel.
Over a glass of 2014 Reynon that is 100 per cent sauvignon blanc, he says, "We wanted something less sharp, to have lime with also a taste of melon." We both remark on how the wine has an appearance of mild sweetness, yet it has been fermented to dryness.  "Sweetness without sugar," he muses, perhaps filing the idea away for a classroom topic.
Of course, Dubourdieu also makes red Bordeaux. "Fresh fruitiness of style is very important for Bordeaux," he says.  "If there is too much extraction, too much ripening, you lose the typical character of Bordeaux."
About a dozen years ago, I wrote an article about the serious red wines being made in the EDM region, a time when the garagistes from St-Émilion were spreading their gospel to winegrowers along the limestone plateau in northern Entre-Deux-Mers that mirrors the more-famous one across the Dordogne.  One of the families I visited at the time was the Despagnes.
So, I decide to revisit Thibault Despagne, who, with his sister Basaline, now run the family business, which includes Château Tour Mirambeau in the village of Naujon & Postiac.  At the time of my first visit, the two of them collaborated on what Basaline called "my pygmy vineyard" of low-trellis, ultra-high density vines that ended up in a barrel fermented, high-end red wine called "Girolatte."
In the decade since, Girolatte has received good sales and critical attention and even spawned a white Girolatte. But Despagne still considers it a work in progress.  We hop into his SUV for a tour of the current Girolatte vineyards and then plow through a sea of windows-high grass, a meadow wrapped around a hillside that will be a future vineyard.
"We want to make a first growth wine in the Entre-Deux-Mers," Despagne said, "but we need to get more volume."  Which is a salient point, as all the first growths of Médoc and Péssac-Leognan are very large estates with large-volume production.  "The problem with the wines of St-Émilion is they are smaller estates and don't have the volume needed for marketing."  So, I ask, when are you planting the new vineyard?  A weary smile.  "When I get the money."
Although the Despagne family holdings are already fairly large – for years they were the wine of British Airways – an even bigger EDM producer is Dourthe.  In a tasting of the Dourthe line of château and négoçiant wines from across Bordeaux at the company's Château Pey Latour in Sallebouef, CEO Patrick Jestin leads me through a series of wines that make a great argument that a producer can have both volume and quality if the will to do so is there.  Jestin has that will.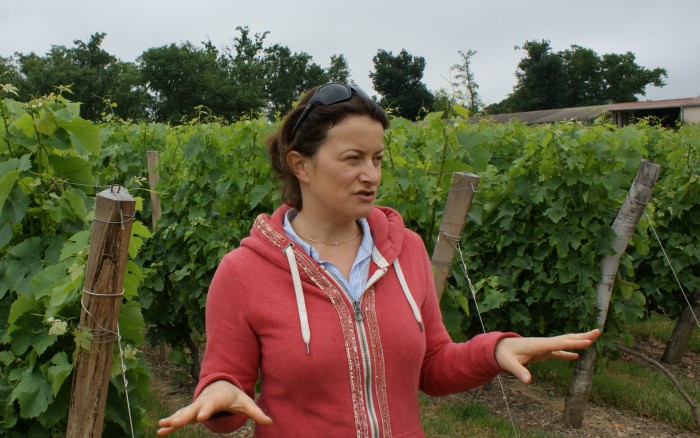 Of course, I couldn't leave EDM without seeing the Courselle sisters – Marie and Sylvie – who have taken over from their father at Château Thieuley in La Sauve.  Most of their vineyards are high-density, Marie says, about 6,000 to 7,000 vines per hectare – with an even split between white and red.  "We grow mainly Merlot here for our reds because of the clay soil," she says
Thieuley was one of the first facilities to have a barrel stacking system that allow the barrels to be accessed and completely rotated quite easily.  "It's especially important for the whites," Marie says, "so sometimes we turn each barrel almost every day," which gives a richer taste and better mouth feel via a continuous battonage.
The last wines I taste are a chardonnay and a syrah – surprising, since neither grape can produce wines labeled "Bordeaux." "There was an area my father was going to plant a few years ago that turned out not to be part of the Entre-Deux-Mers classification," Sylvie says, "and it would take about 10 years to get classification.  So we decided to plant the 'forbidden' grapes."  Both wines, which carry the simple "Vin de France" classification, are quite lovely.  The Thieuley experiments with syrah remind me of the syrah blends, also Vins de France, being done at Château Palmer and Château La Lagune in the Medoc.
But, then, that's Entre-Deux-Mers.  Almost anything you can do on the Left Bank or Right Bank, you can do here.  And at far more affordable price.