Producers of the French digestif are blending in with the cocktail crowd
Flanked by barrels of gently slumbering brandy, Jerome Royer is talking about cognac — his passion and his business — with all the gallant gestures and mustachioed enthusiasm of a Frenchman straight out of Central Casting.
But what he has to say is in stark contrast to cognac's traditional image as a rare and precious liquid reserved for drinking neat after lavish dinners, preferably in a velvet smoking jacket.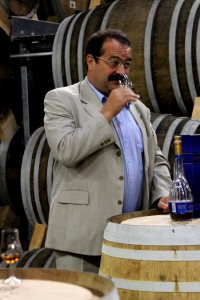 "When you taste a (cognac) cocktail it's always a surprise; it's like a gift," he says. "You just don't know what you will taste when you are blending … honey, cognac with lemon sometimes, with coffee… with anything, with cocoa, with milk. You think, 'Ah, you're crazy — with milk?' But no, it can be very nice. You just have to be courageous when you're drinking.  You just have to go to the taste; go for it."
Royer, the fifth generation to work in his family business, may be one of Cognac's more ebullient ambassadors. (He's also mayor of the town of Jarnac, which has to be one of the more emphatic displays of civic spirit I've encountered.) But his point, that cognac can blend in with the cocktail scene as well as any other liquor, is one that is echoed across the region as producers aim to give cognac a modern twist.
But, wait; isn't it sacrilege to serve cognac with soda and ice?
"No. Why should it be?" says Philippe Jouhaud, sales and marketing director of D'USSE (dew-say), a cognac recently launched by Bacardi at its property Chateau de Cognac, which also produces Baron Otard. "The very first cocktail in the history of cocktails — the Sazerac — what was the main ingredient in it? Cognac. So, for us it makes a lot of sense." (For the record, as with any good drinks story, there is debate over whether the Sazerac is actually the first cocktail, but it does go back to the mid-1800s.)
Jouhaud, whom I met on a tour sponsored by the Distilled Spirits Council, a trade association, estimates that well over half of cognac consumed worldwide is in a cocktail or on the rocks.
Oddly enough, that market tends to be anywhere but France where the custom of drinking cognac after dinners has been crushed, first by GIs introducing the French to whiskies like Johnnie Walker in World War II and more recently by strict prohibitions against drunk driving.
On the other hand, cognac is doing well in the United States (No. 1 with 33% of global market share in 2012) and China (No. 2 with about 28% market share). Producers have worked at being a part of the premium cocktail movement, putting on drinks competitions among other things. And unlike Cristal champagne, which made it clear a few years ago that it was less than thrilled by the endorsement of rapper Jay-Z, cognac has not shied away from its popularity among rappers and the African-American community in general. Like Cristal, D'USSE caught the attention of Jay-Z, but in this case, the result is that the rapper-producer has made a video promotion for the brand.
Cognac, which goes back hundreds of years, learns how to blend in long before it meets the cocktail shaker. It begins as a rather acidic wine, usually made from a white grape called ugni blanc, grown in the Cognac region which is a designated geographic indication. So, while all cognacs are brandies, not all brandies are cognac. The wine is distilled into eau de vies which are aged in barrels and nurtured through a long life, being moved from humid to dry cellars and newer or older barrels made of different types of wood as flavors are developed and alcohol levels reduced.
To make the final product, eau de vies are blended to create the flavor profile distinctive to each house. The basic category is VS, very special, in which the youngest eau de vie must have been aged in barrel at least 2 years, VSOP, very special old pale, 4 years, and XO, extra old, 6 years now, rising to 10 years in 2016. (In practice most cognacs consist of eau de vies aged far longer than the minimum requirement.)
The simplest way to turn cognac from digestif to aperitif  is to serve VS or VSOP over ice. Another easy and light drink is to mix VS with ginger ale or ginger beer at a ratio of about one part cognac to five parts soda and serve over ice. VS is most commonly used as mixer, although some houses are creating blends specifically for cocktails.
D'USSE, a VSOP with a smooth finish and overtones of honey and dried fruit, was created with cocktail consumption in mind. And at Royer, which was purchased by Suntory in 1989, a blend called Force 53, named for the company's founding date of 1853 as well as its alcohol percent, has been made at 106 proof so that the flavor won't be lost in a cocktail.
The cognac business is "very fantastic," according to Royer, who beamed throughout his presentation. After all, he says, "We need to like life when we are working in our business, don't you think so?"
I'll drink to that.
Here are three recipes from D'USSE:
Sidecar
1.5 ounces cognac
1 ounce triple sec
3/4 ounce lemon juice or lemon wedges, muddled
Sugar, to rim half the glass
Shake and strain into a martini glass and garnish with lemon peel
Lorraine 75
1 ounce cognac
1/2 ounce Benedictine liqueur
1 ounce orange juice (or 1/2 ounce homemade grenadine)
Mix in champagne flute and top with prosecco. Garnish with long orange or lemon spiral.
Vieux Carre
1 ounce cognac
1 ounce rye whiskey
1 ounce sweet vermouth
Dash Peychaud's bitters
Dash Angostura, aromatic bitters
1/2 ounce Benedictine liqueur
Serve over ice in a rocks glass and garnish with a lemon twist.
[author] [author_image timthumb='on']http://palatepress.com/wp-content/uploads/2011/04/me-at-Absinthe.jpg [/author_image] [author_info]Michelle Locke is a freelance lifestyles writer based in the San Francisco Bay area. She blogs at Vinecdote.[/author_info] [/author]