Can stepping into a wine store be as simple as "flavor" and "body?" Can descriptions like "silky, bold, fruity, or crisp" guide the novice wine consumer?
Two national wine franchise operations, Vino 100 and Wine Styles, have grown at a pace suggesting consumers have embraced the concept. While those franchises don't have much history, going back just 6-7 years, they have been successful, reaching coast to coast. Wine Styles has approximately 100 stores, while Vino 100 has 50 stores in 19 states. Both franchise retailers emphasize value wine under $25.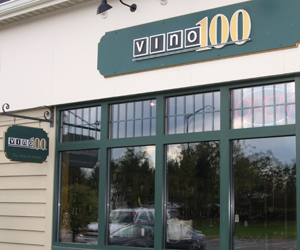 The franchise stores use taste characteristics to guide consumers. Vino 100 features a 'wine barometer' to measure flavor and body. Wine Styles categorizes its wines by Crisp, Silky, Rich and Bubbly for whites then Fruity, Mellow, Bold, and Nectar for its reds.
"When we explain it to first-time customers, they say, "wow, what a smart idea!' and 'that makes it so easy,'" explained Liz Avera, owner of a Vino 100 in Westerville, OH, a northern suburb of Columbus. "A lot of our existing customers have staked out their spot on the wall and are willing to try new wines because they have an idea of what the taste and the texture will be like."
Avera insists personal service and knowledge are still the most important ingredients, but the barometer is an excellent complement to traditional tasting notes.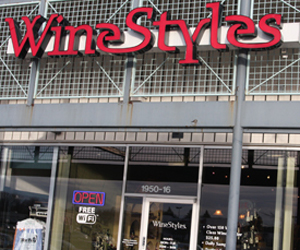 The concept goes back about 10 years according to Ashley Lockwood, who owns an independent store, Cork & Cracker, in Indianapolis. "Best Cellars in New York was actually the first to do the 'taste profile' idea," Lockwood said. "I was familiar with them and a little store in Chicago called Kafka Wines that did the same thing. I liked the concept but it hadn't come to Indianapolis yet."
Lockwood had worked in wine wholesale before opening her Indianapolis retail location. She looked at the two franchises but didn't feel the need for that type of corporate structure and cost. The one idea she did like was the taste profile concept.
It was just the opposite for Bill and Tena McClanahan, who were in the printing business for years before developing their wine store. They visited the headquarters of Vino 100 and Wine Styles to learn about the franchises. They liked the Wine Styles business model best and opened in October 2008 in Carmel, a north side suburb of Indianapolis.
"We like to do a styles tour for every customer who walks in the door," Tena McClanahan said. "We ask if they like red or white and walk them through the styles. We give them a crisp, silky, and rich wine and they're all Chardonnays. They're usually very surprised by the difference in the taste profiles."
The concept has its critics. "They challenge you that the concept is too simplistic," McClanahan said. "They say, 'Wine is more complicated than that and these can't possibly be good wines.' But everybody (who does a tasting with us) is like 'that makes so much sense' and they get it."
Avera said the upper-end wine customers, the usual critics, know what they want when they enter the store. Both franchise businesses carry a small selection of more expensive wines, and Wine Styles boasts some exclusive labels.
"For the less knowledgeable customer, [our styles method] makes it very easy for them to buy," McClanahan said. "They just have a lot more confidence in what they're picking up off the shelf."
The two franchise owners look at their unique guidelines and their knowledgeable staff as the keys to their successful one-year business operations.
"So many people feel inadequate," Avera said. "We're trying to put them at ease and take away some of the snob factor."
McClanahan said her store "exceeded all expectations" in their first full year and even acknowledged thinking about expansion. Both franchise stores benefit from locations in affluent suburban communities.
All three women note the critics are losing the argument, and point out that expanded tasting notes and other similar features are popping up in non-franchise stores across the country.
"I think it is great for the industry," Lockwood said. "The more retail stores that make wine approachable, friendly, and accessible, the more wine consumers we can create. That was our goal when we opened – to find people who were intimidated by wine and create wine lovers. Our goal was also to bring people out of the grocery stores by making artisanal/small production wines easy to understand."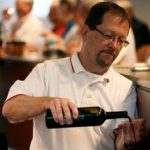 Howard W. Hewitt is a former career journalist who writes a bi-weekly newspaper column in Indiana. he also writes about value wine on his blog, Grape Sense – A Glass Half Full.