I am generally skeptical of the notion of signature grapes, but in the case of the Finger Lakes, it would be hard to contest that riesling is really what makes that region go round. It is well-made all around the lakes, and even the rather ordinary producers manage to make good ones. It is clearly very well-suited to that particular area of North American viticulture.
However, no matter how good it is, a region cannot live by Riesling alone—at least, not in the context of North American wine production, where consumers sometimes seem disappointed if they cannot find every style in one place. What is clear, in any case, is that a region will not live by one color alone.
So does the Finger Lakes region also have a claim to fame in red wines? Though red wine making is sometimes met with a certain amount of skepticism, in the region—as you can hear periodically in any of the cooler regions of the US and Canada—many of the wineries' offerings are at least consistent and tasty, and a number of wines are very good or even outstanding.
The quality depends in good part on the level of discipline and commitment of growers. As Phil Davis of Damiani Cellars says, "Things like leaving only the proper crop load on the vines and fighting disease are essential. You can't compromise at all on reds, here."
Vintage variation can count significantly, as the generous 2007 and the cool and angular 2008 demonstrate rather accurately. Also, the consistent producers of solid red wines are not that numerous, but there are enough wineries delivering good reds every year to allow for red wine drinkers to find something to their liking—and even for the cellar.
A few years down the road
Late last summer, I had the chance to sit down at the Village Tavern, in Hammondsport, at the southern end of Keuka Lake, and delve through their book-length list of wines from the Finger Lakes, some (mostly Riesling) dating as far back as the 1970s. It is a treasure trove of the history of the region's winemaking, and should be a mandatory stop for any wine lover seeking to go beyond current releases.
We picked a 1999 Hosmer Cabernet Franc, a red from a good, sunny vintage in the Northeast, and enjoyed it tremendously. It still had a bright core of fruit, and had opened up, over twelve years, into an elegant, well-balanced, supple and very pleasant wine that still had a fair bit of life in front of it. As a tribute to the potential of Finger Lakes reds, it was pretty convincing. The best Cabernets Francs and Pinot Noirs from the region—and probably some Lemberger/Blaufränkisch as well—clearly have great aging potential: you will need to pick the producers carefully, but when the best comes out, it can provide remarkable pleasure, now and over time, all that at prices that remain very reasonable. An advantage, for the consumer, of looking beyond the obvious favorites, in any wine region.
The Wineries
Where can you find the most interesting reds in the Finger Lakes? Here is a list of some of the most interesting producers, some of which are also, unsurprisingly, among the best producers of white wines, too.
Heart and Hands
Thanks to great focus, clear objectives, some particularly well-located vineyards, careful winemaking and a particular liking for François Frères
French oak barrels and whole-cluster fermentations, Thomas and Susan Higgings have become a reference point for Finger Lakes Pinot Noir. Thomas, who notably worked at Calera, in California, before heading to Cayuga Lake to try his hand at the "heartbreak grape," produced a truly stellar reserve Pinot Noir from the 2007 vintage, notably, and managed the vintage variations on 2008 and 2009 with a keen eye for what each one could provide. The wines have structure,  a refined and precise character, and a welcome amount of complexity. The winery is beyond promising, but it's interesting to note that with a home vineyard that is still just starting up, the best is likely yet to come.
Bloomer Creek
Kim Engle and Debra Bermingham, the souls behind Bloomer Creek Vineyard, make some of the most interesting rieslings in the region, as our colleague Evan Dawson pointed out on the New York Cork Report. The wines that are starting to attract a remarkable amount of attention and praise, notably in some of New York City's best wine bars and wine stores. The reds, to me, were as attractive as those terrific Rieslings, with a 2007 Pinot Noir that showed a complex, original set of aromas going from red fruit and a bit of white pepper to leather and tea leaf, with a beautiful mineral character on top of that. The 2007 White Horse Red, made from two-thirds Cabernet Franc and one third Merlot, was also terrific, with dark fruit and good freshness, a blueberry pastry character, leather, herbal notes and fine, smooth tannins, and a beautiful finish. The wines, either white or red, have a profile that is totally unique in the region, thanks to a very natural, but also very adaptable and very smart approach from Kim Engle, whose ability to adapt to vintage conditions seems truly exceptional and whose wines always have a distinct, multidimensional personality. All that at extremely reasonable prices.
Shalestone Vineyards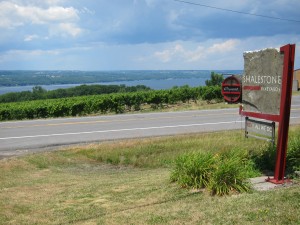 As an example of commitment to red wine production, Shalestone Vineyards, actually does only reds (and a rosé, to be precise), and they make them in a very friendly, accessible style—almost to a fault. The 2008 Synergy (43% Syrah, 29% Cabernet Sauvignon, 28% and Merlot), as well as the 2008 Cabernet Franc, both had a softness to them that certainly did not seem to fit the standard profile of this cooler vintage, where most red wines have a much more significant acidity and a more angular profile. At $18 for the Cab Franc and $25 for the Synergy—which did have a rather pleasant little peppery note on top of its very forward fruit—they are reasonably-priced and a good starting point, perhaps, for wine drinkers who are a little skittish about the higher acidity and sometimes slightly austere profile of Finger Lakes reds in cool vintages.
Ravines
Morten and Lisa Hallgren's Keuka Lake winery has won a significant amount of attention and praise with a range of wines that are all well-defined and made with precision and intent. Though the bright and crisp rieslings remain the obvious stars, Ravines Vineyards manages to create some impressive reds—and not just at a high-end level. Their 2010 Keuka Village Red, made from 40% Cabernet Franc and 60% Noiret (a Cornell University hybrid), is a very good, tasty red with good fruit and a cracked pepper and mushroom dimension. It is also $12.95, quite an achievement in terms of quality-price ratio in the Finger Lakes. The 2008 Pinot Noir, in another range, is a remarkably well-balanced wine for the vintage, showing a cherry pie and orange nose with hints of tobacco, forest floor, and pepper. His 2010 is also very promising, with a smooth and silky profile in line with the warmer vintage. Morten Hallgren, who has recently taken over as winemaker of White Springs Winery, a more volume-oriented Finger Lakes producer, can also do a fine job with Bordeaux varieties, showing his great versatility.
Damiani
Tasting 2010 Pinot Noir and Syrah barrel samples with Phil Davis, one of the co-owners of Damiani Wine Cellars, was a most pleasant experience, on my last visit to the Finger Lakes. He showed a precise understanding of the possibilities and character of various lots of Pinot Noir that had been vinified and aged separately, one showing a fruitier, smoother profile, while another showed a more masculine, more tannic line with well-defined dark fruit flavors. But the real surprise was the  2010 Syrah, which was one of the very best I have tasted from the whole Northeast of North America: again, samples from different parcels showed very distinctive profiles, thanks to an approach that lets the terroir speak—and the red grapes sing.
The list is by no means exhaustive of all serious reds produced in the Finger Lakes. Much more could be said about a well-established winery like Red Newt, which can impress as well and does a particularly strong job with later varieties, thanks to owner Dave Whiting's very able hand and understanding of the specific character of varieties, vineyards and winemaking. And there is great potential as well in a newer player like Red Tail Ridge, where young vines are yielding good results, like a very pleasant 2009 Lemberger and one of the most original offerings in the Finger Lakes: a sparkling Teroldego that is expressive, fruity being sweet and benefiting from a certain amount of complexity. A delicious treat that expands the range of possibilities for reds—and wine in general—in New York's best-known wine-producing region.
---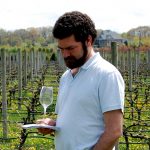 Rémy Charest is a Quebec City based journalist, writer, and translator. He has been writing about wine and food for over 12 years in various magazines and newspapers. He writes two wine blogs (The Wine Case, in English, and À chacun sa bouteille, in French) and, as if he didn't have enough things to do, he also started a food blog in English, The Food Case, and one in French, À chacun sa fourchette.