The organizers of "Barbera Week 2010," this year's version of the annual festival held in Asti, came up with a concept to give the event a contemporary slant: invite a team of bloggers to participate in the tastings and winery visits and have them post to their blogs as events occur. What a sense of immediacy, not to say new media savvyness, this device would lend to the conference, or, as an official bulletin put it, "a medium for catching live impressions from international journalists" and "spreading at a global level the knowledge of Barbera and its birthplace."
Well Com, the public relations group in charge of Barbera Week 2010, which ran March 8-11, enlisted American writer and blogger Jeremy Parzen (Do Bianchi) to recruit fellow bloggers for the trip, which was sponsored by the province and the city of Asti, the cities of Casale Monferrato and Nizza Monferrato, and the Consorzio di Tutela Vini d'Asti e del Monferrato. Besides Parzen and me (Bigger Than Your Head), the team consisted of Thor Iverson of OenoLogic (Boston), Jon Erickson of Jayne's Gastropub in San Diego, Whitney Adams of Los Angeles (Brunellos Have More Fun), Cory Cartwright of San Jose (Saignée), and Stuart George of London (Worcester Sauce). The scheme was that we would write comments on our blogs and they would be posted to the collective blog (Barbera2010.com).
It sounded like a great idea. The problem was that we didn't like the wines, and of course we said so.
Often it takes a day or two to get into the rhythm of a wine trip and to feel comfortable with the roster of tastings, winery visits and meals, and the personalities of one's companions, but the schedule for Barbera Week 2010 was particularly hectic. A blind tasting in the morning, at the mid-14th Century Palazzo Zoya, would be followed by lunch and then a drive to the countryside to visit three wineries; at some venue before dinner, there would be a walk-around tasting of more wines from that morning's producers, followed by a multi-course dinner, naturally with even more wines. Typically we got back to the hotel in Asti at midnight and would stay up until two or later to write, and, after a few hours sleep, continue blogging at breakfast.
What we were confronted with at the first blind tasting Monday morning were 68 Barbera d'Asti and Barbera d'Asti Superiore wines from 2008 and 2007 (with a few from 2006) that seemed primarily to be crafted in a "New World" or "international" fashion, with lots of toasty French oak and austere tannins. What happened, asked the thought-clouds above our heads, to the lighter, more delicate, flinty, and scintillating Barberas of yesteryear? In fact, during our afternoon visits to wineries, we would be offered Barberas made in stainless steel or aged in the traditional large old casks, and the proprietors were always surprised that we liked these wines better than their "modern" efforts. The word we kept hearing was "important," as in, "We are trying to make important wines"—in essence, "Super-Barberas."
Of Monday's line-up of wines at the blind tasting, my rather mild comments on my blog were these:
"My first impression…is that Barbera d'Asti lacks consistency; the aroma and flavor profiles of these wines were all over the map. There's nothing wrong with individuality; we wine writers are always praising it. There needs to be some varietal recognition though, because many of these wines felt as if they were made from different grapes. There's a lot of wood in some of the wines too."
These were precisely the comments—lack of consistency and lots of wood—that were quoted in Tuesday morning's newspaper in Asti, along with similar evaluations from the other bloggers. The gist of the article was that the American bloggers didn't like Barbera wines. When a similar story was printed in an Italian national newspaper the next day—we were called "Barbera Boys," though one of our number was female—and Parzen and Adams were interviewed for television, we started to feel notorious. Surely we were not mistaken that rueful glances were cast our way Wednesday when we trooped, rest-deprived and weary, into that morning's blind tasting.
Part of the Tuesday morning tasting and all of a late afternoon blind tasting were devoted to Barbera d'Asti wines of the Nizza sub-zone, and on the evidence of the wines we encountered, Nizza is not ready for its own D.O.C. designation. It began to snow at about 3 p.m. that day and continued for 24 hours, bringing a touch of Winter Fairyland to our winery treks. Inside, however, the journalists and the producers squared off, with writers from Belgium, Italy, and the United States demanding to know why so many of the wines we tasted were stridently oaked and putatively tannic. From the producers defending their techniques, the most startling comment came from the august Michele Chiarlo, who said, toward the end of the often rancorous debate, "A good wine is a wine that sells."
So Barbera Week 2010 proceeded. Wednesday was wines and wineries of Barbera del Monferrato; Thursday morning was wines of Barbera d'Alba, and then the conference concluded after lunch, though the Barbera 7, as we were now known—"Free the Barbera 7!"—stayed through Saturday, visiting estates in Barolo and Barbaresco.  Altogether, we tasted about 500 wines. (Or maybe it was 400. At some point, you stop counting.)
Barbera Week 2010 and the almost-instant blogging of the Barbera 7 probably will not revolutionize the way that wine conferences will conduct business in the future. Everybody has laptops and totes them to meetings, and hundreds of wine reviewers, journalists, and general wine lovers have blogs and use Twitter and Facebook. What seemed unique about Barbera Week 2010 was that we bloggers were asked specifically to post in detail about tastings and events in as close to real time as possible, thereby creating a sense, the organizers hoped, of spontaneity and excitement. What they had not counted on was our critical attitude, and our obligation to be honest.
---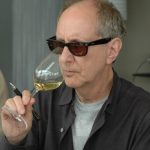 Fredric Koeppel wrote a weekly nationally distributed wine column from 1984 to 2004. He ran the now defunct website KoeppelOnWine until it became too complicated and in December 2006 launched the blog biggerthanyourhead.net. He is a former college English teacher and newspaper reporter. Koeppel and his wife live in Memphis, where they rescue dogs and foster puppies.