Melvin Matteson has serious reservations about becoming a media star.
For decades, he has grown hundreds of acres of corn on his farm in Winthrop, Iowa, with little more to worry him other than the occasional tornado. Now, in semi-retirement, everyone, it seems, wants Matteson to show them his cornfield. Which, by general agreement, looks pretty like every other Iowa cornfield – densely planted rows of green stalks as high as an NBA center's neck tattoos and spreading across the flatlands as far as the eye can see.
But since Matteson started supplying grain to his son-in-law, Jeff Quint, to make Iowa Bourbon whiskey, the world seems to be beating a path to his cornfield – and bringing cameras, tape recorders and note pads with them. Last week, it was a film crew doing a promotional video for placement on social media and YouTube, illustrating the cornfield-to-shot-glass story behind Cedar Ridge Bourbon. Today, "Grandpa Melvin," as he has been dubbed by an out-of-town publicist, finds himself leaning on the cab door of his red Silverado, talking with media folks from Back East, most of whom don't know beans about growing corn.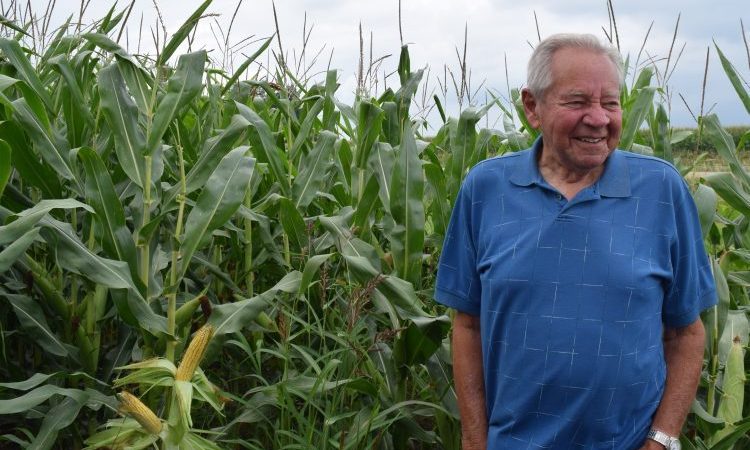 It's perplexing. No one showed the slightest interest in talking with him when his corn was being used to feed pigs or being converted into fuel ethanol.
It does sound funny at first: Iowa Bourbon! Doesn't Kentucky own that franchise, along with the Derby, mint Juleps, limestone caves and a hatred of Jack Daniels and George Dickel for making whiskey on the wrong side of the state line?
But think about it. What distinguishes Bourbon from rye whiskey? It's made from corn! And which state grows the most corn?  I-O-W-A. So where does it make sense to make Bourbon? Case closed.
Jeff Quint, who owns Cedar Ridge Distillery with his wife Laurie, makes damn fine Bourbon. He also produces other types of whiskies, as well as spirits, in addition to wine. But it was Bourbon that helped Cedar Ridge win the 2017 Distillery of the Year from the American Distilling Institute, the patron church of craft distillers. Cedar Ridge is a prime example of dozens – perhaps hundreds – of craft whiskey-making ventures that have erupted across the country's heartland in the past dozen or so years, although only a handful produce their own grain.
Earlier in life, Quint, one of five siblings who grew up on a local farm and the first to attend college, was an accountant, but his talents and opportunities allowed him to move into the financial side of business. In 2006, he co-founded Involta, a company that operates seven data centers, each costing around $10 to $15 million to develop.
At the same time, Quint and his family were living a parallel life that began when they planted 10 acres of grapes in 2003. Two years later, Cedar Ridge Winery was established in the small town of Swisher, just outside of Cedar Rapids. "Today, we produce about 8,500 cases," Quint says. "About a third is made from estate grapes, mainly hybrids, and the rest is from juice from New York state and whole grapes from California."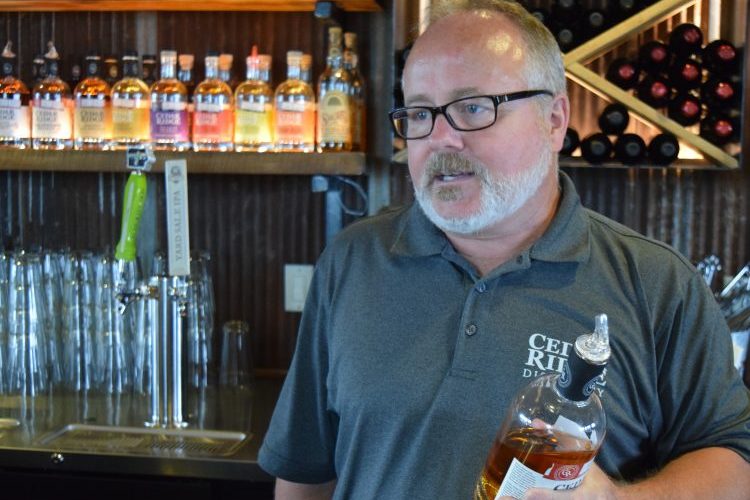 Tourism and events are huge revenue generators at the winery and tasting room, which was initially constructed in 2009. "Last year, we had around 100,000 visitors and hosted 50 weddings," Quint says, testimony that in the Midwest and East Coast, wineries now serve as social centers the way that fire halls once did. While the winery and event space were drawing in customers, he established, on the same site, the first post-Prohibition distillery in Iowa.
A tour of the combined winery/distillery with Quint, a naturally friendly and outgoing man whose humor vacillates between being rye and corny, shows a variety of equipment that provide maximum flexibility in production, include copper pot stills made in Germany to his specifications. Cedar Ridge currently produces eight whiskeys, including two Bourbons, and eight other spirits, including vodka, brandy and rum. "In the early days at the winery," Quint laughs, "it was easier to create something new than to sell something old," a philosophy he has carried over to distilling. Cedar Ridge even has a crossover wine, a red aged in Bourbon barrels.
While the distillery is somewhat pristine as far as craft operations go, the whiskeys are aged in three barrel barns scattered about the property, their rustic nature being somewhat reminiscent of those one might stumble across in the narrow hollows of Eastern Kentucky.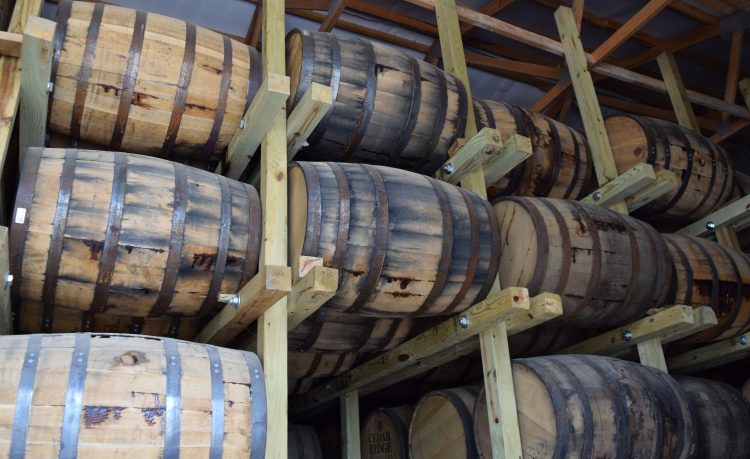 But Quint takes the production of his whiskeys dead seriously, and the results show. His Iowa Bourbon is 74 per cent family-grown corn, 14 per cent toasted rye and 12 per cent 6-row malted barley, and has won several gold medals. The Cedar Ridge Bourbon Reserve won double gold at the 2016 New York competition. The distillery also makes a Silver Label single malt, single cask whisky, the latest two of which were aged in used barrels, one for pear brandy and another for porter. Malted grains are made by Cargill and trucked to Swisher.
Currently, the distillery is running flat out, producing about four barrels of whiskey daily. The whiskeys are sold in 20 states, which, Quint says, covers about 85 per cent of U.S. population. "We could sell more than we do," he adds, "but we're making it for the future." About 22,000 cases were sold the past year, for example, while another 68,000 went into storage, testament to Quint's forward-looking planning to produce superior aged Bourbon and other whiskies, even though it means passing on immediate sales and revenue.
Meanwhile, back at the corn patch, Matteson has moved from his Silverado to the edge of the cornfield to give a brief seminar on corn growing, from planting through silking to harvesting.  He estimates that it takes about 40 acres of the 800 he owns or oversees to fulfill the annual corn needs of Cedar Ridge.
"Tell us," one fascinated visitor asks, "isn't it great to be able to drink your son-in-law's Bourbon made from corn that you grew?"
"I prefer to drink his wines," Matteson says, without a pause.
Somebody call in the media trainer to get Grandpa Melvin back on message.