Becky Sue Epstein concludes her visit to Bordeaux, where she has been busy tasting through the 2009 vintage. (If you missed Part 1 or Part 2, be sure to check them out.) Teams of buyers and journalists descend on Bordeaux in early April each year and taste hundreds of the classed growths and other top-level wines in a marathon week  of travel. Here Becky finishes her own trip by visiting famous chateaux in Saint-Julien, Pauillac, Saint-Estèphe, and Haut-Médoc.
---
In the evening we drove into the center of Bordeaux, which takes about an hour, just to taste one wine: Château d'Yquem. This year, château director Pierre Lurton had decided to take over the beautiful Bordeaux opera house in the center of town, allegedly so people didn't have to make the 45-minute drive south to Sauternes (which doesn't make a lot of sense, because all the journalists were in Sauternes on Monday). Maybe this was done for the buyers' sake; they're much more numerous than journalists, and I'm not sure where they were on Monday. Luckily I was driving with author Carla Capalbo (she was fresh from winning the Andre Simon prize for her book, Collio). She knows her way around Bordeaux.
Yquem put on a great show: a gilded room with black-clad waiters gliding constantly through with delectable tidbits prepared by well-known Parisian chef Yannick Alléno. Two glass bars formed islands in the room, with crystal glasses and ice-filled bowls of Yquem's second wine, Y; the samples of the 2009 vintage; and—to further enhance the experience—plenty of the great 1989 vintage of Château d'Yquem.
The Y is not made every year. This 2007 tasted like a Sauvignon Blanc that ends somewhat—disconcertingly—sweet. Strangely, it went perfectly with the succulent lobster hors d'œuvres.
There has been a big buzz about the 2009 Yquem. It's supposed to be at least as great as the 2005, but personally I'm not sure it has that power right now, but of course wiser palates than mine can predict the blossoming of flavors and the wine's staying power in the future. When I mentioned to Pierre Lurton that several people had told me this was a "100-point wine," he modestly disclaimed "numbers aren't important; it's great when people like the wine."
On to the 1989, a big wine with a big reputation, in a perfect state to drink now. Swirling released its apricot skin aromas. A smooth, slightly thick—a velvety mouthful. Lightly floral at first, it then seemed to become ever bigger in the mouth. The finish was sweet and lightly lemony. Over time I detected honeysuckle floating up from the glass, and, still later, tea-like flavors and aromas took their place. "A little more, madame?" Of course! I thought, but all I said was, "A little, please." I may have said that several more times during the evening. And we may have been among the last to leave the reception, because we had to taste—I mean test—all the desserts offered with the Château d'Yquem. The waiters seem to get this and would make a beeline for us when they came from the kitchen, certain of a warm reception in our little corner.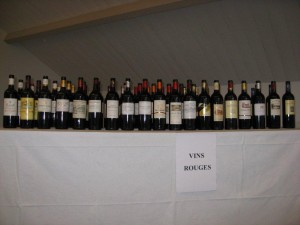 The next day we endured more rigorous tastings of the 2009 vintage: Saint-Julien, Pauillac, Saint-Estèphe and Haut-Médoc. I found less of the harsh pine and tannins this year that are often noticeable in areas farther north in the Médoc. Was it just these samples? Do higher alcohols mask tannins? More fruit? Or a combination, one that made sampling much more enjoyable?
After tasting several older vintages from our host, Château Branaire Ducru, a few of us went over to Château Lagrange, where we had been very kindly invited to a private lunch with a variety of vintages. Did it strike anyone else that there was an awful lot of wine going on there? I was glad I wasn't driving! Fortunately, we met up with Carla Capalbo again at Chateau Mouton-Rothschild (where the Château d'Armailhac is particularly nice this year) and she and I proceeded to go to as many châteaux for private tastings as we could manage during the rest of the afternoon—fabulous places like Château Lynch-Bages, Château Pichon de Longueville Comtesse de Lalande, and Château Pichon Longueville.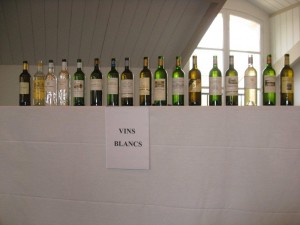 And then to Château Pontet-Canet, where we ran into French wine critic Michel Bettane again. Asked about sample variation, he declaimed that everything from the humidity in the air to the amount of wine left in a bottle can produce variation—no easy answers in a season where every bottle tastes different. Is it because a long, cold winter has held back the wines' development, so they're in fragile and variable states? Or is it simply because the weather over the past few days has been unstable? No matter: flavors exploded in our mouths at Pontet-Canet, two years into their foray toward biodynamic farming, and using horses instead of tractors in the field. The wines were even bigger at Château Palmer, another place where the "second wine," Alter Ego, was almost as great as the "grand vin."
At last, we had an hour to regroup, dress up a bit, and head to Château Kirwan for dinner. The vast modern reception room dwarfed our table of several dozen people. It was simple dinner—with over a dozen glasses at each place setting.
After packing up next morning—Farewell, fairy-tale-like Château d'Issan!—journalists and their luggage were transported south to the last official tasting, of Graves and Pessac-Leognan. The reds were welcoming, but it was great to get back to some whites again. At last, a final, cocktail-party-like lunch, where waiters served us while we wandered around among old and new friends, saying hello again—and good-bye until next year.
But I still had a special treat in store. I wasn't heading home just yet, but instead would return for one more night to the wonderful region of Sauternes. There, I took tea with Madame Tari of Château Nairac, nibbling her homemade langues-de-chat cookies, and learning the good news that she'll be back at her old home, Château Giscours, in a few years (after all sorts of scandalous behavior by various relations and their friends). And finally, a relaxing evening with Aline Baly at historic Château Coutet, where we worked up an appetite for dinner by ambling through the vineyards and their winery, which has the longest barrel cellar in the region. Aline laid out a spread of roast chicken and Sauternes, and she poured a few vintages she just happened to have open: 2009, the first made with participation of new winemaker Laurier Girardot; 2008, which will be bottled in May; a lemon-apricot 2004; a 1988 completely at its peak; a 1981—a big wine, not sweet anymore; and finally a 1976, full of characteristic minerality, the little botrytis that year sifting a touch of dried fig into the finish.
Good-bye until next year, Bordeaux. Au revoir.
---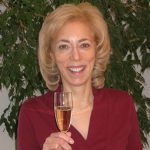 Becky Sue Epstein is Palate Press's International Editor. An experienced writer, editor, broadcaster, and consultant in the fields of wine, spirits, food, and travel, her work appears in many national publications including Art & Antiques, Luxury Golf & Travel, Food + Wine, and Wine Spectator. She began her career as a restaurant reviewer for the Los Angeles Times while working in film and television.