Delivering an exciting and fresh batch of new releases, Sicilia en Primeur cemented Sicily's "darling" status in the wine world.
Sicily is a vast island (the largest in the Mediterranean) of close to 10,000 square miles. With grapes having been growing there for over 3,000 years, viticulture and winemaking is not a new thing. Though one might be fooled by the popularity of Mount Etna wines in trendy wine markets such as New York, Chicago, and Los Angeles. There are 23 DOCs and 1 DOCG in Sicily, and over 65 native grape varieties grown.
Once a year, journalists from around the world descend on the island for events surrounding Sicilia en Primeur, an international showcase by Assovini Sicilia of the latest releases from producers across the island.  Wines of all styles: white, rosé, orange, red, sparkling, and sweet are featured. This event truly demonstrates the quality that can come out of this powerhouse island in terms of natural resources in the vineyard and winemaking prowess in the cellar.
Without further ado, I bring to you the best current releases from Sicilia En Primeur 2023.
Sparkling
Cantine Nicosia Sosta Tre Santi Brut Rosato 2020 Etna DOC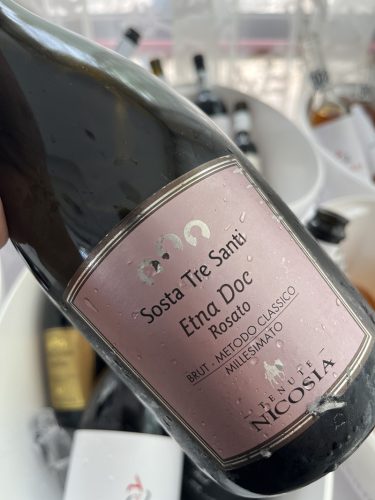 A metodo classico sparkling wine made from Nerello Mascalese, the main grape of the Etna region, on the east coast of the island. Red berries on the nose. On the palate, the wine is savory, a bit chewy in texture, and high in acid. Serve this humble island sparkler in a low tumbler. Unpretentious and delightful!
Casa Grazia Euphorya 2022 IGT Terre Siciliane
Fresh from start to finish. Strawberries and garden herbs on the nose. A nose and palate that you rarely get from an international variety.  Frappato is generally a blending grape with its partner, Nero d'Avola. In this sparkling wine, the grape shines and shows a point of differentiation. Nobody puts Frappato in the corner!
COS Metodo Classico 2020 IGT Terre Siciliane
An herbaceous wine with the most savory, interesting, and exotic palate. Heaps of spice character with a wicked long finish. In Sicily, why drink anything else besides metodo classico Frappato. Full stop!
White
Palmento Costanzo Contrada Santo Sporito Bianco 2020 Etna DOC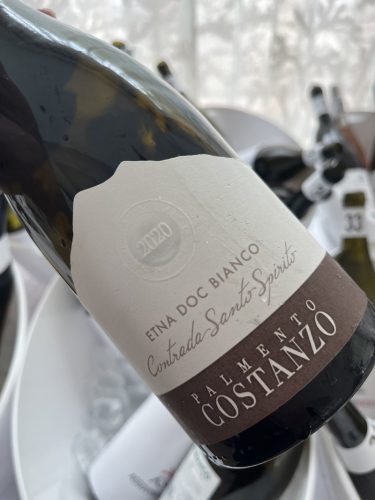 This Carricante is serving: Hello Sicily! Smokiness and minerality on the nose with a nice chewy mouthfeel. My setting for this tasting was seated on a patio overlooking the ocean. Tasting this while listening to the waves and watching the ocean felt like a full 360 Sicily experience.
Cusumano Alta Mora DOC Etna Bianco 2021
I've deemed Carricante as the quintessential island white! High acid, salty, and fresh, Carricante is perfect to sip on its own or with light bites, specifically if seafood is involved.
Assuli Donna Angelica 2021 Sicilia DOC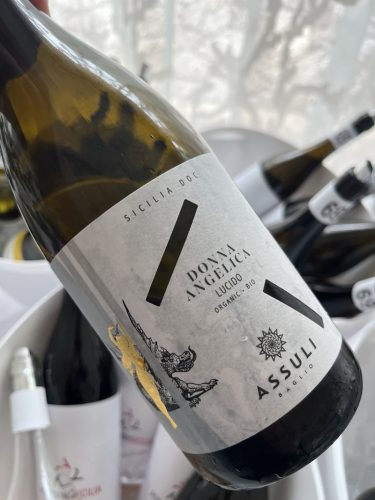 I smell the history of Sicily in this glass of wine made from the Catarratto grape. The complicated "not knowing where you belong" feeling, as Sicily was under the control of many different groups over time, because of its strategic position between Europe and Africa. This wine is fruity and fresh, but also complicated and savory, so not for everyone.  To be enjoyed with a crudo dish, perhaps with the gambero rosso of Mazara, the famous pink shrimp from the west coast of Sicily.
Arianna Occhipinti SM 2021 IGT Terre Siciliane
Grillo is generally not a serious grape, but this one calls for attention. A medium lemon color with gold hues perhaps hint at concrete or amphora aging. This wine gives texture, mouthfeel, and a long finish. Wowzas! For anyone who says white wine isn't interesting or serious, try this one.
Feudo Maccari Family and Friends 2021 IGT Terre Siciliane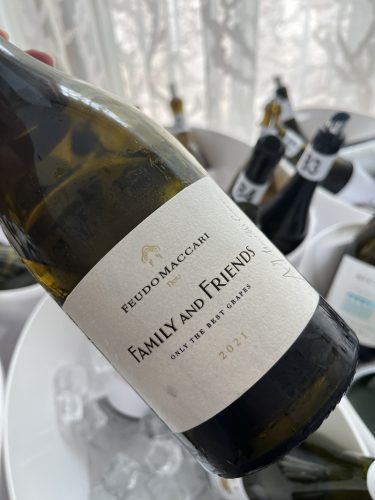 A nose of minerality and salinity, plus great mouthfeel and texture on the palate, likely emerging from the concrete egg fermentation and the mix of concrete and wood aging for one year. A dinnertime white that can work with seafood, chicken, or light pork dishes.
Donnafugata Passiperduti 2022 Sicilia DOC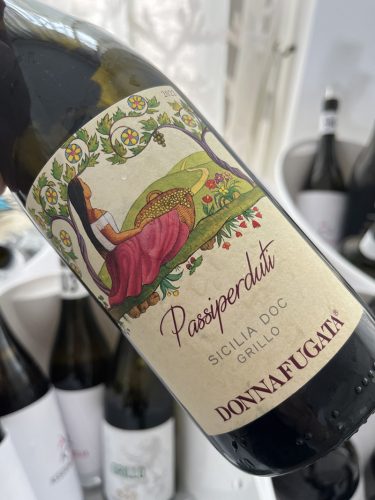 A simple and elegant expression of Grillo. Sometimes the humble indigenous grapes can be much more interesting than the ubiquitous international varieties. With indigenous grapes I find that there's less expectation in the glass and more experience. Pure sensory enjoyment versus what "markers" one should smell or taste.
Cusumano Salealto 2020 IGT Terre Siciliane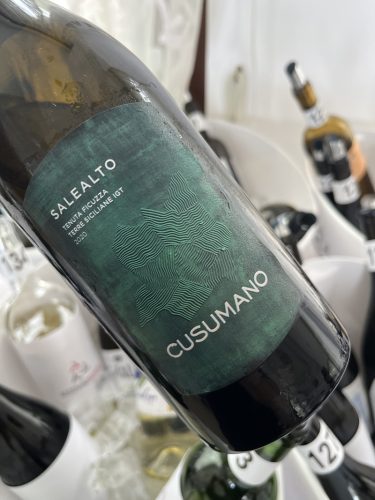 Equal parts: Insolia, Grillo, and Zibibbo that is just too cha cha for words! This is the jumpiest, zippiest white that can't sit still in the glass. A Sauvy B dup for sure. Picture this: you and your partner finish while on the beach, while on vacation. You fall asleep on said beach, wake up as the sun is setting to shower, and get ready for a seafood dinner. A glass that transports you to this setting.
Rosé
Caruso e Minini Frappo 2022 IGT Terre Siciliane
From the Marsala area of the island, this wine is serving aromas of fresh flowers, red fruits, and citrus that persist onto the palate. Quite pretty and best enjoyed as an aperitif. Keep calm and drink Frappato!
Tenute Mavarra Disiata 2022 IGT Terre Siciliane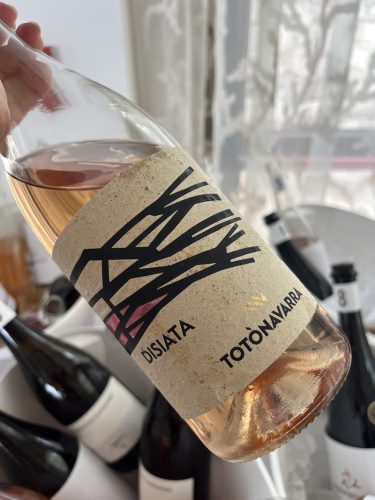 A savory expression of Frappato with a licorice/anise note on the palate. This wine is not complex, but it's complicated and worth your time.
Assuli Fiordispina 2022 Sicilia DOC
I feel the Sicilian people in this Perricone-based rosè. Sweet yet savory. A study of opposites. While on a tour recently in Sicily, the tour guide held her hands up and exclaimed "Sicily (and the people) are drama and complicated". Mostly fruit notes, but some dried herbs come through on the palate. Sicilian rosato has so much to give. Not vapid, yet not too serious.
Red
Ariana Occhipinti BB 2020 IGT Terre Siciliane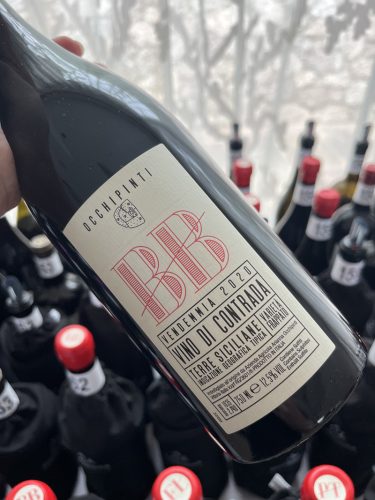 Hello lover. This Frappato based wine from cult producer Ariana Occhipinti is serving both Burgundy and Barolo vibes. Gorgeous, stemmy, and savory notes prevail.
Planeta Dorilli 2020 Cerasuolo di Vittoria Classico DOCG
The Nero d'Avola and Frappato blend is regularly used for good reason. The grapes bring the perfect combination of: grounded yet light notes, rich yet fresh notes, plus a healthy dose of herbaceousness and earthiness.
Donnafugata Floramundi 2021 Cerasuolo di Vittoria Classico DOCG
The same Nero d'Avola and Frappato blend. Now THIS is an island red. The nose is serving earthiness to the max….a pile of earth and dirt that only the truest wine lover can appreciate.
Benanti Contrada Cavaliere 2021 Etna DOC
I see tannins have arrived to the party! If you're having steak or red meat in Sicily, you should be drinking this Nerello Mascalese based wine.
Benanti Contrada Calderara Sottana 2021 Etna DOC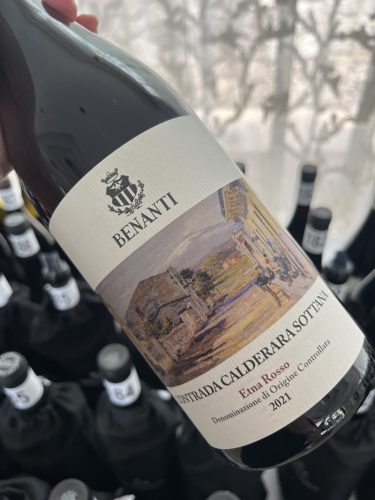 This one's a beaut. Nerello Mascalese, the dominant red grape of Mount Eta shines in this expression. Bright red fruits and tomato leaf on the nose. Linear and high acid on the palate. Reminiscent of some qualities found in Burgundy.
Donnafugata Contrada Marchesa 2019 Etna DOC
After tasting many Donnafugata wines, this Nerello Mascalese was quite different. This is what is so great about wine. Surprises around every corner. A hint of sweet spice and slight campfire on the nose. Gorgeous and ever-changing, with different layers to experience, like a mood ring.
Planeta Eruzione 1614 Nerello Mascalese 2020 Sicilia DOC
Another stunner from the Planeta family, one of the most important winemaking families on the island. The wine is tart and high acid with notes of citrus and red fruits. Delightful!
Cusumano Alta Mora Feudo di Mezzo Etna Rosso DOC
Back to the land of savory with this Nerello Mascalese serving major notes of black olive tapenade note. This is what Sicilian reds should taste like.
Dessert
Donnafugata Ben Ryé 2021 Passito di Pantelleria DOC
A gorgeous passito style Zibibbo. Ripe and sun kissed, but with a refreshing finish. The acidity makes this wine is what makes it work. Pour a touch over a dish of ripe fruit. Or enjoy a small glass after dinner.