There is something very sweet in the story of the family winery, where each generation is groomed from birth to take over the family business one day and preserve the family traditions. The story often goes like this: Grandpa still has a presence in the tasting room, but Dad now runs the show, with Junior in-training and waiting in the wings for his turn. There is, however, a growing cohort of young winemakers who grew up in the business but who were driven to do things differently. In this series, we profile five such wine entrepreneurs who have stepped away from tradition to put their own stamp on the industry. 
# # #
For some, entering the wine business is not so much a deliberate choice but more the culmination of a series of coincidences. Such is the case for Kris and Caitlin Matthewson, Winemaker and General Manager, respectively, of Bellwether Winery in New York State's Finger Lakes Region.
For Kris, who grew up in Hammondsport, NY, proximity alone meant lots of exposure to the wineries. "It was just a very present thing in my life, and it seemed natural that I ended up working at a winery as a young adult." It was natural because that's where the work was in that (mainly rural) area, but Kris's true passion was for soccer. "I thought I would eventually end up being a college soccer coach," he remembers. He earned a degree in psychology at Utica College in upstate New York, but summers and breaks at Bully Hill Winery led to a position as a cellar rat at Heron Hill after college. After a year or so, still unsure about his career path, he tried social work, but "I found myself being called back to the wine industry." Then, after working for a distributor for about six months, he landed a position at Swedish Hill, and soon after, took on the role as Assistant Winemaker at Atwater Estate Vineyards. 
Enter Caitlin. Caitlin's parents–Cheryl and Bill Barton—have owned and operated Bellwether Cidery in Trumansburg, NY, since 1999. Caitlin never planned to continue on in the family business. In fact, she went away to college in Michigan, studied anthropology, and only after a teaching position abroad fell through at the last minute did she end up back home. When her parents needed to take some time away, Caitlin stepped in to run the business. "But I always thought it would be temporary," she says. Except, "by the time everything evened out again, I had met Kris and it seemed like it was just meant to be that I stay in the area and in the industry," she says. The two were married in 2011. Caitlin continues to work full-time at the Cidery. "I do everything there but mow the lawn and make the cider – although I have on occasion mowed the lawn!" she says.
While for many people, that would be enough, soon the newlyweds were talking about bringing wine to the Cidery. Kris could produce the wines he wanted to make, and Caitlin could take the family business in a new direction. The idea of starting a wine project at the Cidery "just developed organically," she says. "My parents were very enthusiastic about it." Although it was always meant to be a long way off, "it literally all happened in a day," remembers Caitlin. During the 2011 harvest, they had an opportunity to purchase some Pinot Noir from Sawmill Creek, and within hours they had taken the leap to running their own production.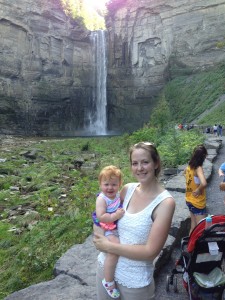 Kris, 31, and Caitlin, 28, are part of a growing trend of young wine entrepreneurs who are putting their own stamp on the industry. "We are one of a very small number of wineries—three at last count—in the Finger Lakes focusing solely on Pinot Noir and Riesling, and we are the only one doing only single vineyard bottling," says Kris. And that's not the only way Bellwether sets itself apart: "Pretty much every wine that we have produced so far has been made with some techniques that conventional Finger Lakes winemakers would not typically use," says Kris. "However, some of the techniques that we are using are actually more like returning to tradition rather than breaking from it, which I guess can sort of be breaking from tradition in itself, if that makes sense." Bellwether's 2012 Wild Ferment Riesling, for example, is fermented with ambient yeasts, uses no fining or filtering, and is bottled under a crown cap. In addition, they kept their A&D Dry Riesling in a pressurized tank under carbon dioxide and on the lees for six months before sulfuring it, stirring the lees weekly to build mouth-feel and to balance out the acid without adding sugar. That might be the biggest shift away from tradition: "The Finger Lakes is known for bracing acidity," explains Kris. "However, many winemakers in the region use a sugar addition to bring the acid into balance. We wanted to make a truly dry wine that didn't require that addition, which we think we achieved with this non-traditional method."
The operation is still very new—but growing. They produced 90 cases of Pinot Noir for their first vintage in 2011. In 2012, they released added three Rieslings and produced about 600 cases total. This year they plan to produce around 1,000 cases, and within three years, to top out at 3,000 cases.  "We have several new products in the pipeline for this current harvest," adds Kris. In 2013, they plan to make seven different Rieslings from four vineyards, and they are starting a side project with one of Kris' best friends, Ian Barry of Villa Bellangelo and Barry Family Cellars, that focuses on sparkling wine. Last December, Kris left his position at Atwater to focus exclusively on Bellwether Winery.
No doubt there is a bright future for Bellwether Winery, but in the meantime, it's important to savor the small victories. "We consider it a success that we managed to pull this thing off," says Caitlin. "We have two vintages of wine in the bottle that we're very proud of, and we've received a lot of great feedback on them from customers, industry peers, and wine writers alike. The wines have only been released for about a month, so for now that's all the success we could have hoped for."