The name Tuscany immediately conjures images of sun-drenched fields studded with ochre-stone buildings and roadside cafes in ancient hilltop villages where one can quaff vibrant red wine.  But what is the name of that famous Tuscan wine we drink in our dreams?  It can't be Chianti; that's the basic red -by-the-glass served with spaghetti. Or is it?  You're close: the wine you're probably thinking of is Chianti Classico, which comes from special, demarcated regions of northern Tuscany. Today, Chianti Classico comes from the heart of the region — a much smaller area — and is made with more stringent production requirements than a simple "Chianti" today.
Using the word "Classico" is not just small "improvement" in the wine; it's a whole different animal, say the producers of Chianti Classico.  In fact, they have chosen an animal to represent their wines: the black rooster, or "Gallo Nero." an ancient military symbol of northern Tuscany.  If you can't say these two Italian words "Chianti Classico," then the winemakers would prefer that you call it "Black Rooster" wine.
A few weeks ago, the Black Rooster group officially added a new crown jewel to Chianti Classico wines: Gran Selezione or "grand selection" wines.  The first Gran Selezione were introduced in Florence in mid-February, having been finally approved only a few weeks before on January 29th, 2014.
A Gran Selezione wine is not that one that is simply aged for a little more time than a Chianti Classico Riserva wine.  The Gran Selezione wines are, above all, supposed to represent the height of quality within each estate.  To achieve the new designation Gran Selezione wines must all be made with only estate-grown grapes.  This should function as an interesting secondary safeguard against diluting the Gran Selezione imprint because it's impossible for every producer to have the requisite top quality grapes to make a Gran Selezione wine every year.
Each wine seeking the new designation of Gran Selezione must be submitted to an independent panel of judges that looks not just at their production and chemical contents, but at the sensory qualities of the wines, the aromas and flavors. In other words, it's not enough to have winning technical numbers and ultimate regional typicity – but people must love drinking this wine, too.
In the Chianti Classico region 365 estates bottle their own wine, and these are the producers who can submit their wines to the judging panel. This year, 39 samples were certified Gran Selezione.  In future years, this number is expected to increase to about 10% of Chianti Classico wine; producers can submit multiple wines each year.  Soon I'm sure we'll see more "special pricing" for the Gran Selezione wines – due their scarcity as much as quality. (Do I sound a bit cynical?)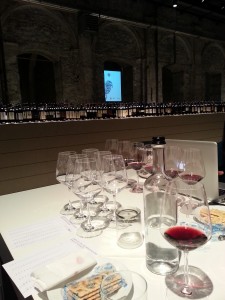 By now you must be wondering what the wines taste like — and if they all taste the same?  Of course not. This is Italy, a country that is synonymous with individuality.  The wines I tasted all retained their own personalities, ranging from aromas of violets and cedar, flavors that emphasized sweetness or leather and wood, and variety of amounts of wood treatments apparent in the finished wines.  Each, though, is a beautifully balanced wine.
What is the overall difference between the three levels of Chianti Classico?  All the wines must come from grapes in the approved demarcated area with a specified vine density, and made with at least 80% sangiovese, and the rest may be a blend of certain other approved grapes which are both indigenous and international varieties.
The first level of Chianti Classico is vintage dated, and can be released one year after harvest.  The second level, Chianti Classico Riserva, can be released after over two years of ageing, including a final three months in the bottle.  The new category, Gran Selezione, must be aged for at least 30 months, including three in bottle, as well as passing winning the imprimatur of the panel of judges for both technical and sensorial qualities.
Chianti Classico is a small region with a big name worldwide because 80% of this wine is exported.  The United States is the largest importer of Chianti Classico (31%) followed by Canada and Germany (10%), the UK (5%), Switzerland, (5%) Japan and Scandanavia (4%), Benelux, China and Hong Kong (3%), then Russia and other countries (2%).
There has been talk in Italy of creating Chianti Classico's "Gran Selezione" for several years, and the Italians themselves seem surprised the category came into being relatively smoothly and swiftly.  Speculation has it that the producers were motivated by the market potential, of course.  They freely admit they wanted to create the Gran Selezione wines in order to give Chianti Classico a more high-end image in the marketplace.
 As of this writing, it appears there will be three categories of Chianti Classico in the future.  But I wonder if it wouldn't simplify things for us consumers if they just switched to two?  Or if, for that matter, they simplified the name to something like "Gran" — no, that connotes "grandmother" in English-speaking countries. (Of course, France has its "Grand Crus."  Or if they just called it "Grand" Chianti Classico?
Whatever the path of Gran Selezione category, I was pleased to get to know the great Tuscan Chianti Classico wines again at this winter's tastings in Florence.  Sampling the latest wines that are either on the market or about to be released, I found greater consistent quality than ever at the tastings of the newer vintages (2012, 2011 and 2010).  And that goes for Chianti Classico and Chianti Classico Riserva as well as all the Gran Selezione wines I tasted.