– "I hate Chardonnay – it's so buttery and sweet"
– "I can't drink Spanish red wine – it's always too oaky"
– "The alcohol level of this wine is 15% – It's going to be unbalanced and jammy"
Preconceptions about wine are all around us, and whether they're formed by impressions of country, region, producer or grape, they are usually negative. When we talk about "varietal character", aren't we just expressing preconceived ideas about grape varieties? How they'll taste and smell and whether we feel that is typical or not. If my recent experience is anything to go by, Riesling is particularly afflicted by such expectations.
Beloved by the wine trade it might be, but many of us have a narrow vision of what a "good" and typical Riesling ought to be. For example, my preconceived idea of top Rieslings is razor sharp acidity, petrol aromas and residual sugar.
That might be an accurate description for some of the more famous sites in the Mosel valley, probably the world's greatest Riesling terroir.  But it's easy to forget that the variety spans a much wider range.
I recently had two Riesling "wake up calls". At a 40th anniversary "Judgment of Paris" rematch, some of London and the UK's most respected wine critics and sommeliers joined forces at Sager + Wilde to blind taste a number of flights of Californian versus French wines. The Riesling flight confused at least half of the panellists (myself included). An Ostertag Heissenberg 2014 suggested Chenin Blanc with its rich, honeyed character, while Tatoma's "Kick on Ranch" 2013 was opulent and robust, albeit with a telltale hint of petrol. Guesses ranged from Roussanne to Sauvignon Blanc, with only a couple of sharp young sommeliers correctly identifying the variety.
Both were vinified using whole bunch fermentation and natural yeasts, which probably gave them different stylistic qualities than one might classically expect. They were great wines on many levels, even if about ten top professionals didn't identify them as Riesling.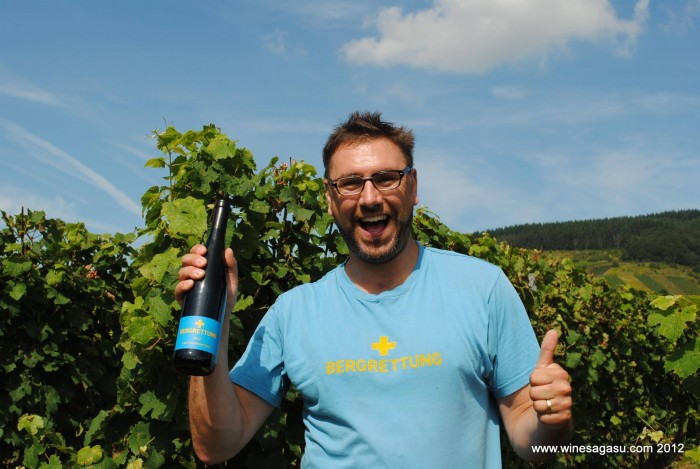 My second Riesling shock was far more surprising. Jan Matthias Klein, a young winemaker from the Mosel village of Kröv sent me two bottles from his Staffelter Hof estate: Kröv Steffensberg 2012 is the estate's top bottling, a single vineyard Riesling fermented in steel tanks before further ageing. "Madcap Magnus" is Klein's attempt "to make a natural wine that doesn't have any faults" – fruit from the same vineyard was vinified much as his grandfather would have done, in 1,000-litre foudres with natural yeasts, no sulphite additions, no filtering and no fining.  100-year-old equipment was brought back into service to bottle the wine by hand.
Riesling lovers who bring their preconceptions to the table might have a hard time recognising "Madcap Magnus" as their favourite variety. It's a full bodied spicy wine, big on texture, with a slightly wild, leesy character.  Klein reminded me that the kicker for classic Riesling character is whether malolactic fermentation takes place – all those highly strung, ethereal examples from producers such as JJ Prüm or Dr. Loosen normally have the secondary fermentation stopped by intervention (a dose of SO2 or cold stabilisation). Naturally, Madcap Magnus does whatever it does and Jan confirmed that it went through a wild malolactic.
This is where it got interesting. I uncorked the Kröv 2012, expecting a huge stylistic difference – which turned out not to be the case at all. The nose exploded with quite untypical (I thought) exotic, tropical fruit (guava, passionfruit), then opened out into the same big-boned texture and weight found in Madcap Magnus. My preconceptions were dashed on the rocks – a no sulphur, "hands off" version and a much more traditionally vinified wine both appeared to express the same quite particular terroir.
Talking about terroir raises difficult questions. The classic style of Mosel Riesling relies on a controlled fermentation (perhaps with selected lab yeasts), and enough sulphite inputs to prevent malolactic – not to mention still more sulphites and/or aggressive filtration if it's a QmP wine with residual sugar. Why should this be any more a reflection of grape and terroir than examples that are made without these interventions? Perhaps it's better just to accept that Riesling, like many varieties, is quite the chameleon –  and those classic styles of wine that we know and love are sometimes far more manufactured and finessed than we care to admit.