Ido Lewinsohn make both his wines, Garage de Papa Blanc and Garage de Papa Rouge, in his father's garage. The Blanc is made from chardonnay grapes grown in Upper Galilee (Golan Heights). The wine is fermented in neutral oak and does not undergo malolactic fermentation.
The nose leads with pear, backed up by a touch of apple. The mouth feel is very round, leading with very ripe pear, then moving slowly from sweet red to tart green apple, ending on the mid-palate with Meyer lemon. The wine shows good minerality and a long finish. Drink with fresh vegetables grilled to a light char. Recommended. 89 points.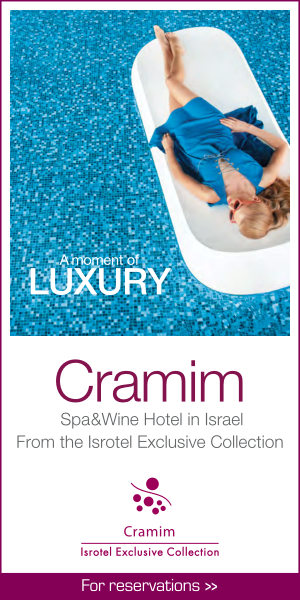 WHO: Lewinsohn Winery
WHAT: Chardonnay
WHERE: Israel, Upper Galilee
WHEN: 2012
HOW MUCH: $20
A statement from Cramim Spa and Wine Hotel, our Kosher Wine Week Sponsor

Cramim Spa and Wine Hotel

is situated in the heart of the Judean wine region, a 15 minute drive from Jerusalem. The hotel is surrounded by a beautifully scenic, pastoral setting and offers a quality experience of combined leisure, recreation, fine wines and impeccable tastes. Hotel guests will enjoy an exquisite chef restaurant, boutique wine bar, a contemporary spa complex with unique vino-therapy treatments, as well as pampering rooms and suites that boast a modern interior design.