Gaby Sedan, formerly the winemaker at Golan Heights Winery, bought the vineyards for Shvo Winery in 2007. The vines are in the Upper Galilee (Golan Heights), and grow at approximately 800 meters. The Grenache and Mourvedre, both found in the "Red," are grown as bush, rather than trained, vines. The Red offers up loads of red fruit, along with grilled tomatoes and a touch of ash. The mid-palate is juicy, fruit-driven. It is soft on the palate, with dusty tannins. This is a good table wine, one that will please a crowd without interrupting the flow of conversation. Drink this with friends, ribs, and burgers. Recommended. 88 points.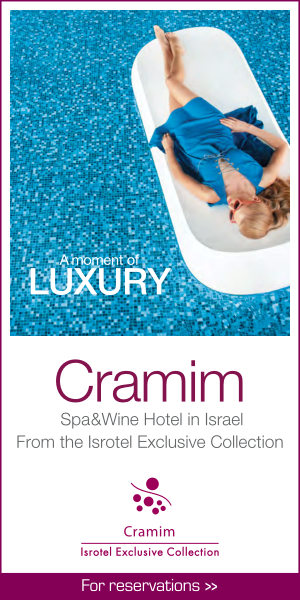 WHO: Shvo Winery
WHAT: Grenache, Syrah, Mourvedre, Barbera
WHERE: Israel, Upper Galilee (Golan Heights)
WHEN: 2012
HOW MUCH: $32
A statement from Cramim Spa and Wine Hotel, our Kosher Wine Week Sponsor

Cramim Spa and Wine Hotel

is situated in the heart of the Judean wine region, a 15 minute drive from Jerusalem. The hotel is surrounded by a beautifully scenic, pastoral setting and offers a quality experience of combined leisure, recreation, fine wines and impeccable tastes. Hotel guests will enjoy an exquisite chef restaurant, boutique wine bar, a contemporary spa complex with unique vino-therapy treatments, as well as pampering rooms and suites that boast a modern interior design.