Uri Hetz is another American-trained Israeli winemaker. His formal wine education is from Oregon State University, and his hands-on training came from Joseph Phelps Winery in Napa Valley. Chateau Golan is in the Upper Galilee (Golan Heights). The Syrah "Special Reserve" was one of the best wines tasted while in Israel, and is another example that shows Israeli wines, when made with skill from the very best fruit available, can compete in the cellar as well as on the table with wines from around the world.
On the nose, the wine exploded with blackberries, backed by the combination of pepper, leafy spices, and seared beef fat anybody familiar with the crispy end of a prime rib will recognize. On the nose, the initial attack of blackberry moves to raspberry, with black pepper and the prime rib end. It is soft, silky, with a luxurious mouth feel. Throughout the evening it kept getting softer, silkier, and, dare I say it, sexier, a well-rounded brunette on red silk sheets in a bottle of wine. Drink with prime rib. Highly Recommended. 94 points.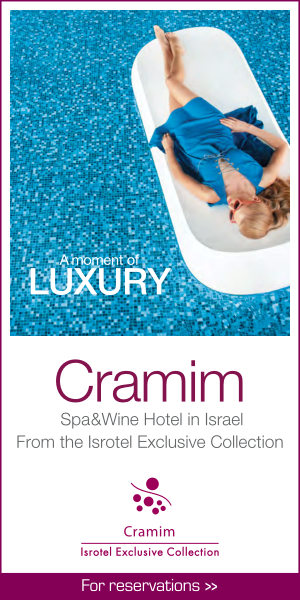 WHO: Chateau Golan
WHAT: Syrah (97%), Cabernet Sauvignon (3%)
WHERE: Israel, Upper Galilee (Golan Heights)
WHEN: 2005
HOW MUCH: $45
A statement from Cramim Spa and Wine Hotel, our Kosher Wine Week Sponsor

Cramim Spa and Wine Hotel

is situated in the heart of the Judean wine region, a 15 minute drive from Jerusalem. The hotel is surrounded by a beautifully scenic, pastoral setting and offers a quality experience of combined leisure, recreation, fine wines and impeccable tastes. Hotel guests will enjoy an exquisite chef restaurant, boutique wine bar, a contemporary spa complex with unique vino-therapy treatments, as well as pampering rooms and suites that boast a modern interior design.