Quick—what do a former aerospace engineer, a computer tech industry entrepreneur, and a trained geologist who spent most of his career traversing the globe to find rare earth substances all have in common?
If you answered "they all now make fine wine in Colorado," you'd be correct, though chances are pretty good that you cheated to find the answer.
Such is the draw of Colorado's Western Slope, where a pioneering spirit has combined with high-elevation grape-growing potential to attract well-off, intrepid, would-be winegrowers to capitalize on what might be one of the last U.S. fine wine frontiers
In April, I toured the Western Slope AVAs of West Elks and Grand Valley, at the invitation of the CO Wine Industry Development Board. That great wine can be made in Colorado– based on tasting offerings from Stone Cottage Cellars, Garfield Estates, and Canyon Wind based in those AVAs—is not really up for debate. Some of the wines are on par with the best juice being made in the States. The trick will be whether or not the vagaries of Colorado's continental, high-elevation climate can allow them to produce consistently high-quality wines vintage-to-vintage over the long haul.
West Elks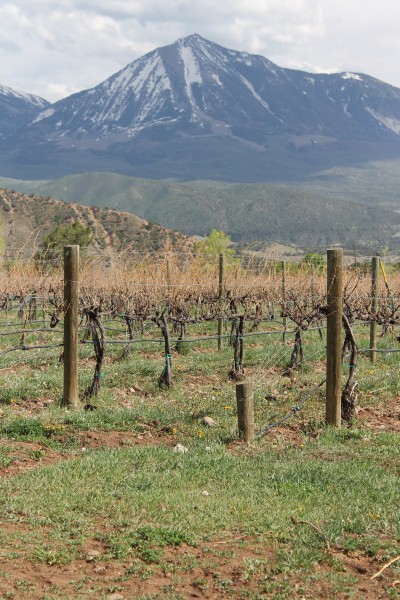 Our first tour stop drove home just how extreme the difficulties of Colorado viticulture can be. Stone Cottage Cellars was founded by former aerospace engineer Brent Helleckson and his wife, Karen, who purchased the vineyard and surrounding land in the North Fork of the Gunnison River valley in 1994 when looking for a permanent home that harkened back to their roots ("Karen grew up on a Minnesota farm, and I grew up on a farm, and we just wanted to get back to agriculture," Brent told me) and deciding that Boulder was just too expensive.
They ended up falling in love with a plot of land overlooking Mount Lamborn, sitting on top of volcanic clay, basalt and limestone, with boulders "like Volkswagens." That land is home to merlot, chardonnay, pinot noir and gewürztraminer vines (the latter being nearly thirty years old) that, at 6,200 feet constitute the second highest elevation vineyard in North America (their neighbor, Terror Creek, boasts the highest at just a hair higher elevation).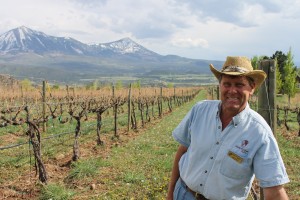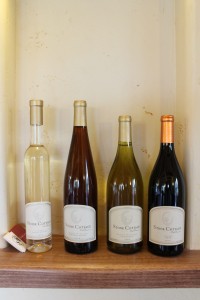 Making wine at these heights—particularly at an entirely family-run outfit that makes about 800 cases of wine a year and sells well over 90% in their tasting room – is anything but easy. "We have a short growing season," Brent noted, "and things get cold here. Frosts up here can last until June." In late April of this year, the vines were three weeks ahead of their normal cycle and were about to hit budbreak. The fruits of those labors are summed up well in the 2009 Stone Cottage Gewurztraminer ($22), which has bracing acidity preserved by the dramatic diurnal temperature variations the grapevines experience at such high altitudes. It's a wine full of lime zest, white flowers and lychee aromas, with a pithy bite that suggests a long life ahead of it.
Grand Valley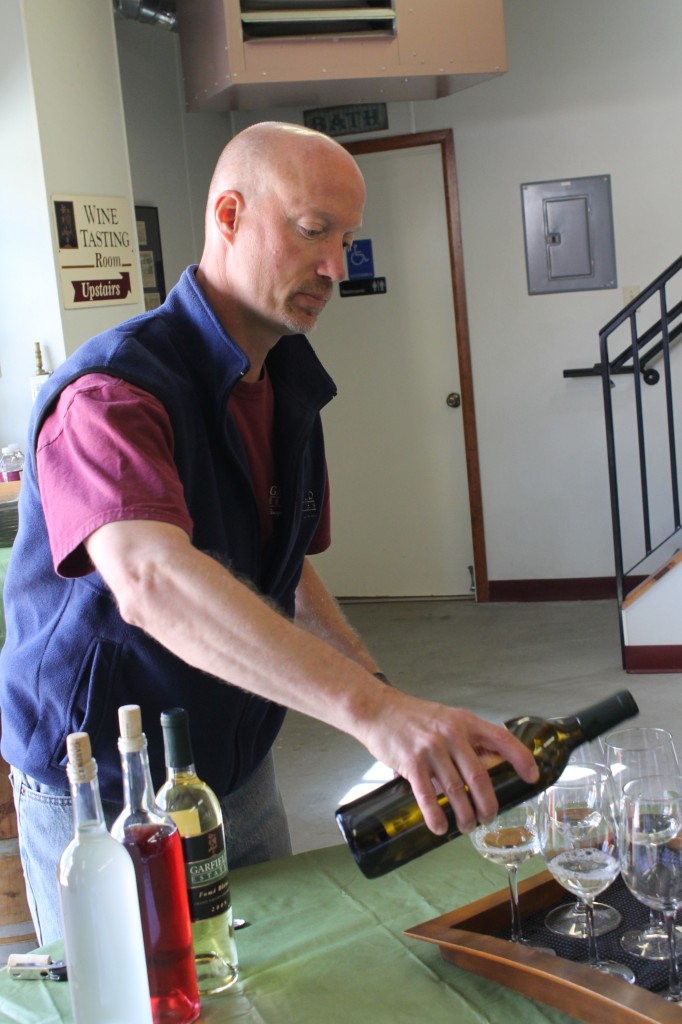 Just north-west of Stone Cottage, and at slightly lower elevation, in the shadow of the Book Cliffs and awe-inspiring Grand Mesa, lies the Grand Valley AVA. Viticulture is less extreme here than in West Elks, but still extreme by California or even New York standards. In 2000, IT entrepreneur and Colorado State University alum Jeff Carr funneled his earnings and his love of CO (and of fine wine) into founding Garfield Estates here. The extremes of the elevation are tempered somewhat by the moderating wind that is funneled through the canyon, and Jeff along with German-born winemaker Rainer Thoma have turned that potential into some over-achieving wines. Their 2011 S2 (a $15 Sauvignon Blanc / Semillon blend) is a crowd-pleasing combination of tropical fruits, lanolin and svelte mouthfeel. Their bright 2011 Vin Rose ($15), 100% Cabernet Franc, could pass off as a Loire pink in a blind tasting with its abundance of strawberry, pepper and herbs; and their 2009 Syrah is as solid as they come for $18, sporting blueberry, violets, leather, white pepper and graphite.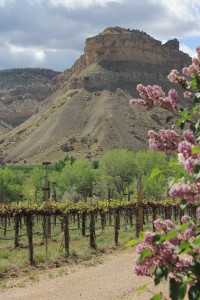 A short drive from Garfield to the eastern end of the Grand Valley AVA brings you to the spot where the canyon funnels its most moderating wind effects, which happens to be exactly where Canyon Wind Cellars planted its 35 acres of vineyards starting in 1991. The results are the best wines made in Colorado, made with the help of Napa winemaker Robert Pepi.
Geologist Norman Christianson picked this spot after traversing the globe for rare elements for his day job, while keeping an eye out for a spot where he could eventually indulge his passions for both bird hunting and fine wine (the hunting theme runs deep in the family—as a teenager wife Ellen shot the spiral-horned African antelope whose head now adorns the tasting room). His son Jay now runs the outfit, and he pulls no punches when discussing the challenges of CO viticulture: "without the wind," he told me, "we'd be screwed."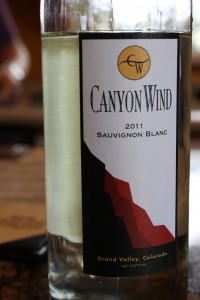 Canyon Wind offers a range of wines produced from their estate vineyards, which are solid at worst and world-class at best. Among the standouts are the 2011 "47-Ten" Rose, a lively, floral wine with serious undertones; the herbal and lemony 2011 Sauvignon Blanc; and the peppery, meaty, black-fruited 2008 Petit Verdot.
It's when you move up the chain of their releases, though, that things really start to get interesting.
Their Anemoi line of wines is a recent attempt to produce riper, more extracted, Bordeaux-inspired wines that are blends rather than varietal bottlings—and they are off to an impressive start. The 2009 Anemoi Boreas (a $40 Cabernet Sauvignon, Merlot, Cabernet Franc and Petit Verdot blend) is gritty, dark, spicy and complex. The Boreas' "sister" wine, the 2010 Anemoi "Zephyrus" is equally compelling; a $40 Cabernet Franc/Petit Verdot blend that is plumy, with clove and pepper notes and tangy, lively red licorice palate. I couldn't shake the notion that these wines would stump even the geekiest of wine lovers in a blind tasting—there's just no way you'd guess these wines were crafted from grapes grown in big U.S. cattle country.
A $100 CO Wine?
Canyon Wind also boats what is likely Colorado's most expensive wine: the 2007 "IV" (50% Petit Verdot, 32% Cabernet Franc, 16% Cabernet Sauvignon, 2% Merlot, from two vineyard plots) is priced at $100 per bottle. That's a price that was set, inadvertently, by Master Sommelier and Master of Wine Doug Frost, who tasted the wine in barrel and, according to Jay, then told the Canyon Wind staff "Congratulations—you guys have made the first one hundred dollar Colorado wine."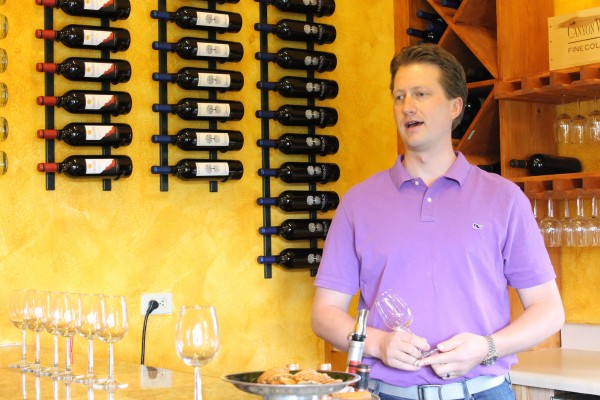 IV is svelte but assertive, and as dense as any U.S. premium red out on the market. Leather, spice, pepper, espresso and a savory balsamic note compliment the blackberry and blue plum fruits. It's at once demanding and food-friendly, and will take several more years to fully integrate; in other words, it really is worth the $100 price tag. And yes, it really is from Colorado.
Canyon Wind's IV, in a way, sums up why Colorado wine (particularly its Western Slope wines), faces challenges even larger than those posed by its continental climate. To gain traction outside of CO, its producers need to show that fine wine can be consistently made across vintages at high quality levels, and more work needs to be done to ensure the right varieties are planted at the best locations (which will reduce the number of unsuccessful, lower-quality experiments that some of its producers are selling to the public).
But the biggest challenge facing CO wine is probably one of marketing. I know a lot of people who'd be wowed by Canyon Wind's IV, particularly if presented with it in a blind tasting.
But I don't know anyone outside of the CO wine industry itself who'd fork over $100 for a CO wine the same way they might for one that sported the words "Napa Valley" on the label.
These were sentiments echoed during the 2012 Drink Local Wine conference, held in Denver in April, during which a panel of local food and wine experts debated why there aren't more local wines featured on local restaurant lists, while local other produce at those same establishments is often highlighted as a selling point. A key theme in those discussions: not only does the local wine need to deliver the goods in terms of quality, but restaurants need to stock items that sell, and sometimes local wines just don't sell because the demand from consumers is just too nascent.
And so Colorado's biggest wine industry challenge may not be the climate, or the dizzying elevation, or the ability to tame both enough to offer consistently high-quality wines year-on-year. It is one of marketing—of winning the mindshare battle against other U.S. wine regions whose names are already on the tips of consumer's tongues.
Canyon Wind Cellars offers Palate Press readers a 10% discount on all its wines. Shop Canyon Wind and use promo code PalatePress to get the discount.