What do you drink when you're sitting on the Sound of Music lakeside terrace?  An Aperol spritz, naturally. At least, that's what I drank when I visited Salzburg recently, channeling Baroness Schraeder for all I was worth. (Sorry, Maria fans, I'm not really a tea-with-jam-and-bread kind of girl.)
Turns out Austria isn't such a strange setting for the quintessential Italian cocktail. One version of the spritz' genesis is that it goes back to the days when northern Italy was part of the Austro-Hungarian Empire and to the Austrian practice of adding a spray (spritz) of water to the regional wines, which they found a little heavy on the palate.
Orange Genius
The Aperol side of the equation, of course, is all-Italian, part of the national tradition of bitter liqueurs. Brothers Luigi and Silvio Barbieri created Aperol in 1919, launching it at the Padua International Fair. Silvio came up with the name Aperol, inspired by the French shorthand for aperitif, apéro, which he'd discovered when visiting France.
The drink was always a bright orange, with the color coming from the still-secret recipe that includes infusions of bitter and sweet oranges as well as roots and herbs, including rhubarb, says Richard Black, VP of Marketing for Vodka and Cordials at Gruppo Campari, parent company of Aperol.
It's not entirely clear when the Aperol Spritz became a thing, but it's presumed the origins lie in the "Venetian Spritz" created as a cocktail in the 1920s and inspired by the 19th-century Austrian spritzes, not to mention the increasing availability of soda water that brought bubbles to the drink.
Early versions were white wine, soda and just a dash of bitter liqueur, sometimes Aperol, sometimes another bitter such as Select, created in Venice in 1920.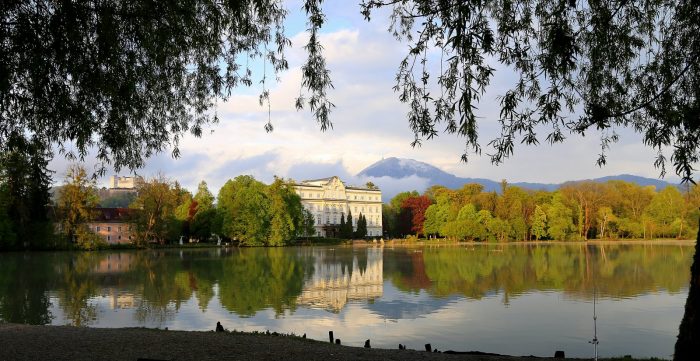 Bitters + Bubbly = Boom
Prosecco became officially part of the mix in 1950, with the creation of the classic 3-2-1 recipe, 3 parts Prosecco, 2 parts Aperol and 1 splash of soda, garnished with an orange wedge.
The drink really took off in the 1990s, benefitting from the rise of Prosecco in the late '70s and '80s, write Talia Baiocchi and Leslie Pariseau in the recently published, Spritz: Italy's Most Iconic Aperitivo Cocktail. Prosecco and ice — and a bigger glass to hold it all — became popular in the beaches and bars around Venice.
If you're drawn to the bitter side of life, you can drink plain Aperol on the rocks or mix it with plain club soda, a low-alcohol refresher since Aperol is just 11 percent ABV.
I would like to say my visit to Salzburg, undertaken for a travel story on visiting locations from the 1967 movie, was a sunlit romp punctuated by amber spritzes. Reader, it was gray, stormy and unseasonably cold; if I jumped up and down the Do-Re-Mi steps it was merely to get the circulation going.
But if the weather was less than classic, my spritzes made up for that. Bundled up in a down jacket, I drank a 3-2-1 while overlooking the spot where elegant Eleanor Parker as the Baroness serves pink lemonade ("laced with … lemonade" as family friend Max acerbically points out) to Christopher Plummer's Captain von Trapp.
I feel confident she would have preferred a spritz.
---
Did You Know?:
Aperol Spritz is the Official Global Spirits Partner of Britain's Manchester United soccer team.
The world record for largest spritz was set earlier this year when Costa Cruises, in partnership with Aperol, made a 1000-liter version. The ingredients: 500 liters of Prosecco, 333 liters of Aperol, 167 liters of soda water and 15 ice cubes measured 7×8 inches each.
Salty, crunchy snacks make the perfect pairing for the Aperol Spritz; you can't go wrong with a bowl of potato chips.