All Hallows Eve is nigh. Halloween…a night of ghosts and goblins, tricks and treats, frights and bewitching. Boo, yah.
How does wine connect to Halloween? Well, the annual crop of cutesy Hallo-wine labels is one way. But I think wine lovers should take this opportunity to confront a common demon: French wine. I am proposing we celebrate Hallo-oui-ne, in tribute to this most ghoulishly complex of wine cultures, what with its crus and clos lurking around every vineyard corner… and its 470-something (but who's counting?) separate appellations, which might as well be 470 separate torture chambers to the average American.
Indeed, nobody has a knack for scaring the bejesus into a glass of wine quite like the French. The Loire Valley alone has 65 AOCs spanning just a few hundred miles of terrain, representing every possible style. Whites from flinty, bone-dry Muscadet to peekaboo-sweet demi-sec Vouvray. Frankly veggie and surprisingly plump Cab Franc reds. Stealthy Pinot Noir. Heavenly late-harvest liquid gold. Pink wine, bubbly wine, biodynamic wine… it would not shock me to find polka-dot wine coming out of the Loire. Fortunately, as beverages go, it's easier to acquire a taste for Loire Valley wines than it is, say, for a young vampire to acquire a taste for blood. (At least I'm guessing it is…)
Consider as well the practically paranormal power of Bo(o!)rdeaux to put a spell on wine critics. What else could explain Robert Parker—a man with a self-professed, virtually photographic palate memory— to misidentify 15 out of 15 wines in a blind tasting of top-echelon 2005 Bordeaux. And then, when assigning scores and writing up the tasting for his e-newsletter weeks later, his ranking of the wines was mysteriously rearranged. Was the greatest wine critic in the world hypnotized by the classic French red blend? Ah, the terroir of it all.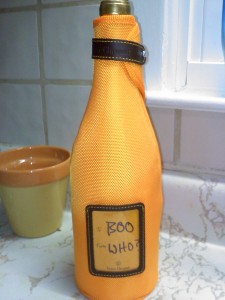 French wine is peppered with Hallo-licious treats. Take the iconically orange, ironically named Veuve Clicquot "Yellow Label," whose jet-settish keep-cool wraparound jacket is conveniently available in time for October 31 (and conveniently reusable with just about any burgundy-shaped bottle). One might also uncork Domaine le Sang des Cailloux, the "blood of the stones" Vacqeyras imported by Kermit Lynch. Still, French wine has a way of teasing, even taunting its admirers. Just when you're lulled into thinking La France is a pastoral patchwork of perfectly planted grape varieties, along comes news of a faction of zombies—er, make that vignerons— treating village streets as if they're auditioning for a sequel to Stephen King's "Firestarter."
Fortunately, in these times of blood-curdling economic times, France is also capable of bringing us wines that are just plain scary good. Scarrrrrry good! I'm thinking in particular of La Vieille Ferme 2007 Côtes du Ventoux, a delicious anyday Rhône red ($7.99 near me) that is a pitch-perfect example of how a great vintage is raising the tide for even the most humble vins. Also, the reliable Chateau d'Oupia "Les Heretiques", a $10 Carignan-driven country red whose earthy, spicy, unfiltered personality makes it hard to resist inviting to dinner.
Not that the French have exclusive control of the scary good and cheap category. Ruffino 2007 Chianti is one of the best under-$10 reds I've had this year. Like a film noir classic that outshines its special-effected modern permutations, this spot-on Sangiovese (another blood-inspired red grape) has impeccable balance, that "bite" I always lookf for in an Italian red, and an elegant look that makes the traditional straw-covered fiaschi look like a Nightmare of Elm Street proportions.
In the realm of the Great Unknown, there is a special place for Three Thieves "Bandit" brand Sangria. A full liter Tetra-Pak of this all-American 10.5%-alcohol nonvintage red stuff will set you back $8. The package itself is illustrated with five ways to "pimp" your Bandit Sangria—not to mention the command "Viva la Fiesta!". I got sample over the summer; it still sits on a ledge in my office, staring at me with Geico-like googly eyes. I do not know what this wine tastes like. Anytime I go near it I hear voices. Sometimes I think they're saying, "Be afraid… be very afraid." Other times it's "Chill me, thrill me…"
While we're paying homage to blood-red wines, it behooves us to mention Egri Bikavér, the legendary Bull's Blood of Hungary. And no wine lover's Halloween should be allowed to pass without a nod toward the aptly dubbed "orange wine,"—the rare and eery-hued wine made by giving white grapes extra-long skin contact during fermentation. Inescapably geeky, orange wines have recently drawn worthy attention from Alder Yarrow and Eric Asimov.
But perhaps the ultimate in orange wine is as close as the nearest pumpkin and the latest box wine. You see, box wine is really bag-in-box wine. Take that bag out, tuck it inside a big-ass pumpkin, and, as the French would say, violá: a Jug-O-Lantern!
— W. R. Tish is the editor of Palate Press, as well as a blogger (The Wine Skewer) and wine event specialist (http://wineforall.com). For the FTC-minded readers out there, he has done work for multiple wine regions of France and Spain.