As I was finishing my pasta dish, I noticed I'd switched to a spoon, to lick up every bit of the house-made tortellini stuffed with delicate Maine crab, drizzled with a light parmesan crema, surrounded by a hedge of pumpkin passato and liberally showered with fresh herbs: a blissful combination. Luckily, this was only a half-order, as we'd started with two Neapolitan pizzas.
The first, a thin, soft crust lined with pureed San Marzano tomatoes, carried whole basil leaves and large dots of melted house-made fresh mozzarella.  The second was brought out by the chef, Joe Cassinella, who told us, "I must eat this pizza 10 times a week—it's my favorite." On this, the San Marzano puree also held a sprinkling of asiago, a few paper-thin garlic slices and fresh oregano leaves.  Yes, it was our favorite.  And not just because Joe said so.
Enter Enzo
Trained as a newspaper journalist, I'm not used to reviewing a restaurant where I'm known, but this time it was unavoidable—I even happened to know the manager, Edson Coimbra, so there was no way I was going incognito. I had been intrigued by a mention of the restaurant's new gadget Enzo—their nickname for the Enomatic wine preserver that allows fine wines to be dispensed by the glass, keeping them fresh for up to two months with the inert gas argon.  Not what I'd expect in Somerville, a Boston-adjacent city.  The last Enomatic I played with was at Max Bordeaux, a wine shop offering top Bordeaux wines in the city of Bordeaux, France.
Here at Posto, above the back bar, was a glass cabinet holding eight bottles of wine, in two sections of four.  This was Enzo.  That night, it held only red wines, at a good, slightly cool drinking temperature. Above each bottle was a set of adjustable buttons, allowing the server to offer customers three different amounts of wine—in this instance a taste, a glass, or a half bottle.  All that's needed is an electronic key card to modify the dispensable quantities of the wines, switch out the bottles, or alter the temperatures in each part of the machine.
"All the other restaurateurs have been in to see it," Joe told me.  No wonder they're looking; as a chef, Joe Cassinelli has a fine Boston pedigree from many years at Jamie Mammano's Columbus Hospitality Group before he opened his own place, Posto, in Somerville last spring.  Joe says that when they look at his wine pricing some of the restaurateurs "tell me 'you're too cheap.'"   But "I look on it [Enzo] as a promotional tool as well.  You can find an $18 glass of wine in this city, but it's not the quality of ours."
He has about 30 wines by the glass, starting around $5 or $6.  Eight of them reside in Enzo, including wines from California, Oregon and Italy, currently starting at $18 a glass, $42-$44 a half bottle, and $78-$80 a bottle. Joe wants people to be able savor a glass of a fine wine, whether they're ordering a pizza or full meal. Further, he explains, "If you were [already] going to spend $100 on a bottle you can sit at the bar and try five or six great wines for the money."  And, if you're curious about a wine and don't even want to pay for a glass, the machine is set up to offer a taste (about a half-ounce) which is presented in the finest glassware—free.  I was familiar with several of the Italian styles of wine, so I ordered a glass of each of the 2004 Galarej Barolo($18)  and the 2005 Acinatico Amarone ($33) for the first course. Then I tried something new, and after my first taste of Orin Swift Cellars wonderful 2008 Napa blend "The Prisoner" ($18), I had to get a glass.
Halfway through the meal, we also shared a Caesar salad with a wonderful, "real" anchovy—an anchovy that looked and tasted like a fish (not a bony, rolled piece of salt). The salad's crunchy croutons were tiny nuggets fried up from house-made dough, and on top of the lettuce there was hefty snowfall of Parmesan (or Romano or Asiago), enough to please even my cheese-devoted husband.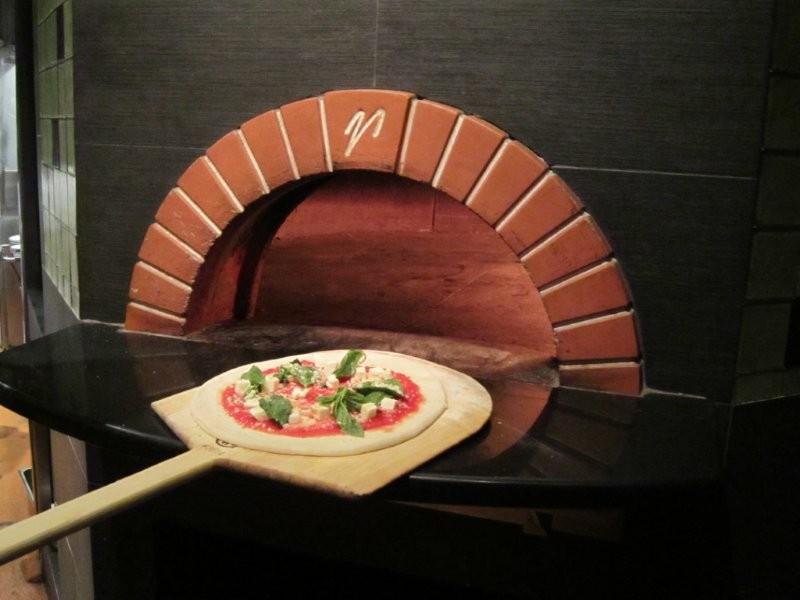 A few glitches: the tortellini pasta could have been cooked a bit longer; there were a couple misspellings on the dessert wine menu; and one of the bottles in the Enzo contained a wine that was faulty—someone should taste the wines when they're put in to the machine.
Why mention such tiny points?  Because Joe is such a perfectionist about so many things, including the imported Italian 00 flour for the pizzas, his training by the Verace Pizza Napoletana group, a special wood-fired oven so the pizza crusts come out properly "leoparded" with dark, crunchy spots, and fifty pounds of fresh Mozzarella made at the restaurant every week.  He keeps to reasonable prices, too, in this casual upscale atmosphere: pizzas $11-$15, entrees under $20.
OK, back to the spooned-up pasta dishes.  We also tried one with light gnocchi pillows atop a ragu of beef so well stewed that the meat as well as the sauce could be eaten with a spoon.  You might think we'd be stuffed at the end.  Still, we had room for a bite of an unmemorable cannoli.  Afterward a glass of Chateau Coutet 2001 (not from Enzo) with its apricot, mineral and pineapple flavors, provided a fresh and sweet finish to the meal.
How did we do it?  We saved half the pizzas for lunch the next day—and they were fabulous, heated just through in the toaster oven.
Pizzeria Posto
187 Elm St Davis Square
Somerville, MA 02144
617.625.0600
http://www.pizzeriaposto.com/
---