The first part of this story comes from friends of Lydia at Chambers Street Wines in New York. The rest comes from bits and pieces of, and links to, newspapers reports as the story gets more horrifying by the minute. The short form is this – a well-loved member of the wine community was assaulted beyond description, her apartment set on fire in an apparent attempt to kill her, and the accused is the last person seen with another missing woman in circumstances that defy description outside Hollywood. You don't want to know the details. Lydia lost everything but the life she is fighting for, in a hospital room and without insurance.
(UPDATE) There is also a fundraising wine event in Southern California tonight at SIP in Del Mar, free parking included.)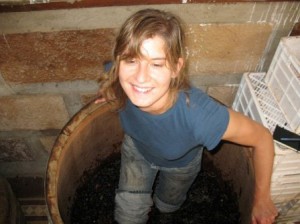 Dear Friends of CSW,

On July 4th our friend and wine-colleague Lydia Tillman was the victim of a brutal attack that has left her hospitalized in critical condition. Lydia had just relocated to Colorado, and had started a new job working for a wine distributor founded by a CSW Alum. She has been in the ICU for over 4 weeks, without the benefit of medical insurance. Her apartment was burned in the attack, and she has lost all of her possessions. The specifics of the story are horrific, and it is beyond words as to how this situation has affected Lydia and her family. Our aim is to raise money with a benefit tasting so that we can help to make at least a small dent in her sure-to-be very costly medical expenses, and help her along the road to recovery.

Before she moved west, Lydia's was sommelier and wine buyer at the outstanding tapas bar Casa Mono, where she was responsible for putting together one of the most creative and comprehensive lists of Spanish wine in the United States, and possibly the world. Lydia championed Sherry, traditional Rioja, Galicia, the Canary Islands, and so on. She was kind, generous, and gracious with her knowledge and a joy to taste with.

With the help of co-sponsors T Edward Wines, and David Bowler Wines, we will be pouring an array of Spanish wines at Terroir Tribeca at 24 Harrison Street on Saturday August 20th from noon to 3pm. Sherry, Rioja (including a range of old vintages) and more will be represented. The donation is a minimum of $20. We expect a large turnout and would appreciate your patience with what we hope will be a large crowd. If you cannot make the tasting you can also make a donation via Paypal on Facebook:
And now, just to give you an idea how this story developed …
Fort Collins Authorities Probe Apartment Fire, Possible Assault
July 5, 2011
Police and firefighters are investigating a fire and a possible assault in Fort Collins.

Authorities say a 30-year-old woman was critically injured Tuesday morning after apparently jumping from a second story window of an apartment that was on fire. They say she recently moved to Fort Collins from Longmont and was living alone.

…

Investigators are looking at whether she was the victim of an assault. They haven't been able to talk to her because of the extent of her injuries.
Police: Fire That Forced Resident To Jump From Window Was Intentionally Set
July 8, 2011
Investigators in Fort Collins now say a fire at an apartment complex Tuesday morning was intentionally set.

Lydia Tillman, 30, was seriously injured when she jumped out the second story to escape the flames on Monday. She was taken to a hospital in Denver and so far has not recovered enough to be able to speak to police about what happened.

Police say there were several points of origin inside the unit. There was also evidence of an accelerant.

Police have not made any arrests in the case.
Man Tied To Kenia Monge Case Now Charged With Attempted Murder
July 12, 2011
A man who says he was the last one to see a missing Aurora woman before she vanished is now accused of arson and assaulting a different woman.

Police in Fort Collins arrested Travis Forbes, 31, on Monday night on a slew of charges. They think he is responsible for both the July 5 fire at an apartment complex that was likely intentionally set and the assault on a 30-year-old female resident there.

Forbes faces charges in the case that include attempted first degree murder, sexual assault and arson. He was already in jail in Fort Collins at the time of Monday's arrest.

…

Kenia Monge has been missing since April 1. Her disappearance in Denver has been highly publicized by Denver media outlets.

Forbes told police he met Monge at a bar in LoDo that night. He says he dropped her off a Denver gas station later on. She hasn't been seen since. Denver police say Forbes' arrest in Fort Collins doesn't change their investigation of Monge's case.

…

Tony Lee said arson is in search warrant evidence in Monge's case. Tony Lee was referring to Forbes allegedly burning something in a barrel outside a LoDo business the night Monge disappeared.
If there is one thing I have learned about the wine community, it is that it is a compassionate and generous group of people. If you're in New York, or you have friends there, talk up the fundraiser. Put it on Facebook and your blog. And if you can help, please do so.
Thank you.
David Honig
Publisher
Palate Press: The online wine magazine