This magnificent bottle was contributed by John Corocran and all the generous people at Think Wine Marketing. One of only 18 magnums produced, this rare, never offered for sale, 1.5L  2004 Radio-Coteau Savoy Anderson Valley is a steal at a listed retail value of  $125.00. Handcrafted by Eric Sussman.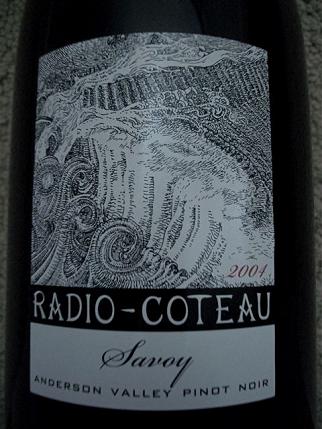 "14.4% alc., 480 cases, $48 This prestigious vineyard farmed by Richard Savoy is the source for many notable California Pinot Noirs (Adrian Fog, Barnett, Littorai, and Roessler). This hillside vineyard is located in a cool, yet sunny site northwest of Philo and has a multiple range of clones, exposures and soils. The vineyard was planted in 1992 and 1996. This bottling contains Pommard, Dijon 115, and Martini clone. · This wine has very nice soft red Pinot fruits on the nose and on the palate accentuated by floral and spice elements. The sweet fruit flavors linger on the finish. The whole package is nicely balanced." – Prince of Pinot
S. Tanzer, IWC: 92; Parker: (90-93); Burghound: 89; Pinot Report: 97 (#2 Pinot Noir of 2006)
GROWER:
Richard Savoy
APPELLATION:
Anderson Valley, Mendocino
GEOGRAPHIC LOCATION:
Northwest of Philo
VARIETAL:
Pinot Noir
SELECTION:
Pommard, Dijon 115, Martini
VINEYARD AGE:
Planted in 1991, 1992 & 1996
SOIL TYPE:
Recent terrace deposits with river gravel
HARVEST DATE:
October 2nd
PRODUCTION:
536 Cases
UNFINED AND UNFILTERED
Think Wine Marketing will ship to the auction winner.
Opening bid is $60.00. Minimum bid increment $5.00.
[How it works- Each auction lot will get its own post. As soon as it gets its own post, the auction is live. Once a bit of time has passed, and people really know about Wine for Haiti, lots will go live AND HOT. Every item will got "hot" if bidding reaches retail value.  Once hot, each lot is on a 24-hour cycle, ending at 10:00 p.m. Eastern Time. If a lot goes a full 24 hours, from 10:00 p.m. to 10:00 p.m., without a new bid, the last bid in the comments wins. If we get into a bidding war, with the same people going back and forth, one day at a time, we will post something in the comments of that Auction Lot and schedule a time to bid to the death, at a time mutually agreeable to everybody involved.]
For more auction Wine for Haiti auction items, please see the Wine for Haiti Auction Catalogue.