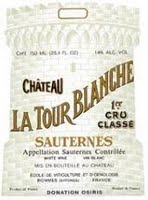 WHO: Chateau La Tour Blanche
WHAT: White/Dessert – Semillon and Sauvignon Blanc blend
WHERE: France, Bordeaux, Sauternes
WHEN: 1970
RESERVE: $125
MINIMUM BID INCREMENT: $10
Rated only behind Chateau d'Yquem in the 1855 Bordeaux classification, this is truly one of the great wines of France and one of the great sweet wines of the world. Like all great Sauternes, it balances syrupy sweetness with a racy acidity. See these recent reviews from wine lovers.
2009:
I approached the wine as a 50-50 proposition, wondering if it had lasted all this time. The nose was clean and re-assured me that something great was about to happen. The first sip was amazing, apricot tart and luscious fuji apple notes dominated. The sweetness was balanced and not overpowering, but still was a primary component. (94 points)
2010:
Purchased from auction 2 months ago & in cellar since. Signs of seepage. Cork fully saturated, split, and mushy. Removed in 2 big pieces with some crumbles. Decanted. Tasted a sip right away and was relieved/impressed. Rested remainder 30 minutes & drank half bottle over the next 1.5hrs. Carmalized apricots, toffee, and some maple butter toast. Sweetness in check with lively acidity. That acidity really balanced the carmelized fruit flavors perfectly. Amazing nectar! Cellared remaining half for tomorrow. (94 points)

…

Day 2. It has certainly not lost anything after 30 hours decanted. Carmel apple with some apricot today and a very appealing slightly burnt flavor. That great acidity is still present and really cleans up after that rich, full mouthfeel of nectar. I gotta go 95 today. Really nice stuff! (95 points)
2011:
Deep golden – lovely flavor definition with that wonderful mature botrytis profile. Alive and kicking beautifully. (93 points)
Please submit your bid in the comment section, below. If the reserve is met, the auction will be won once a bid goes unanswered for a full calendar day.
The winning bidder will be asked to pay directly to the Hillel Foundation at Indiana University, "Find Lauren Fund." The Hillel Foundation at Indiana University is a 501(c)(3) charity with a dedicated fund. Palate Press: The online wine magazine will not collect any proceeds as part of this auction. The buyer will also pick up the wine at, or pay shipping from, Zachy's in New York City.
For further information about this auction please visit (Wine for Lauren page). For further information about the search for Lauren Spierer, please visit http://www.findlauren.com.