In late July, 275 wine bloggers, PR reps, winery principals and others in the wine industry converged on Santa Rosa, California, for a three-day Wine Bloggers Conference. The night before, however, more than a dozen bloggers from origins as far-flung as Spain made their way to the sleepy hamlet of Murphys, three hours east of Santa Rosa. Why? The answer has as much to do with rubber chickens as with wine.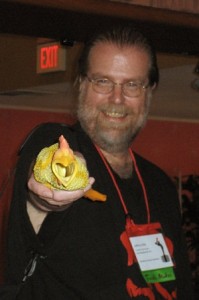 Murphys is home to Twisted Oak Winery, owned and overseen by Jeff Stai and his brood of mascot rubber chickens. Jeff – or El Jefe as he is colloquially known – is a cyber Pied Piper among bloggers. As hands-on with computers as he is with his Calaveras County wines, Jeff has been an early adopter of many forms of social media, notably Twitter (2,500 followers), Facebook (676 fans) and blogging. And in each form of media, he has used rubber chickens as a sort of calling card, setting an irreverent tone that has helped engender a virtual cult-like following. How else to explain the popularity of Twisted Oak's annual Take Your Rubber Chicken to Work Day. Rubber chickens tend to squawk out the tasting-room door at well over 1,000 annually, according to Jeff.
No doubt the 14 bloggers who happily invested the extra gas and time commitment to visit Twisted Oak did so not for the perks – a whirlwind tour of Murphys, barrel tasting, a bbq and a blending competition – but just to spend some old-fashioned face time with Jeff, whose use of social media is the most innovative and successful of any winery.
About inviting bloggers to visit before the conference, Jeff says: "It was a carpe diem thing. People will often arrive early for an event like WBC and it seemed like a good idea to convince a few bloggers to give us a try. I will do anything I can to convince folks that there is wine life northeast of S[an] F[rancisco]!"
From contests that ask people to write the labels for his Ruben's Blend wine to asking for assistance to name the new kittens his family adopted, Jeff encourages virtual visitors to feel a personal connection to Twisted Oak and his life. I first encountered Jeff on his winery blog, El Bloggo Torcido, in 2006 – it was among the first wine blogs I started following. I actively commented on his blog; in turn, he encouraged me to start my own and became one of my first commenters.
I emerged from the field trip with a better sense of what makes Twisted Oak Winery work, both online and in real life, as well as a very positive impression of Jeff's approach to social media. In his view, a rising tide lifts everyone, and he actively encourages all the wineries, tourism groups, and other establishments in the Murphys area to jump on the social media boat. "Just the other day I was helping another winery get their Facebook page together," says Jeff. "People visit more than one winery after all. The important thing is to get them here."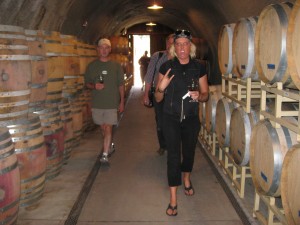 Other wineries looking to tap into Twitter, Facebook and other social media would find their time well-spent to look at what El Jefe has done for Twisted Oak. Devoting 8-12 hours a week, he manages to blog, Twitter, Facebook, Flickr and participate in multiple forums.  Rubber chickens and a "twisted"sense of humor may not work for everyone, but the attitude of connecting personally to interested wine lovers, and developing a sense of community around the winery, certainly can.
Jeff, in his own words a  "social media slut," estimates that at least a third of Twisted Oak's business results from his online activity. He includes me among this number, and I admit, it's not likely I would have known about Twisted Oak Winery if not for Jeff's consistent cyberpresence. Here are some of my Twisted favorites:
2008 Syrah-Viognier (barrel sample). This is going to be a fantastic wine. I tasted vanilla, anise, beautiful flowers, apricot, plums, black cherry and red-fruit edges.
2002 Murgatroyd (library selection). On the nose I found spice, mulberry, toasty oak, cinnamon, blackberries, black currants, slight chocolate and violets.  It smelled like mulled cider and tasted like Christmas.  In the mouth I got tart fruit that seemed much more red than the nose; red berries, red currants, earthy spice, mulberry, cranberry, cinnamon.  Murgatroyd is a kitchen-sink blend that includes Cabernet Sauvignon; ready to drink now!
2007 "Silvaspoons" Verdelho. On the nose I got pineapple, tropical fruit, spice, peach, mandarin oranges, banana, and papaya.  In the mouth I found the wine to have a a slightly creamy texture and flavors of lemon, tropical fruit, papaya, melon, pear, citrus and granny smith apples.  Overall, the wine is dry, crisp, easy to drink.  A must buy for the summer months! (Current vintage is 2008.)
– – Sonadora focuses on small family wineries. Sonadora started the blog Wannabe Wino about 3 years ago, following herself and her husband as they drink their way through the 500 and growing bottles living in their basement.