Randall Grahm, celebrated winemaker of Bonny Doon Vineyard, is betting the farm on one big, beautiful idea: terroir. In his new book, Been Doon So Long: A Randall Grahm Vinthology, he shares his witty, irreverent, and thoroughly refreshing take on the making of truly great wine.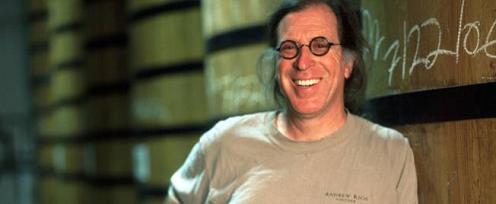 Grahm is the original Rhône Ranger, the Santa Cruz maverick who introduced Rhône varietals to Central Coast viticulture in the 1980s and proceeded to produce quirky, funky wines with huge personality and distinctive, arty labels. Cardinal Zin and Big House were his high-volume hits, but his signature red, Le Cigare Volant, evinced his true Rhônish passion, as did a palette of other wines, including Syrahs, rosés, and Châteauneuf-du-Papish whites.
A technical magus, scientific and intuitive, Grahm experimented with oddball varieties and winemaking techniques. He put Muscat grapes in the freezer to create a pseudo ice-wine he called Vin de Glacière (literally "wine of the icebox"). He tinkered with cryoextraction and microoxygenation. He championed the Stelvin closure, even holding a mock-funeral proclaiming The Death of the Cork.
A playful marketeer, Grahm consigned the wine's front labels to well-known artists, and recently bucked industry tradition by listing actual ingredients used in the winemaking process on the back labels. By 2004, Bonny Doon was the twenty-eighth largest winery in the United States.
Through it all, Grahm was writing. A self-described vinous enfant terrible, he focused a gimlet eye on pretentiousness and inauthenticity in the wine industry. His commentary made it into his winery newsletters and speeches to industry groups and UC Davis grads.
He was particularly unflinching in his castigation of the false specificity of numeric ranking systems advocated by Robert Parker and Wine Spectator, openly deploring the ratings scramble that drove winemakers to produce blockbuster fruit-bombs lacking character and nuance. This sniping didn't win him many friends among critics, but no matter; to Grahm, the integrity of the ideas, no less than that of the wine, needed to be expressed.
But if he was hard on the industry, he was equally hard on himself. Throughout Bonny Doon's fun, wild run, he'd been nursing an idea that there was maybe something deeper, more meaningful, to be found in wine and winemaking. "I was giving speeches and writing about terroir as essentially wine's best idea, perhaps the only thing that was truly worthwhile and enduring," he told me. "Yet there was nothing in my practice that supported this idea."
He had been making what he calls "vins d'effort"—wines that bear the imprint of the winemaker, relying on technical interventions like use of designer yeasts, organoleptic tannins, dealcoholization, even wood chips. A true vin de terroir, meanwhile, relies on something more elemental and balanced: healthy vineyards, ripe (but not overripe) grapes, wild yeasts—and human restraint.
"What a French vigneron strives for is typicity—to make a wine that transparently is what it is," he writes. Here, the winemaker steps aside, letting earth and sun and water and grape speak. The resulting wine becomes a distillation of place; place in a bottle.
The dissonance between Grahm's output and his insights produced, quite naturally, tension: "your ordinary, garden-variety existential crisis," he calls it. "I had recently turned fifty, fathered a child, and survived a serious health crisis. The universe was trying to tell me something: it was time to change my ways."
He sold Big House and Cardinal Zin in 2006 and shrunk the company to focus on trying to produce true vin de terroir—from scratch. He recently closed on a 280-acre parcel in San Juan Bautista, California, about 45 minutes south-east of Santa Cruz, and has begun preparing the land for a biodynamic vineyard.
It was also time, finally, to air the produce of his fertile mind—his essays, fiction, poetry, speeches, and meta-commentary. The result, Been Doon So Long, will be released this October.
Like a true vin de terroir, the book reveals a man who transparently is who he is: literary, clever and erudite, lavishly satirical, and enormously fond of double-entendres and raucous word play (Grahm can pun in at least four languages). It's a dense, chewy feast for anyone who's ever made even glancing contact with the wine industry, whether winemaker, wine salesman, wine writer, passionate blogger, or occasional consumer. It's the kind of book you can read casually, dipping in anywhere and coming up wet from its funny, irreverent take on all things Wine.
But it's also a book to take seriously. Reading it cover to cover, you'll notice its structure describes an arc from ironic satire to more sober essays grappling with Grahm's life purpose and his quest for terroir. Irony requires detachment, while terroir requires engagement. I asked him if the book's arc followed his own. "That's very much to the point," he said. "I did want the progression of pieces to follow my progression: a personal journey."
The book reveals a man who is deeply in tune with—and smitten by—the improbability, sometimes folly, and exquisite rapture of coaxing an elixir from rocky soil. His commitment to terroir is not just a commitment to an idea, it's a commitment to a feeling.
"When you experience vin de terroir," he says, "there's a deep emotional connection with the wine, a feeling of wonder and deep delight and deep connectedness. And you don't get that in tricked-up wines. You don't get that in wines that are flashy. For me, it's really a limbic, emotional sensation. It's an aesthetic, or beyond aesthetic. It's a recognition of deep order."
And it takes time. New World winemakers are really just feeling their way, he says, and must be careful about making grand claims about producing a wine that truly expresses terroir.
"Wine is infinitely mysterious," he says. "It can't be reduced to point scores, or reduced to anything. It is so totally weird and surprising. The best thing we can do is protect our sense of wonder and awe."
With Been Doon So Long, we can share that wonder, too.
— Meg Houston Maker authors Maker's Table, a journal of food, wine, and the pleasures of the table.